VACCINATIONS and resumption of cross-border travel with Hong Kong's immediate neighbours across the Greater Bay region are crucial to reviving the city's travel and MICE industry, an annual update held online by Hong Kong Tourism Board heard this week.
HKTB is also encouraging Hong Kong residents to explore the city and its hiking trails and other features across its country parks while engaging "friends of Hong Kong" worldwide to endorse Hong Kong for its arts, culture, cuisine, traditional and modern design, along with natural wonders.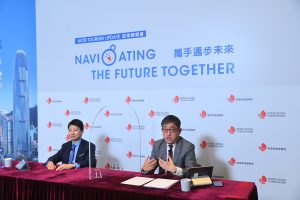 These initiatives will form part of HKTB's promotional drive to prepare Hong Kong's travel industry for recovery as Covid cases in the region come under control and vaccine rollouts enable flight bubbles to be formed between destinations.
Vivian Sum, the Hong Kong Government's Commissioner for Tourism, told the opening of the Tourism Update on May 18 that an overall aim was to enable facilitate quarantine-free travel for vaccinated Macau and Guangdong province residents to and from Hong Kong.
Macau and Guangdong form a substantial part of the Greater Bay Area, a region with a population of about 71 million designated by the central China government to drive economic growth. The region is symbolised by the HZMB bridge-and-tunnel crossing and encompasses nine large cities and the special administrative regions of Hong Kong and Macau.
100 AMBASSADORS
HKTB named more than 100 Hong Kong Convention Ambassadors to help the city target 12 international association events expected to bring US$10 million to the visitor economy if the bids are won.
YK Pang, HKTB chairman, said: "The Hong Kong Convention Ambassador programme is formulated not only to bring business events to the city when travel resumes. It will also promote the advantages of Hong Kong to the global business community and help drive multi-sectoral recovery."
Among the experts will be leaders drawn from Hong Kong Science and Technology Park (above).
"The economic multiplier effect of hosting world-class MICE events is huge," Pang said.
The conference ambassadors have been drawn from business and professional bodies in Hong Kong and cover surgery, dentistry, veterinary medicine and digital technology.
The GBA was also raised at the two panel discussions held during the update with Frank Huang, vice president of online travel agency Fliggy, which leverages Alibaba's systems to serve 10 million daily users of its app and create partnerships with brands such as Marriott and in its recent collaboration with Macau.
"The convenience brought by the Hong Kong-­Zhuhai-Macau Bridge will further increase the demand for travel within the Greater Bay Area," Huang told the forum on business opportunities in mainland China and the GBA.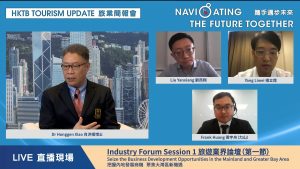 "Fliggy will continue to work with the Hong Kong tourism trade to attract visitors from the Greater Bay Area through a variety of promotional platforms and resources and drive tourism development."
Dane Cheng, HKTB executive director, said promotions would be stepped up including a Hong Kong Neighbourhoods Campaign highlighting areas such West Kowloon with its new arts district; the Kai Tak Sports Park, where a new stadium is being built; Island South, where Ocean Park and new hotels are located, and Airport City, which will include an extension to event facilities at AsiaWorld-Expo.
Background… Top hotel brand books into Greater Bay
Cheng said that with prospects of a global economic recovery, with Asia predicted to recover sooner, the pandemic coming under control in Hong Kong and mainland China "expected to outperform other markets in economic growth, a series of initiatives is being launched by HKTB:
In a bid to relaunch "mega events", a Cyclothon is being planned with a route for local cyclists to ride the Hong Kong section of the HZMB;
Open House Hong Kong platform to conduct large-scale promotions in source markets to welcome overseas visitors and revive the city's image;
West Kowloon Cultural District and the opening of the M+ visual culture centre later in the year.
In the Global Hong Kong Brands Gear Up for the Recovery forum, Cathay Pacific's director for customers, Simon Large, said "travel needs vaccinations" and that "digital travel passes" – often called vaccine passports – were vital for the recovery of the airlines and other travel segments.
"To meet travellers' expectations throughout their consumer journey, we believe that digitalisation, such as digital travel passes in the aviation industry, will play an important role in facilitating the safe, progressive return of international travel, enabling our customers to travel with reassurance and convenience throughout their journey. Moreover, we also believe that vaccination is the key [to] tourism recovery," Large said.
About 2,700 trade representatives from Hong Kong, mainland China, overseas travel agencies joined others from attractions, hotels, airlines, retailers, restaurants, meeting and exhibition operators, and the cruise line industry at the seminar.
Main picture: Sunrise over Victoria Harbour; courtesy HKTB