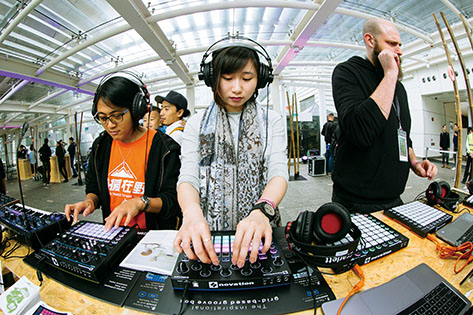 HONG KONG has turned a corner as a competitive destination for conference, incentive and events. Days when organisers bemoaned the city's hotel-room shortages seem at an end, and gripes about a lack of open-air event space have faded, thanks to the operators of Central Harbourfront and – as witnessed more recently – the creative use that organisers of the Sónar festival have been putting to spaces at Hong Kong Science and Technology Park.
Meetings and Exhibitions Hong Kong – the MICE arm of the city's tourism board – has also been championing heritage venues such as Central's PMQ (the former Police Married Quarters) and the upcoming Tai Kwun, the colonial police station and prison that is being renovated as an arts space.
Sha Tin
Hong Kong Science and Technology Park is located near the New Territories towns of Ma On Shan and Sha Tin, about a 30 minute car journey from Central, or a short distance from University MTR station. Alongside its role as a hub for companies ranging from robotics developers and precision engineers, to biotech startups and green energy specialists, the profile of the 22-hectare site is being raised as a unique conference and event venue. Alongside science and technology conferences, TEDx, Unesco Hong Kong Association and DBS bank and the APAC Innovation Summit, have been among the events whose organisers have made use of the park's 48 indoor and outdoor venues.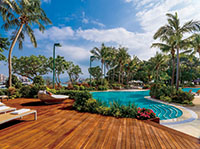 Over the past year, however, arguably the most groundbreaking international event at the park is one that has taken over all of its MICE venues. Sónar Hong Kong is the first overseas edition of a day-long festival of high-quality seminars, workshops and concerts based around electronic music and which was first launched in Barcelona.
Organisers were won over enough by the park's architecture and its "eco-system" of tech innovators before the event made its debut last year. With sound engineers, musical innovators and DJs flying in from across the world, the park's attractive environs of Tolo Harbour on one side and mountain greenery on the other, helped seal the deal for a return again this year on March 17.
Mike Hill, Sónar Hong Kong festival director, praised the science park bosses for a "refreshing and genuine open-mindedness" that allowed such an innovative event to take place in the city.
"Geared towards those with an interest in creative technology and digital culture, Sónar Hong Kong offers opportunities for creative communities to meet, interact and exchange ideas while showcasing cutting-edge immersive experiences," said Hill.
"It is a unique opportunity, rarely seen in Hong Kong, for festivalgoers to experience the entire lifecycle of the creative process in an accessible way."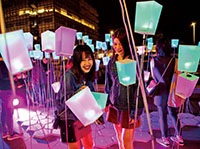 Sónar is one of a growing number of events putting Hong Kong on the map for organisers of large groups and rotating conferences. This event and others also bode well for a part of Hong Kong that is due to see a new metro line connecting Sha Tin to the city's CBD on Hong Kong island. The first phase is expected to be completed in 2019 and the route will be fully open two years later.
Stations will serve a new stadium at Kai Tak and Hong Kong Convention and Exhibition Centre. This will extend options for groups to experience a part of semi-rural Hong Kong that has a sprawling university campus. Nearby are hotels such as the Hyatt Regency, Riverside Regal, Royal Garden, and a Courtyard by Marriott, in addition to the science park as a versatile venue.
Great outdoors
Open-air choices have also grown with Central Harbour Event Space being the most prominent. Across the harbour in Kowloon, Kai Tak Cruise Terminal at the site of the former airport doubles up as exhibition space with the open-air decks coming into play during the recent visit of MICE agencies from India, Indonesia, South Korea and mainland China.
At Ocean Terminal, Hong Kong's other port of call for cruise liners at Harbour City. Tsim Sha Tsui, viewing terraces are now available to event organisers.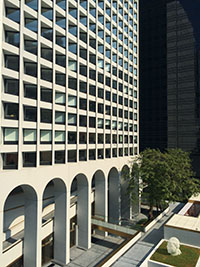 Downtown
The Murray, Hong Kong, a Niccolo Hotel opened in a former government office tower that was saved from demolition as part of the SAR government's Conserving Central programme.
Noticing that nostalgia was more than simply a trend, the Hong Kong Tourism Board also unveiled its Old Town Central campaign that encourages visitors to learn more about the character found in neighbourhoods above the CBD.
With The Murray now open, the choice of venue for meeting and events in Central has suddenly became more interesting. The building's distinct features such as The Arches have been preserved to create an event space covering about 635 sqm and with a capacity for up to 350 guests.
As The Murray ran its event spaces through a testing period, a cocktail reception for the city's 100-plus consul generals was held attended by Hong Kong chief executive Carrie Lam and other top officials. At the hotel's Garden Level are The Murray Lawns with landscaped event space for up to 100, while the 425 sqm Niccolo Room on the 25th level is targeted at conferences, galas or weddings.
The 336-guest room Murray will be followed in the by Sun Hung Kai Properties' 671-guest room Hotel Vic on the Harbour, in North Point, in what will be a busy year for hotel openings including the 393-room Rosewood, across in Tsim Sha Tsui, and Marriott Ocean Park, towards the southern side of Hong Kong Island.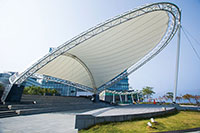 The 471-guest room and suite Marriott Ocean Park, scheduled to open in June at the entrance to the theme park, will have six event rooms offering a total of 1,350 sqm of event space.
The Grand Ballroom will be able to accommodate 1,200 for a reception, 960 for a banquet and can be divided into five separate areas. The other hotel set to serve Ocean Park will be The Fullerton, which is expected to open in 2020.
Tuen Mun
Another New Territories location with a choice of open-air venues lies to the west of Kowloon peninsula towards the town of Tuen Mun.
Renovations to the grand ballroom and guest rooms at Sino Gold Coast Hotel are reinforcing the property's positioning as an ideal out-of-town retreat for corporate groups. Manicured lawns with access from the ballroom provide a prime location for a meeting break or post-conference cocktails at spaces such The Lookout, with its views of Sino's marina and Lantau (Hong Kong's biggest island) across the bay.
The grassed areas are also ideal for teambuilding with a giant chess board one option. For the more adventurous corporate challenges, the hotel has a zipline and assault course across from its main entrance
Sino Gold Coast Hotel has become a centrepoint for charity events and fun-runs with organisers able to rely on the location's open spaces and the hotel's F&B when required. Gold Coast has also drawn annual motor festivals and one classic car rally has become a regular fixture since 2016.
The hotel is not resting on its laurels when it comes to meeting the trend towards organic food. A few metres from the adventure course is a piece of land that is being turned into a vegetable and herb garden for use by the hotel's chefs.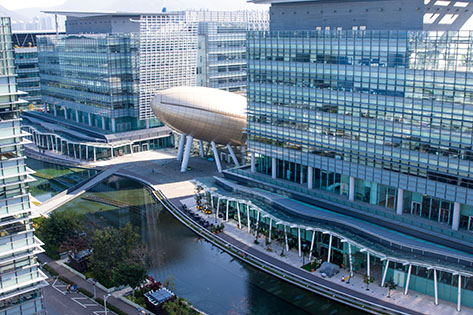 HATCHING THE GOLDEN EGG
While the boardroom is one of the many venues that show the versatility of Hong Kong Science & Technology Park, the most iconic space is a landmark known as the "golden egg". The Charles K Kao Auditorium – its more formal title – seats 284 and is ideal for plenaries.
On the ground-level, the Atrium Link is a glass corridor that can be used for small exhibitions and meetings. During Sonar, organisers were able to use the space to let visitors interact with the quirkiest and fascinating audio technology.
Phase 3 of the park saw the nerve centre of the Sonar festival with open-air theatres and a plaza hosing the event's "village" featuring bars and a VIP lounge.
The 1,000 sqm Grand Hall saw the main acts of the event's evening performances in the form of DJs and artistes who have pioneered electronic dance music, known to its legions of followers as EDM. Whatever the music, it's an impressive ballroom with a stage that can be accessed via a reception or bar area, with a smaller hall on the other side that may double as back-of-house.
Little wonder that Sonar is discussing dates for a return in 2019.