A SERIES of 20 physical tradeshows held at Hong Kong Convention and Exhibition Centre since the beginning of April attracted more than a million visitors, according to officials.
Hong Kong Tourism Board's Meetings and Exhibitions HK (MEHK) says the events, organised by private companies and Hong Kong Trade and Development Council, show how the city can "safely and seamlessly" resume large-scale business events gradually so that international conventions and trade fairs can return when quarantine rules ease.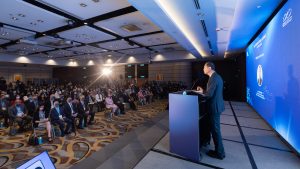 "We are delighted to see such a strong pick-up in demand for physical fairs," says Kenneth Wong, general manager, MICE and Cruise at Hong Kong Tourism Board.
"These events are a good demonstration of Hong Kong's readiness to welcome business events of any scale, and also an encouraging sign for the exhibition industry that the physical show is invaluable and we are very much looking forward to a resumption of more trade fairs in the coming months."
Health and hygiene measures already given priority at Hong Kong Convention and Exhibition Centre (HKCEC) enabled the venue's management company HML to work with organisers to ensure safety.
"By implementing stringent preventive measures at the HKCEC and working closely with organisers, a number of well-attended exhibitions and conferences have been held safely and successfully since January 2021," Monica Lee-Müller, managing director of HML.
We are glad to see that our efforts paid off as our exhibitors and visitors alike were very satisfied with the overall arrangements. We're grateful to HKCEC for its support and flexibility to enable the smooth and safe delivery of our events.
Priscilla Lo, Director of Hongkong-Asia Exhibition (Holdings)
The regional government's Convention and Exhibition Industry Subsidy Scheme, which has been extended to June 30, 2022, was credited as enhancing the confidence of more organisers to stage business events in Hong Kong.
Organisers of recent events such as the inaugural GOVirtual Business Expo said the revival of in-person events would also help companies explore virtual business and technology trends in the Greater Bay Area, a region which encompasses a market of 70 million people across Hong Kong, Macau, Zhuhai, Shenzhen and other cities in Guangdong province.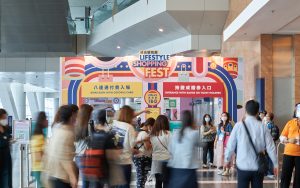 A new B2C event came with the Hong Kong Trade Development Council's five-day Lifestyle Shopping Fest, which attracted 450 exhibitors and 55,000 visitors, officials say. HKTDC executive director Benjamin Chau said the positive response to the event showed that physical shows were irreplaceable.
Lifestyle Shopping Fest delivered a "one-stop shopping experience for over 55,000 consumers keen to explore a broad selection of products, from global delicacies to fine jewellery and much more, presented by 430 exhibitors".
More on this… Shows signal HK recovery
"We are pleased that our inaugural Lifestyle ShoppingFest was held successfully, with 75 per cent of exhibitors believing physical shows can help boost their business, while 82 per cent of visitors were satisfied with the health and safety measures at the show," said Chau.
HKTDC is due to hold its first physical B2B events since the Covid pandemic with three concurrent tradeshows in July.
Upcoming in-person tradeshows highlighted by Meetings and Events Hong Kong, the MICE arm of HKTB, include as Jewellery & Gem ASIA Hong Kong, June 24-27, held by Informa Markets, the inaugural HKTDC International Sourcing Show and TKS Exhibition's International Travel Expo Hong Kong in July.