PHYSICAL trade shows are resuming in Hong Kong with six large events at one of the city's two main venues being hailed by tourism chiefs as indicating a MICE industry recovery for the region.
Hong Kong Tourism Board says the city is getting ready to welcome even bigger shows after the Lohas Expo 2020 and Vegetarian Food Asia at Hong Kong Convention and Exhibition Centre attracted a record-breaking physical attendance.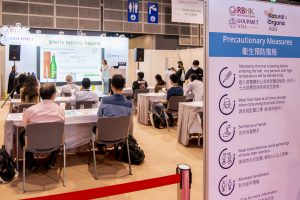 Four other events also went ahead with InvestHK describing Restaurant & Bar Hong Kong, Gourmet Asia, along with Natural & Organic Asia as the first physical B2B events held in the city since January. Both of these trade events (main picture) were organised by Informa along with Build4Asia 2020, and Retail Asia Conference and Expo 2020, which were also held at HKCEC.
More on HK events… Big wins revealed
The combined Lohas Expo 2020 and Vegetarian Food Asia 2020, organised by Baobab Tree Event, attracted 32,000 people over the three show days, according to Hong Kong Tourism Board (HKTB).
"We are truly grateful business events resumed with a strong momentum and set a powerful case study for industry partners and organisers to collaborate when applying stringent health best practices," said Kenneth Wong, general manager, MICE and cruise of HKTB.
"Especially with the recent launch of the Hong Kong-Singapore Air Travel Bubble, we are confident and very much look forward to the gradual resumption of business events of all sizes in the near future," Wong said.
More… Covid era gives HK The Grounds
A HKCEC spokesman said 25 exhibitions and other corporate events and banquets were confirmed to take at the venue from October to December 2020.
Culsin Li, managing director of Baobab Tree Event, said Lohas Expo 2020 and Vegetarian Food Asia showed the growing trend for health and wellness, particularly since the Covid pandemic, and were held under upgraded hygiene precautions.
"Hygiene is a top priority for our event planning. We had a great collaboration with the HKCEC to offer a safe and hygienic environment for our exhibitors and buyers so that they could come and explore healthy lifestyle business trends with peace of mind," Li said.
Baobab was one of the first organisers to apply for the Hong Kong Government's anti-epidemic convention and exhibition subsidies. The subsidy waives 100 per cent of venue rental costs after an event has been held at HKCEC or AsiaWorld-Expo.