CHINA's outbound business events market is resembling that "sleeping giant" description coined centuries ago by Napoleon as the famed French general weighed the potential of the Middle Kingdom's rise on the international stage.
As the tradeshow floor at AIME 2023 came alive with buyers and exhibitors in Melbourne last week, a more subdued representation from Asia was noticed, particularly the colossal market of China.
While New Zealand's pavilion dominated the view as delegates entered showfloor, Japan was the largest Asia representative with one stand dedicated to Tokyo and another for destinations ranging from Sapporo to Kobe. The Victoria Precinct, with 43 exhibitors representing suppliers across the Australian state, occupied the largest space on the show floor and included the two-tier Melbourne, Victoria Stand. 
More… AIME gears up for 30th birthday
China's easing of travel restrictions as it pivoted from "zero-Covid" last December proved too late for AIME to accommodate the country's much sought after buyer contingent.
MIX spoke to show managers Talk2Media and the CEO of show owners Melbourne Convention Bureau to assess AIME's post-Covid efforts and the prospects of China buyers rising from the slumber induced by prolonged anti-Covid policies.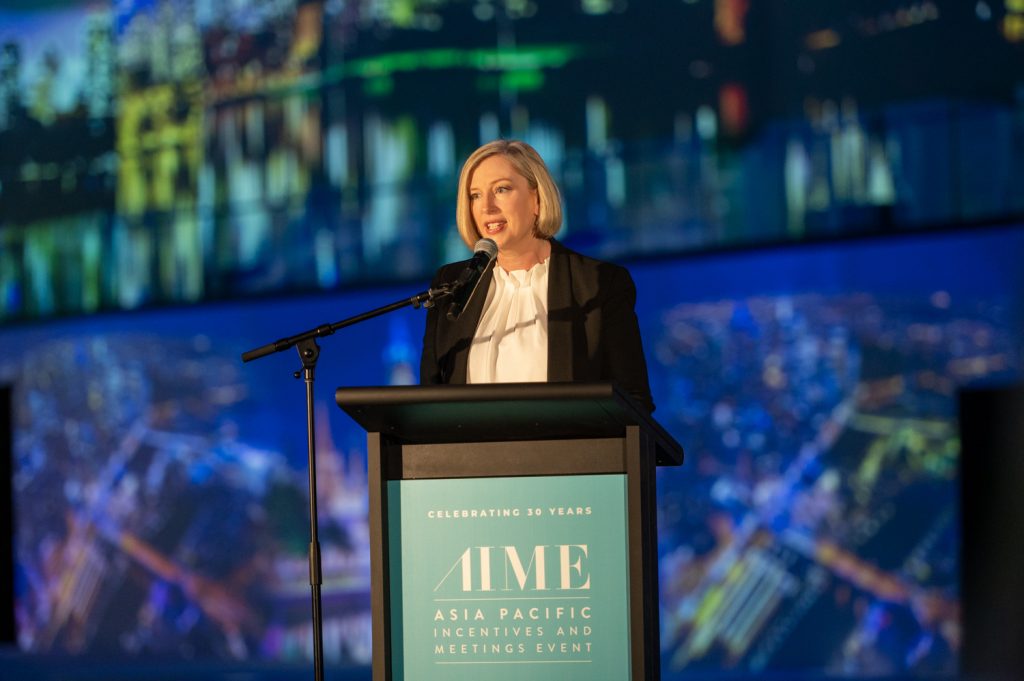 Early 2020 began to see borders in China close as Covid surfaced as a pandemic and in turn crippled the travel industry to the extent that a year later AIME 2021 was cancelled with a more subdued show taking place last year.
"I think it's still a time of transition for the China market," said Julian Swanson, chief executive of Melbourne Convention Bureau.
"Unfortunately, in terms of AIME, we couldn't welcome the Chinese in 2020 as it was just when borders were starting to close. So it's been a few years in the making to try and get them back. It's still early days with [China] starting to lift restrictions, but the signs are really positive."
Those positive signs are found in the return of airline routes between Australia and China with six already flying to Melbourne.
"Our team from China, who are here at the show, are expecting that to grow quite quickly, because they kept all the airlines afloat and the planes operational. So they're in a position to restart quickly – and the Chinese can do things at scale when the momentum is there," said Swanson.
Backgrounder… AIME 2021 called off

"We kept our office in China open throughout the whole pandemic, both Melbourne Convention Bureau and Visit Victoria, because it's such an important market and our Chinese partners up there really wanted that in-market contact to be able to find out first hand what's happening in the destination and help to plan those events. So we're going to see that move pretty quickly now."
Hong Kong Tourism Board's pavilion was foremost on the perimeter along one section of the showfloor with tables representing Dorsett hotels, Mandarin Oriental, Shangri-la and Kerry, Intercontinental Grand Stanford, Sheraton Tung Chung, and Cathay Pacific, along with travel operators Destination Asia, ATI Travel, Fly High Travel and PC Tours & Travel.
THAT'S A WRAP!
– AIME celebrated its 30th anniversary with a disco-style extravaganza at the Marvel Stadium, Melbourne;
– It was the fifth year the show ran in partnership with Talk2 Media & Events – the 2021 edition was cancelled due to the pandemic;
– More than 350 exhibitors attended – more than 50 per cent up on the 2022 edition;
– 400-plus hosted buyers attended – 100 of them from overseas and 300 domestic;
– More than 12,000 meetings took place during the two-day tradeshow;
– 3,000 visitor buyers, visitor media and visitor suppliers attended the tradeshow
– 25 countries were represented at AIME 2023
Singapore Tourism Board was in the same vicinity other Southeast Asia destinations including Indonesia and Thailand while Malaysia Convention and Exhibition Bureau had a pavilion. South Korea and Taiwan did not have a destination booth at the show.
Qatar Tourism boasted a sleek pavilion complete with private interview rooms with Melbourne and hotel group Accor investing in two deck pavilions.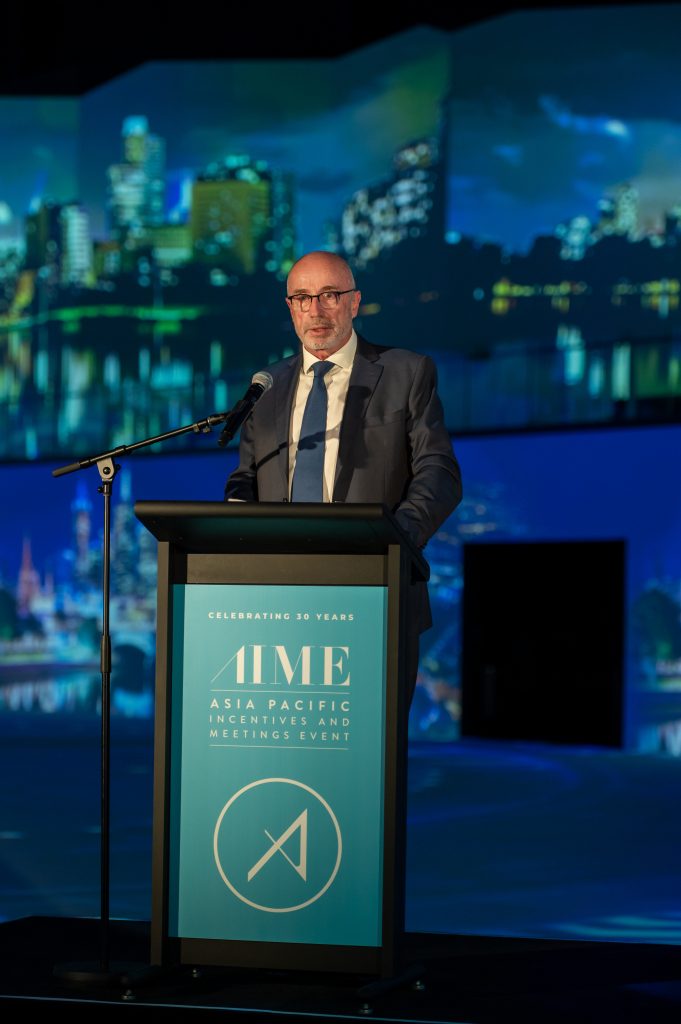 For AIME organisers Talk2 Media & Events, China is the "important one for us" – especially in terms of buyers – with delays and cancellations over the past three years arising from the pandemic.
"There is still a growing appetite for events, but there's no doubt that some of the countries are coming out slowly," said Matt Pearce, CEO of Talk2 Media & Events, adding that 25 countries were represetned at the show.
Regarding a smaller Asia presence compared to pre-Covid shows, Pearce believes those destinations needed China to open and have representatives at AIME to "start greasing the wheels".
"This time next year, I think you'll see a bigger presence for many of them, because they're starting to get business from China… and the benefits of that will cascade down to us," he said.
Main picture: Delegates representing Asia buyers and suppliers make their way to the AIME Welcome Event