TAIWAN's conference and events suppliers will see a greater drive to achieve sustainability goals in 2023 as recommendations in a white paper issued by international trade officials in Taipei and UFI – the Global Association of the Exhibition Industry – are implemented.
The island's Board of Foreign Trade (BoFT) will launch a Sustainable Empowerment Counselling Service to provide customised services and work with the MICE industry to achieve event sustainability targets.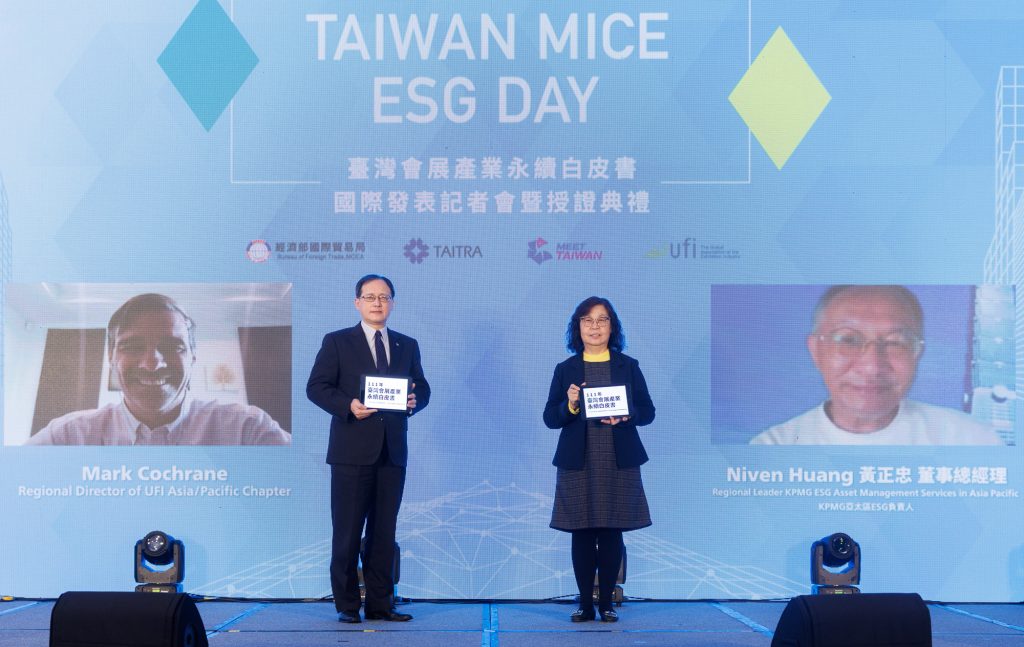 The 2022 Taiwan MICE Sustainability White Paper was revealed at a Taiwan MICE ESG Day on December 28.
The white paper is being heralded by officials as the "first and most complete MICE Sustainability document in Asia – further advancing Taiwan to a higher level in the global Green MICE market".
In UFI, we believe the climate crisis is one of the biggest challenges that we face in the exhibition and meeting industry over the coming years. The most important thing is that every player in the industry works together, minimising the negative impact to the environment."
– Kai Hattendorf, UFI's managing director and CEO
More business events industry suppliers have received ISO recognition for achieving environmental protection standards after being advised by Meet Taiwan. BoFT has been cooperating with business consultants KPMG and Taiwan External Trade Development Council (TAITRA) to establish SIRCO (Sustain & Integrate Resources and Co-operate for mutual benefits and sustainability) to provide suppliers with clear guidelines on sustainable practices.
Meet Taiwan and the BoFT assisted Hilton Taipei Sinban complete its ISO 50001 Energy Management System and counselled Big Dome Event Rental Service in issuing Taiwan's first sustainability report from a MICE supplier.
In 2022, Taipei Nangang Exhibition Centre's I and II sections were the first venues to accomplish the Greenhouse Gas Inventory according to the ISO 14064-1: 2018 standard.
More… Taiwan welcome you with open arms!
ICC Tainan, which opened last April, soon acquired the ISO 20121 Sustainable Event Management Systems standard, while Kaohsiung Exhibition Centre is the only venue in Taiwan to gain the GBAC STAR certificate for reducing bio-hazard risks.
"Through the collaboration of green-certified venues and suppliers in Taiwan, MICE sustainability in Taiwan is becoming stronger and more mature," a BoFT spokesman said.
"As a backup force of Taiwan's MICE industry, BoFT has been assisting related stakeholders with reaching green goals. Sustainable MICE events are no longer wishful thinking, they are now a reality, thanks to actions and hard work of national and local governments and MICE suppliers.
"The awareness of significant issues, such as net-zero emissions and sustainability, has been quickly rising these years – 2023 is a brand new start for the MICE industry to recover from the pandemic. BoFT will continue promoting Green MICE business and bolstering industry strength, empowering the energy of Taiwan's MICE industry to revitalise the Taiwanese MICE brand."
Main picture: UFI managing director and CEO, Kai Hattendorf, addresses the Taiwan MICE ESG Day via video link