FROM Taiwan's first Confucius temple and walled city to a Dutch colonial fort, the coastal city of Tainan has seen its fair share of unique buildings. That tradition is now continuing in a high-tech form with the grand opening of the ICC Tainan.
ICC Tainan is funded by Taiwan's Ministry of Economic Affairs (MOEA) and opened on April 21, reflecting how the surrounding municipality is becoming a powerhouse for high-tech enterprises, research and development, and green technology.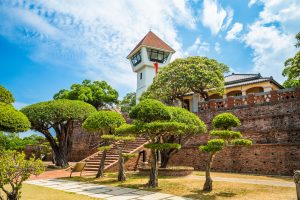 Tainan was a strategic location for settlers and merchants after its founding in 1620 and a vital trading hub serving East Asia, yet the historic city has traditionally kept a low profile, even during its period as the capital of Taiwan. Today it is a municipality of 34 districts that house quaint tourist attractions and include the largest industrial cluster in Taiwan.
The opening of ICC Tainan brings this notable east coast city once again into the international spotlight with a wealth of green technology, 15 academic institutions with manufacturers, and material and supply chains that business event organisers and their clients can draw upon.
Tainan's industrial sectors span semiconductors, agriculture and fisheries, biotechnology, nanotechnology, chemicals, food science, precision instruments, photonics, electronics, and electric vehicles among others.
ICC Tainan is a prime example of how the green technology promoted by Tainan City Government is applied. The centre has solar roof panels that can produce some 3,383 kilowatt hours of electricity and is raising the standard in southern Taiwan for environmentally friendly building operations and architecture.
Among the trade exhibitions with an appeal to international businesses lined up at ICC Tainan during the year is the 2022 Tainan Green Industry Expo, highlighting renewable energy technology as one of the city's newest industries.
Rendition of projection mapping in the ICC Tainan lobby

HERITAGE MEETS TECHNOLOGY
ICC Tainan is a 15-minute drive from the city's airport, 90 minutes from Taipei via high-speed train and within walking distance of a hotel, a large shopping outlet and the main railway station.
Set on 5.2 hectares of land (about six soccer pitches), the venue has 10,692 square metres of exhibition space and 2,720 sqm of conference space, including two ballrooms of 1,080 sqm and 810 sqm.
The larger Tayouan Hall ballroom can hold up to a thousand people and is divisible into four separate venues. The Zeelandia junior ballroom, which draws its name from Tainan's Dutch colonial heritage, can become two separate halls.
Convention facilities also include Nusantaria, a flexible space for between 72 and a 100 delegates and Orange Hall, which has a live-streaming studio and can also serve as a multimedia room ideal for training sessions, product launches and workshops.
Ground-level exhibition facilities include a pillarless 10,692 sqm hall that can be divided into east and west sections.
All of this event space is complemented by ICC Tainan's lobby that has a ceiling height of 14 metres. In addition to providing a space for art and welcoming visitors, the lobby can also be used as a space for events ranging from media conferences to cocktail receptions.
Southern Taiwan is fast becoming a region of green technology innovation with Tainan at the forefront and the Shalun Smart Green Energy Science City at its core. Tainan City Government has also established a Green Energy/Science City to further business opportunities in this growing and vital sector.
Taiwan's latest convention and exhibition centre is set to enter this technology-driven era as it joins the ranks of venues in the capital city of Taipei, the southern port city of Kaohsiung and the central city of Taichung. The northern Taoyuan Convention and Exhibition Centre is due to join the fold when it opens in May 2023.
The Taipei International Convention Center currently serves as a 5G demonstration field with augmented reality and virtual reality technologies offering organisers more options to provide creative events and superb visuals and experiences for their audiences.
More on Tainan… Taiwan's southern surprises
5G is also a feature at the Kaohsiung Exhibition Center, where livestreaming went into full swing when the city hosted the 2020 ICCA Congress. The waterfront centre's surrounds are home to arts and culture venues that are likewise embracing the 5G era.
Unique selling points for international MICE organisers are the technology and development of digital events that run parallel to the health and safety protocols Taiwan rolled out when the COVID pandemic hit.
Safety and security are synonymous with Taiwan's MICE industry, which ranks second in the worldwide safety index. Taiwan's medical system and public health environment are considered major advantages when event organisers are selecting destinations for their groups.
MEET TAIWAN, under Bureau of Foreign Trade, MOEA purview, provides organisers with advice and support on hosting conferences, incentives and business events. Services include suggestions for how planners can integrate the 5G-powered digital technology that is becoming increasingly available throughout Taiwan and at venues such as ICC Tainan.