TRADE FAIR and conference leader Sophia Chong has stepped up to take the role of deputy executive director at HKTDC – Hong Kong's statutory body for promoting international trade and the prime organiser of business events for the city.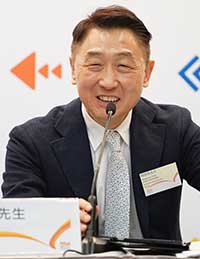 Chong takes over from Benjamin Chau as deputy executive director of Hong Kong Trade Development Council and will oversee international trade fairs and digital business. Chau is retiring after 37 years at HKTDC.
"Sophia is an industry veteran whose drive, commitment and talent have contributed to Hong Kong's role as a global leader in international trade fairs and conferences," said Margaret Fong, the council's executive director.
More… Tradeshow bonanza lifts Hong Kong
"Her experience in all aspects of the council's work has given her a broad perspective and insights that will be crucial in helping Hong Kong's SMEs [small and medium-sized enterprises] ride through this period of unprecedented challenge and capture new opportunities."
Chong has been promoted from the position of assistant executive director, in which she was responsible for supervising about 30 annual HKTDC exhibitions, several of which are the largest marketplaces of their kind in Asia or the world. Prior to that, she served as director, exhibitions and worked with the HKTDC's international offices and industry networks.
After joining HKTDC in the 1990s, she also served as director of publications and e-commerce, overseeing the HKTDC's online marketplace and more than 20 product magazines and industry supplements.
From 2001 to 2003, Chong was regional director for southern China based in Guangzhou where she led the council's promotions in Guangdong, Guangxi and Fujian. From 2004 to 2009, she was responsible for promoting Hong Kong's creative industries covering film and entertainment, design and licensing, and information technology.