A DOCUMENT laying out strategies and trends as business event organisers seek ways to recover from the global Covid-19 pandemic has been launched by three of the biggest bodies involved in the industry in Asia.
Singapore Tourism Board, the Professional Convention Management Association (PCMA) and global exhibition organisers association UFI partnered to issue the white paper called Reimagining Business Events Through Covid-19 and Beyond.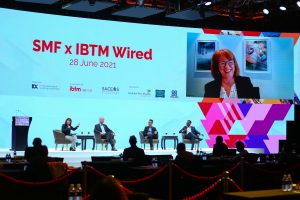 Launched at the first hybrid Singapore MICE Forum x IBTM Wired at Marina Bay Sands on June 28, the white paper is the first such collaboration between a destination and leading associations representing the exhibitions, conventions and meetings industry.
The paper takes stock of how various sectors within the industry have transformed in response to Covid-19 and consolidates ideas from around the world to help business event organisers rethink their offerings and operations.
Researchers report that the business events sector supported nearly 26 million jobs and contributed US$1.5 trillion to global GDP in 2017, which would rank it as the 13th largest economy globally, surpassing those of Australia, Mexico and Saudi Arabia.
In Singapore, the MICE sector supported more than 34,000 direct and indirect jobs, with a value-add of S$3.8 billion, or close to 1 per cent of Singapore's GDP.
Backgrounder… Exhibition industry bullish for 2021
As Covid gripped in 2020, the global travel and hospitality suffered a staggering loss of US$935 billion, with the business events industry among the worst hit.
PCMA's Covid-19 Recovery Dashboard survey, released in January 2021, highlighted emerging optimism with 25 per cent of planners and 31 per cent of suppliers willing to travel any distance necessary if the program was worthwhile.
Other key findings detailed in the white paper include:
– Data from the upcoming Global Recovery Insights Report by UFI, Explori and the Society of Independent Show Organisers (SISO) show that exhibitions in Asia are likely to see stronger growth in participation from visitors and exhibitors, compared to the rest of the world.
– There is also a stronger appetite for digital or hybrid events from respondents in Asia  they are more than twice as likely to have participated in such events than respondents from other regions.
– Beyond digitalisation, the white paper highlights three innovation pillars to successfully reimagine the industry: Business Models; Delegate Experience; and Talent & Capabilities.
–  One example was how the Italian Society of Anaesthesia, Analgesia, Resuscitation and Intensive Care worked with AIM Group International to redefine the format of their annual congress. They organised a roadshow across eight Italian cities using a truck that housed a studio, from which content was broadcast on big screens. This enabled the society to meet and deliver content safely to its members in person, including healthcare partners on the frontlines of the pandemic. 
"The pandemic has emphasised the need to innovate and be nimble in the business events sector. This journey of transformation is not a sprint, but a marathon that extends beyond the pandemic," said Keith Tan, Singapore Tourism Board chief executive, adding that the white paper will guide the local MICE industry as the city state scales up its capacity for larger business events.
More… Singapore raises game for post-Covid events
Kai Hattendorf, managing director and chief executive of UFI, said: "Business event companies and their customers across Asia Pacific have shown themselves to be more open to digital business developments than their global peer group.
"Exhibitors in Asia are now much more optimistic about their budgets than they were in summer 2020. We hope that this white paper is useful in showing some of the approaches and opportunities that lie ahead for business events as the fastest of all fast tracks for economic recovery," said Hattendorf.
Main picture: Attendees at Singapore MICE Forum x IBTM Wired show digital health records and delegate credentials before entering the conference. Pictures by RX