EVENT organisers in Hong Kong gathered for a year-end panel discussion and 2020 launch to reflect on a tumultuous six months for the city's hospitality and business event community in a networking evening that featured a mind reader.
It was third-time lucky for the local chapter of the International Live Events Association in attempting to organise its combined Event Industry Outlook and seasonal "kick-off" cocktail at The Hive, in Central.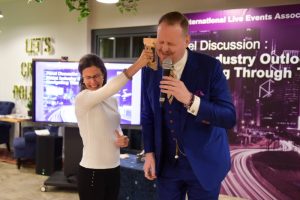 The event – based on the theme "Navigating through Troubled Times" – had been postponed twice due to tension in the city from ongoing protests that turned violent, including the occupation and subsequent siege of two universities.
No representatives from either side of the ongoing conflict, or the tourism board, were available on the night for mentalist Stuart Palm to probe. But the event, on December 13, gave event organisers from Hong Kong and Macau an opportunity to gather and offer encouragement during what has been a difficult 2019 for the industry.
A hotelier, an exhibition organiser and an events company owner joined the panel discussion which was aimed at sharing experiences of how each have handled the ongoing protests and a previous crisis that hit the city: the Sars epidemic of 2003.
Hugo Cheng, F&B director with The Park Lane Hong Kong, a Pullman Hotel, told how travel advisories were issued in March 2003 when outbreaks of the respiratory disease were reported in Hong Kong and other Asian cities.
The Sars outbreak led to an economic downturn and the hotel industry being among those that had to take precautions. However, in July 2003, when the World Health Organisation declared that the disease had been contained, economic activity began to pick up again with an increase in visitors.
More: Hotelier urges government support for hospitality amid HK crisis
While the Sars outbreak was relatively short-lived and was tackled by teams of international scientists, more uncertainty surrounds the current crisis in Hong Kong, which erupted last June over a now-withdrawn extradition bill. It has since morphed into other demands and clashes between police and protesters.
That uncertainty has had severe repercussions on the events and hotel sector with conferences being cancelled or moved to other cities while hotel occupancy has plummeted.
One events supplier told the audience how the drop in business forced his management team to consider making an employee redundant. However, they described how touched they were when approached by staff volunteering to take a pay cut in order to save the job of their colleague.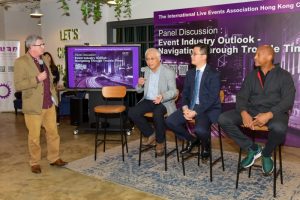 The company did not impose the pay cut or let the employee go and has instead maintained the team in the hope that city businesses will continue to hold live events. "They offered, but luckily we didn't have to take them up on it," the agency owner told MIX.
The city's exhibition industry is displaying greater signs of resilience with international buyers for events such as the Gem and Jewellery Fair endorsing Hong Kong as a great place to do business despite negative global headlines.
One of the latest trade shows to be transferred from Hong Kong to a rival city is Asia Fruit Logistica 2020, which will be held in Singapore. The Global Wellness Summit was also moved from Hong Kong to Singapore, while the 2020 edition of technology conference RISE has been postponed.
However, KS Tong and his team at KS Exhibitions told how they kept "negative influences" to a minimum with buyers and suppliers happy to meet at a secure location in the form of Hong Kong Convention and Exhibition Centre.
The discussion rounded off with encouraging comments from panelists and audience members. Ironically, and somewhat hopefully, the evening was rounded off with a performance from mind reader Stuart Palm, a mentalist and hypnotist also entertains at corporate events.