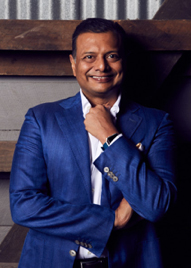 A HOSPITALITY group owner has called on the Hong Kong Government to assist the local hotel industry as occupancy rates tumble amid continuing clashes between protesters and police.
Ovolo Group founder and CEO, Girish Jhunjhnuwala, said the situation in Hong Kong had hit "all corners of the city" including retail, aviation and financial sectors, with the tourism industry having suffered the most economically.
He said the region's government and the Hong Kong Monetary Authority should step in to support businesses that are struggling due to the downturn.
Hotels in the city have imposed compulsory unpaid leave on staff and other cost-cutting measures as occupancy rates fell 40 per cent in August compared to the same period last year, according to official figures. Hong Kong International Airport also recorded 800,000 fewer visitor arrivals since disturbances broke out in June and forecasted two million fewer passenger arrivals for 2020.
More: Organisers pick Macau, Bangkok as HK disturbances grip
"It's devastating to see the effect that the recent situation in our city has had on local businesses, particularly those of us in the hospitality industry," Jhunjhnuwala said, adding that group arrivals from mainland China have also dropped by 90 per cent in the first 10 days of September.
"When our businesses weather tough times, those hit the hardest are not the top-level executives, but our team members – the employees working at the forefront of our organisations. It's those members of our society that are unfortunately the ones who are now facing reduced hours, reduced wages or in some cases even redundancies," he said.
Organisers pray for cooler heads to prevail
"With this in mind, it is imperative the Hong Kong Government and Hong Kong Monetary Authority both step in to lend a helping hand to local businesses that are struggling during these times – not only to ensure we reduce negative economic impact and avoid loss of wages or jobs, but to ultimately protect Hong Kong's status as a thriving tourism hub for years to come."
Ovolo Group has become one of Hong Kong's largest independent owner-operator hospitality companies, employing over 190 people in the city across head office, four hotels and five F&B venues. The group says it serves an estimated 100,000 business and leisure guests each year in addition to approximately 165,000 diners.