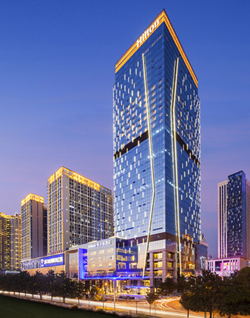 Hilton Worldwide has opened its first hotel in Zhuzhou, Hunan province, offering the city's largest event space.
The 368-room Hilton Zhuzhou boasts 3,000 sqm of conference and banqueting space, including nine meeting rooms and a 1,280 sqm pillarless ballroom that can hold up to 1,000 people.
The hotel has installed large freight elevators providing access to all of the hotel's meeting spaces, which will be able to accommodate large-scale product launches such as automobiles.
At 158 metres high, Hilton Zhuzhou is the tallest building in the city. Major shopping malls and attractions are within walking distance of the hotel, such as Shifeng Forest Park, Shen Nong Park and Yandi Square.
"Helping global travellers find new experiences has been in Hilton's DNA since we opened our first hotel in 1919, and we are proud to extend our renowned hospitality to travellers visiting Zhuzhou," said global head of full service brands of Hilton Worldwide Rob Palleschi.
"Hilton Zhuzhou is the perfect choice for guests, especially business travellers, and we look forward to capturing the growing corporate and MICE segments of this important city", he added.
An industrial hub for manufacturing, building materials, metallurgy and chemical enginerering, Zhuzhou is Hunan's second largest city.
A half hour-drive from Changsha Huanghua International Airport, Hilton Zhuzhou, joins a growing list of international brands including Marriott and Sheraton, which is due to open May 2017.
For more information, see 3.hilton.com