ENCOURAGING figures have emerged from the Asia-Pacific Incentives and Meetings Event (AIME) with business revenue between exhibitors and buyers at the three-day show Melbourne show expected to be  A$200 million in the next 12 months.
The projected value would mean a 70 per cent increase from the hybrid event in 2022 and comes as part of a post-show analysis, which also includes:
90% of exhibitors were satisfied with their attendance at AIME. This statistic outperforms equivalent benchmarks and places AIME in the top 5% of trade shows globally for exhibitor satisfaction, according to the trade show's Explori survey.
Nearly 90% of visitors expressed satisfaction with their attendance at AIME. Explori found that this statistic outperformed both equivalent benchmarks and also previous AIME events. It places AIME in the top 10% of trade shows globally for visitor satisfaction.
Almost 80% of visitors are likely to return to AIME, feel it's important in advancing their businesses, and is the place to source new products and services.
84% of visitors felt their objectives for attending AIME were met.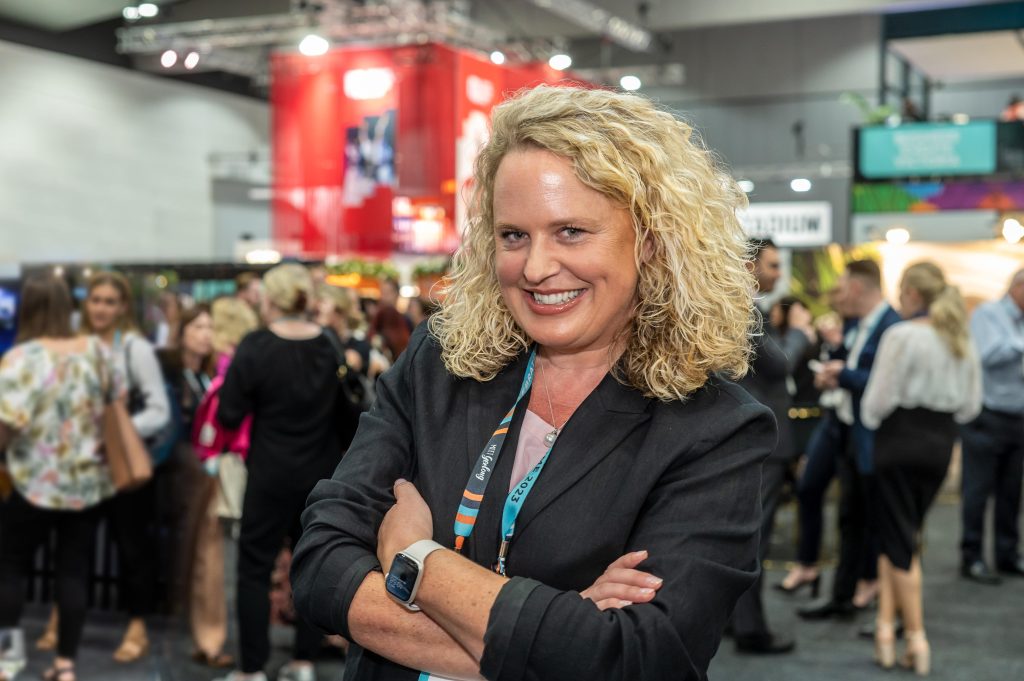 "These results are testament to the hard work that goes into fostering outstanding business outcomes," said Silke Calder, AIME event director. From our bespoke technology to the rigorous vetting of buyers, and from our AI powered meeting platform to our first-class Knowledge and AIMEbassadors Programs, the value of business events is championed at every juncture.
"Excitement is building for AIME 2024, with the majority of 2023 exhibitors already reserving space for next year. This demonstrates both the show's legacy as well as its importance to the global business events industry. It is also a reason why AIME is one of the most trusted shows in the Asia-Pacific region," Calder said.
AIME celebrated its 30th anniversary in February with show manager Talk2 Media expecting post-pandemic growth as China buyers return in 2024. The 2021 show was cancelled due to the pandemic and a hybrid event held last year as Australia reopened for travel.
More… AIME awaits the Sleeping Giant
Julia Swanson, CEO of Melbourne Convention Bureau, which owns the show, said: "AIME enables new and valuable connections to drive commerce not just for us here in Victoria, but for the wider Asia-Pacific region. At the Melbourne Convention Bureau, we are thrilled with the achievements to date in bringing this event to you, for three decades.
"At the core, we are about business events and providing the best access to key decision makers and the people who make it all happen. AIME has proven itself as an essential platform for this." Swanson said.
More than 400 hosted buyers and media outlets, 3,000 visitors and more than 350 exhibitors attended AIME, where over 12,000 meetings took place. New zoning on the show floor was designed to enhance networking and navigating between exhibitors.
New features included the Accor Hosted Buyers Lounge, a new tech area and the Wellness Café. A special anniversary lanyard featured First Nation artwork.
AIME 2024 is scheduled for February 19-21 at Melbourne Convention and Exhibition Centre. For inquiries check the AIME website…