IN AN Australian first, Get Local has ordered over 2,000 Rapid Antigen Tests to be used for all exhibitors, visitors and staff on arrival to instil confidence in the safety of attending the event happening on February 15-16 at ICC Sydney.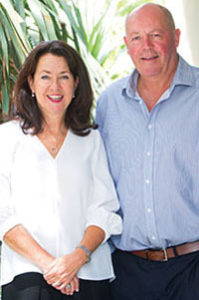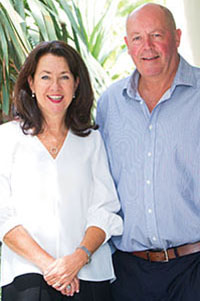 Get Local co-founders Donna Kessler and Gary Bender (right) said the decision not to postpone was made after receiving encouraging feedback from the industry throughout January, particularly from registered buyers who said they would be there.
"For almost two years, industry buyers have been unable to physically see and source new products, meet face-to-face with their suppliers or network with colleagues," said Kessler.
Backgrounder… Event leaders urge Rapid Antigen Covid tests
"If the industry's own event does not proceed as scheduled, then what message does that send to the broader business community about meetings and travel generally?
"For the stability of the industry and the economy it is crucial that businesses continue to operate and grow despite Covid-19 and even more so for the industry itself to lead this return."
Get Local will have contactless registration, no handouts, brochures or physical giveaways, and an open-floor design with ample space for participants to move freely while physically distanced, keeping to ICC Sydney's Covid EventSafe Operating Guidelines.
Opinion… Get set for post-Covid 'Great Push'
Get Local co-founder Gary Bender said: "Continually cancelling business-to-business events could lead to a huge shift and downturn in the way people market their businesses, make sales and communicate with clients and suppliers.
"As the first business events tradeshow of 2022, it's crucial to demonstrate how business events can continue successfully and in a Covid-safe way," he said.
BESydney CEO Lyn Lewis-Smith praised the event's founders for their determination and commitment to bringing business events buyers and sellers together in Sydney next month.
"It's important we come together as a sector and demonstrate the true value of face-to-face business events, in the COVIDSafe hands of event professionals," said Lewis-Smith.
More… ICC Sydney delivers A$510m despite Covid
Kessler added: "We as an industry event need to be the benchmark example demonstrating that meetings and events can be held safely and that all participants remain confident to attend gatherings of this kind."
ICC Sydney operates under the New South Wales Health Guidelines and its EventSafe Operating Guide, which draws on its ASM Global network of international venues and ASM Global's VenueShield. These were developed in accordance with international healthcare guidelines from the World Health Organisation and other leading authorities.
Geoff Donaghy, ICC Sydney CEO, said business events catalysed economic prosperity he looked forward to seeing the industry getting back to what it does best during Get Local.
Backgrounder… Get Global postponed
Destination Gold Coast chair, Adrienne Readings, said the return of Get Local as the first major industry forum in Australia for 2022 would help start the recovery of business events.
"Get Local will be a national showcase for business events and we're excited to be coming together as an industry to connect and share our destination with valued partners and buyers," said Readings.
Destination Gold Coast CEO Patricia O'Callaghan welcomed the exhibition as a time to meet face-to-face once again and celebrate the return of business events.
To register your intention to attend Get Local, click here… 
Main picture: A buyer-supplier meeting from at an edition of Get Global, a pre-Covid version of Get Local