THAILAND has made immense strides in controlling the coronavirus pandemic with special attention paid to a gradual and safe re-opening of the kingdom's tourism and business events industry. 
Successful lockdown measures followed by stringent health and hygiene checks have led to gatherings of particular sizes being permitted in phases with measures such as social distancing and other precautions in place.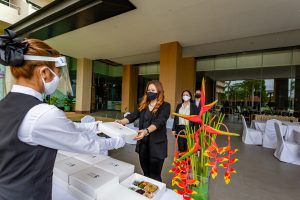 Royal Cliff Hotel Group was well prepared for the re-opening of hotels in the resort city of Pattaya in early July by working closely with medical professionals and Thailand's Ministry of Health to implement new standards on staff procedures and hygiene throughout the property.
Royal Cliff's efforts received official recognition when it was recently awarded the Amazing Thailand Safety and Health Administration (SHA) Certificate, which shows the hotel is a destination that complies with the highest hygiene and safety standards.
Overlooking the Gulf of Thailand, Royal Cliff Resort offers 54 meeting rooms of various sizes with the PEACH convention centre playing an important business events role in the province of Chonburi and for the nation. Now, once again, the resort – located on 64 acres of private parkland – is ready to welcome conference, incentive and other business event groups.  
With a B-leisure setting and the safety of guests and their families a priority, the SHA certificate shows how Royal Cliff has worked stringently to provide a safe environment. For conferences and business event organisers, the Royal Cliff's Protection C package offers a great deal along with peace of mind so delegates can gather safely.
ROYAL CLIFF PROTECTION-C PACKAGE
Starting at THB2,700 per person and including accommodation, coffee breaks and lunch, the Royal Cliff's Protection-C Package is the ideal way to recommence conferences and incentives in a safe and secure location that lays the basis for successful meetings.

Benefits include assistance in the planning stage with a designated sales manager, followed up with an events coordinator to help look after your group. Face masks will be provided during the event with thermal scanning of attendees and sanitiser gels available.

Delegates are also entitled to free use of the Fitz Club fitness centre when staying overnight at the hotels and there is a 10% discount in all restaurants and for spa treatments. There are also special rates on accommodation for longer group stays and for organisers, plus a whole range of benefits including video-conferencing options.

For details contact success@royalcliff.com or call (+66) 38 250421
Delegates and guests will find Royal Cliff's commitment reinforced in detailed guidelines covering nine key areas, from check-in procedures and meeting-space configurations for safe social distancing, to hygienic practices for staff and the vigilant safeguarding of dining experiences.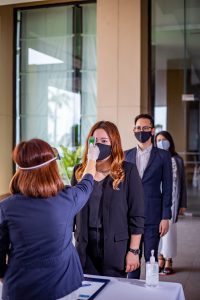 In addition, Royal Cliff follows updates and advice from the World Health Organisation and Centres for Disease Control and Protection.
Groups arriving for conferences or events have the option of pre-arrival check-in with health and travel history recorded on arrival along with temperature checks and ready access to hand-sanitiser gel.
An onsite clinic is available from 9am to 6pm, while a nurse is on standby 24 hours. Masks are available at front-office counters and, with ample signage around Royal Cliff, guests and staff are reminded of the importance of safe social distancing, hygiene and health.    
Before entering meeting venues, all delegates are required to register, check-in and check-out using Thai-Chana, an online contact-tracing platform, developed to ensure venues and people who visit them continue to remain safe.
Attendees from high-risk countries cannot attend meetings unless they produce a medical certificate stating they are well and have been quarantined in Thailand for 14 days.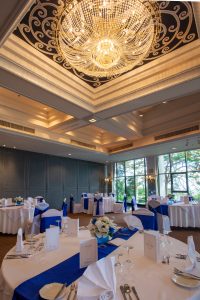 Details are important throughout Royal Cliff. Door handles, elevator buttons and restrooms are sanitised every hour in addition to high-risk areas, while event microphones in meeting rooms are disinfected regularly.
When it comes to coffee breaks and lunches, organisers have the choice of the F&B being given to each delegate in pre-packaged disposable containers, while table linen is delivered and removed safely in single-use sealed bags. For buffets, there is the option of staff at each food station to serve delegates safely.
Thailand's Ministry of Public Health advises a maximum of four persons for 10 sqm of meeting space. So Royal Cliff works with clients when arranging seating set-ups with clear entry and exit points to further assure your groups that their safety is paramount.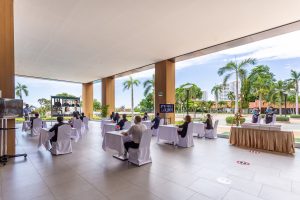 One of the many benefits of holding events at Royal Cliff is the choice of open spaces, with the B-leisure concept likely to become more popular among planners seeking alternative settings for their groups in the post-Covid era.
Whether indoors, outdoors or availing of the Royal Cliff's pristine beaches, management and staff remain committed to your group's safety, wellbeing and enabling a productive outcome for your event.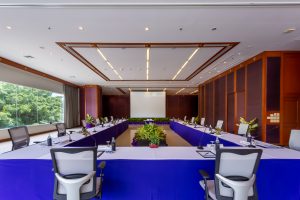 For more information, please visit www.royalcliff.com, send an email to success@royalcliff.com or call +66 (0) 38 250 421