MEET TAIWAN is launching a new event called Taiwan Incentive Talk to showcase the island from north to south with a special opportunity for buyers to hold one-to-one online business exchange sessions with MICE suppliers.
Taiwan Incentive Talk is based on three afternoons of online networking that will introduce the appeal of each region for conference and incentive groups. Buyers will have the option to join 1:1 meetings with event organisers after viewing a video showcase.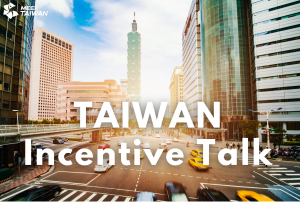 What makes Taiwan Incentive Talk's video showcases stand out from other MICE presentations are sequences filmed using a dramatic, sweeping camera technique inspired by the growing sport of parkour. These parkour shots capture vivid scenes and show experiences that visiting groups can enjoy in Taiwan, whether based around culture, gastronomy, architecture, events or shopping.
Anping Old Fort in Tainan

FUSION TAIPEI & VIBRANT
HARBOR CITIES
The first Taiwan Incentive Talk begins with the Fusion Taipei Edition on August 26, featuring northern Taiwan business event suppliers from Taipei and others across the region. There has been a resurgence of international luxury hotels in Taipei in recent years, raising Taiwan's appeal among global event organisers.
For groups seeking activities such as teambuilding and tours, landmarks ranging from the National Palace Museum, night markets and hiking trails are among the popular options.
On October 21, the event moves south with the Vibrant Harbor Cities Edition spotlighting organisers based around Kaohsiung and Tainan. While Kaohsiung boasts big venues such as the New Bay Area, the neighbouring coastal city of Tainan has much history, highlighted by the preserved landmarks of colonial settlers from centuries ago.
MEET TAIWAN, an agency under Bureau of Foreign Trade purview, will host the event and feature a global MICE database along with access to incentive and event planners.
Another way in which Taiwan Incentive Talk differs from traditional trade shows is that MEET TAIWAN is ready to offer international buyers detailed information to supplement any inquiries they may have, enabling global buyers to be more informed about business opportunities and put ideas into action.
Popop Taipei
A highlight of Taiwan Incentive Talk will be its physical setting, which is in Taiwan's latest unique venue—the Taipei Bottle Cap Factory.
The former industrial building now forms part of Popop Taipei, a creative hub for the city's up-and-coming brands and startup companies, which also facilitates events.
The factory dates back to 1943 and was saved from demolition when city authorities realised its potential as part of a new culture hub and as a historic building.
Taipei Bottle Cap Factory provides studio, exhibition and retail space for local brands as well as a unique venue for when international MICE groups are welcomed back to Taiwan.
Pre-qualified buyers will be connected to MEET TAIWAN's established circle of MICE suppliers with brand-name hotels, convention and exhibition centers and destination management companies with years of business event experience.
Suppliers at both events will be sponsoring prize draws and a quiz that will make the interaction between buyers and suppliers all the more fun while learning about Taiwan's MICE industry.
Buyers will not only learn about Taiwan's infrastructure and professional services regarding superb conference venues, they will also have a selection of incentive and post-meetings activities that groups can use to bond and teambuild while learning more about Taiwan.