KAOHSIUNG is ensuring a legacy for the meetings industry to build on after the city's event technology expertise enabled it to host the first hybrid ICCA Congress. The event concluded with the Kaohsiung Protocol: a framework identifying major trends and a new era in which conference organisers explore the creative opportunities offered by digital technology.
The maritime city is also implementing its own legacy. This is based on the rollout of 5G technology with venues such as the Kaohsiung Exhibition Center (KEC) and the nearby showpiece music complex chosen as 5G test fields. Both venues were used during the 2020 ICCA Congress, an event that showed the world's meetings industry how event planners in Taiwan are equipped to overcome the challenges brought about by the global pandemic.
Working with city authorities and MEET TAIWAN, under Bureau of Foreign Trade purview, venues in Kaohsiung also serve to highlight the city's transformation. Once reliant on heavy industry, Kaohsiung is encouraging digital innovation in a setting characterised by a revitalised waterfront with modern architecture to match. The new KEC landmark was followed by the Kaohsiung Music Center, the National Kaohsiung Center for the Arts, and a rejuvenation of the former waterfront warehouse district into an attractive destination for leisure visitors and conference delegates.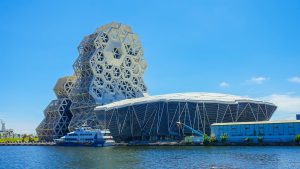 Kaohsiung's Asia New Bay Area is not only shaping up to be a world class hub for 5G, its smart city innovations that incorporate technology into its community convert the area into a combination of smart industry with world-class cultural and exhibition facilities. This is also proving to be a major contributor to Taiwan's transformation.
The Asia New Bay Area is a major construction project undertaken as part of the urban development of Kaohsiung Harbor and downtown Kaohsiung City. Chosen by the Taiwan government as the focal point of an NT$11 billion (about US$397.2 billion) five-year development plan, the vision is to create Taiwan's most wide-ranging 5G and AI innovation hub based around Kaohsiung Software Park. This hub opens doors for creative use of these technologies by teams planning events  such as the ICCA Congress last November that showed how effective Kaohsiung is at hosting conferences in the digital era.
More… Taiwan Enhances Digital Event Options
As its name suggests, the Asia New Bay Area is also aimed at placing Kaohsiung City as an influential destination not only across East Asia, but also globally. For this to happen, meetings and business events with 5G-ready venues are crucial along with the backdrop of a people-friendly waterfront and Kaohsiung's growing technology credentials. It also passes on the spirit and values of the Kaohsiung Protocol.
Development plans also include targets to attract 50 foreign and local companies, in addition to 120 start-ups, to join the Asia New Bay Area innovation hub over the next five years. These companies and their brands will need conferences, meetings and business events with the creative and digital expertise the new MICE era will demand.
More… Taiwan's Waterfront Wonder
Smart City innovations come in the form of integrating Kaohsiung's community infrastructure into the 5G network. These range from administering street lighting and parking, to identification systems for ports, digital mapping and more. Services will also extend to emergency services and public transport networks across the greater Kaohsiung area. Travel will become more convenient for commuters and conference visitors alike with the integration of systems for light rail, ferries, contracted taxis and highway buses. On the medical front, blood pressure and temperature records will help health professionals in their work, while data can assist frontline ambulance and firefighting crews.
The Kaohsiung Protocol is a modern model for the conference industry. As destinations await the re-opening of borders to business event groups, conference organisers across the world will be wondering if destinations can offer anything new. Along with the story of Kaohsiung City's waterfront transformation and historic hybrid 2020 ICCA Congress, Kaohsiung continues its upgrades of ambient air quality, community medical services and transportation systems matched with network technology, ensuring business event visitors to Kaohsiung will be embarking on a totally new experience.
Main picture: Kaohsiung Exhibition Centre, the main venue for the hybrid 2020 ICCA Congress, and part of the city's revitalised waterfront