TAIWAN'S technological prowess is renowned. Little wonder then that its MICE industry has been able to readily adapt by developing virtual and hybrid events that connect delegates across the world.
This was seen when the ICCA 2020 Congress became a hybrid event in response to international travel being halted by the Covid pandemic. The Congress was hosted in Kaohsiung with the city being the global event's hub.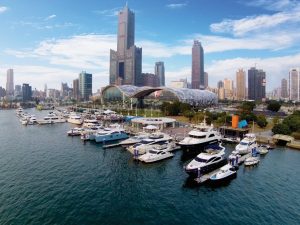 Event travel may be on hold for now but MEET TAIWAN – under the Bureau of Foreign Trade ­– is determined to be at the forefront of the MICE industry's digital transformation with the overall goal of welcoming back overseas groups safely when the time is right.
By offering digital options, MEET TAIWAN enables business events to continue to be hosted in Taiwan while reaching international audiences online, which is increasingly important as planners and clients embrace the new normal.
Leading business event venues in Taiwan are making hybrid and fully online events available to organisers of conferences and exhibitions with innovations ranging from 5G and digital broadcasting studios to virtual trade-show floors and product presentations using 360° video.
Online exhibition templates
An online interactive exhibition template can be used by event organisers to provide a virtual setting featuring five exhibition halls six booth designs. This innovation, provided by Taiwan's Bureau of Foreign Trade, can also be customised by planners by adding webinars and more for their particular event.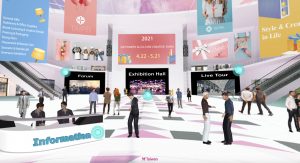 Visitors can download information in text formats and as PDF catalogues, while 360° video formats are used to give on-demand views of destinations, venues and pre-arranged product presentation.
An event that used the interactive template was Gift & Culture Creative which was also physically held at the Taipei World Trade Center during April 22–25; the online show extended the event an extra month to May 21.
Digital-events innovation with 5G
At Taiwan's most prominent venue, the Taipei International Convention Center, safety measures have been upgraded as part of its revamp along with a digital broadcast facility – TICC 103 iStudio – among its new offerings.
Innovation for conferences and events elsewhere in Taiwan are also being enhanced. To continue providing organisers with digital innovation options, Taiwan's four largest business event venues have been selected to demonstrate 5G infrastructure along with AR and VR innovation for the MICE industry.
These conference and exhibition centres in the capital Taipei and the southern port city of Kaohsiung are deploying enhanced 5G communications technology to ensure organisers have access to a wide range of event formats that extend to augmented and virtual reality to enhance the experience for delegates.
TICC 103 iStudio
UPGRADES at Taipei International Convention Center this year include a new digital studio to meet the demands of planners seeking video conferencing and webcasting services.

TICC 103 iStudio emerged from the switch to digital technology that planners were making in 2020 as physical gatherings were postponed or cancelled amid the global pandemic.

A TAIWAN EXCELLENCE event at TICC 103 iStudio

The venue's live video-conferencing service was launched last December to allow multiple participants to meet simultaneously. This was recently upgraded to a professional studio equipped with three cameras, a teleprompter, spotlights, a green screen and more with a professional media team also available.
iStudio enables the Taipei International Convention Center to offer more than meeting rooms and conference halls, with the venue adopting an additional role as a full-service meetings organiser.
Global associations and corporations will find it easier to engage members and clients by using the TICC 103 iStudio to connect participants across the globe.
5G innovation shows how Taiwan continues to take technology to the next level. For organisers this means higher-speed internet and the ability to deploy the compellingly engaging visual wonders provided by AR, VR and other digital enhancements for exhibition and conference content.
Taipei World Trade Center, both halls of Taipei Nangang Exhibition Center (TAINEX 1 and TAINEX 2) and Kaohsiung Exhibition Center serve as 5G demonstration fields.
This all means more value and a better experience for business event clients, whether it be the faster communication and smart services that 5G enables, such as geo-positioning for buyers to locate booths efficiently at exhibitions, or more robust internet power to deliver better visual displays and video-conferencing.
Taiwan's advancements in science and technology have helped with the immense strides it has taken in limiting the effects of Covid-19. The world is still struggling with the pandemic, yet health authorities in Taiwan have not let down their guard, despite their achievements in containing the virus.