CHANGE is said to be the only constant and that is certainly the case as COVID-19 continues to cause disruptions across the world, challenging the meetings industry to transform.
Three years ago, from a shortlist of three out of eight destination bids, Taiwan's southern port city of Kaohsiung was selected as host city for the 59th ICCA Congress 2020.
When announcing the successful bid, ICCA president Nina Freysen-Pretorius said Kaohsiung told a "compelling story of a city re-inventing itself through the power of meetings". The 2020 Congress would help ICCA engage more effectively with Asia Pacific-based associations, and Kaohsiung's bid showed "great team cohesion and offered tremendous value for money".
At that time there was no hint of the unprecedented effect a global pandemic would later have on business and conference travel.
Undaunted by the abrupt challenges of limited travel and social-distancing rules, the International Conference and Congress Association and Kaohsiung City Government, along with support from the Taiwan Bureau of Foreign Trade, worked together to make the November 1-3 congress at the Kaohsiung Exhibition Center, a unique and successful event.
This endeavour has inspired #TransformingTogether – a hashtag that not only sums up the team spirit surrounding the upcoming ICCA Congress, it also represents how Taiwan and the city of Kaohsiung are rising in the world of meetings and incentives.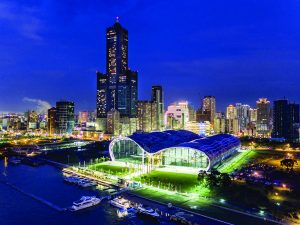 Transformation can happen quickly. When COVID threatened earlier this year, authorities wasted no time in using Taiwan's technological and anti-epidemic expertise to implement health and safety measures to protect people.
When that was done, and everyday life resumed to as normal as possible, it was time to prepare for another transformative stage: the recovery of domestic business events.
The 15th Asian MICE Forum (AMF), which successfully took place in Taipei on September 16, is a prime example of how Taiwan's convention and exhibition industries are operating safely under the new normal. Hybrid technologies were used at the AMF for discussion panels involving international speakers and delegates who were not in Taiwan, while safety precautions were in place for venue attendees.
These measures will no doubt inspire the Asian MICE industry to plan and implement their own post-COVID transformations.
Aside from the new-normal health precautions that are changing the meetings industry worldwide, transformations involving investment and strategy can be seen in Kaohsiung's New Bay Area. World-class architecture has taken shape and there is rejuvenation of dockland heritage buildings in the Pier-2 arts district. As the ICCA conference was beamed globally, Kaohsiung advanced to another stage with its transformation into a global city.
At the forefront of international campaigns to heighten Taiwan's MICE profile is MEET TAIWAN, a project team that provides support and subsidies for organisers to ensure their groups enjoy cost-effective programs with memorable activities and itineraries.
More… Virtual or physical, events are better in Taiwan
MEET TAIWAN also teamed up with Kaohsiung to highlight Asia's New Bay Area. Alongside international campaigns highlighting the surrounding region's cuisine, culture and numerous and unique venues, MEET TAIWAN's support for Kaohsiung's hosting of the ICCA Congress extended to working with local ICCA members to send mask-care packets to a thousand association colleagues in 98 countries.
These efforts and more have helped the congress make history as ICCA's first hub-and-spoke approach to live-streaming the main conference from the Kaohsiung Exhibition Center to regional hubs across the world.
This is where Taiwan's high level of technological expertise comes in, as more global conferences adopt hybrid formats, enabling virtual and live-streaming conferences to combine with in-person events.
In addition to meetings technology and showcasing Taiwan, other important developments for the meetings industry emerged from the conference in the form of the Kaohsiung Protocol—a blueprint and guiding light for the future of international association events.
More on Kaohsiung: Taiwan's waterfront wonder
The Kaohsiung Protocol will show that transformation is indeed happening in Kaohsiung as the spotlight on the city increases in the global MICE industry, especially following ICCA Congress 2020.
Kaohsiung's mayor mentioned that human connections will strengthen as the meetings industry transforms and adapts to new methods of event delivery. Whether conferences are held virtually, in-person or via hybrid formats, MEET TAIWAN will support and encourage transformations by playing its part in helping shape the future of business events.
MORE NEW BAY AREA VENUES
The following is a selection of three venues epitomising the business and cultural sides of a changing Kaohsiung.

International Convention Center Kaohsiung – ICCK provides a professional platform for all types of conventions, exhibitions and events. Flexible meeting spaces can accommodate groups sized from 20 to 2,000 participants, while up to 380 booths can be arranged for exhibitions. The venue overlooks Love River, with ideal venues for delegates to enjoy post-meeting socials.

Pier-2 Arts Center – Instead of demolishing or abandoning the district, Kaohsiung's artistic and creative community was encouraged to help bring the former warehouses for sugar, fishmeal and banana exports back to life as part of the region's New Bay Area. Now home to studios and workshops for artists and designers, performances, exhibitions and other creative activities at Pier-2 highlight the rich diversity of Kaohsiung to international visitors.

Kaohsiung Main Public Library (top image) – Following the opening of Kaohsiung Exhibition Center, it was soon the Main Public Library's turn to display its architectural merits. On the top floor of the eight-storey, 38,000 sqm library that is located only 750 metres from the KEC, a subtropical garden landscape is integrated into the architecture. As the world's first column-suspended green building, trees are a primary feature of the overall design from an architectural collaboration between Taiwan's Ricky Liu and Toyo Ito's team from Japan.

Main picture: Kaohsiung Public Library