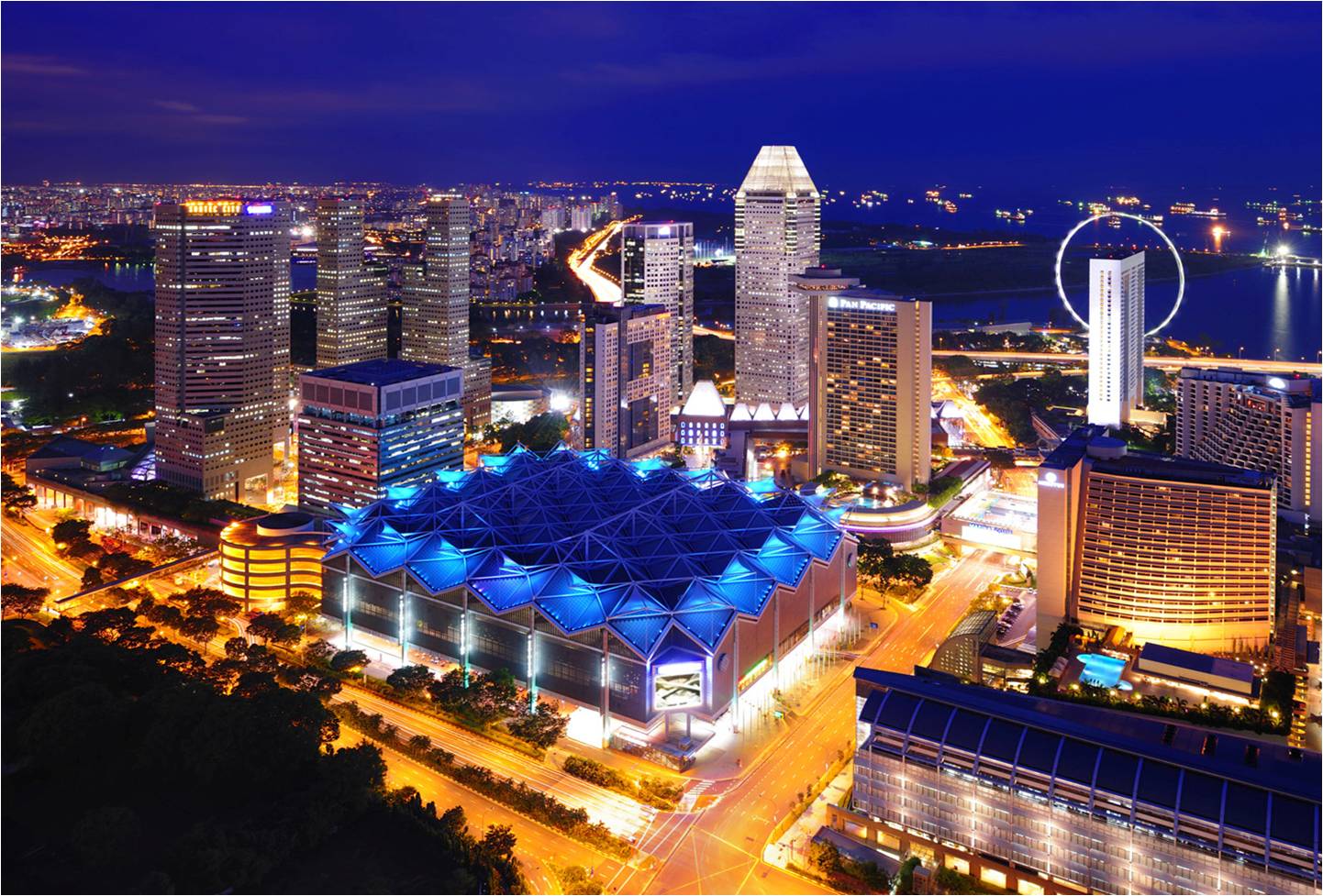 Planners watching the purse strings but wanting to do their bit for the environment are meeting both targets by hosting green meetings and events. Adopting such initiatives typically means choosing eco-friendly venues, curbing energy usage, adopting paperless conference rooms and encouraging guests to share transport among other planet-friendly policies.
Eco-conscious organisers can begin the process by looking for green venues such as the Bangkok Convention Centre at Centralworld, which has adopted a programme called CEPPER (Community, Eco-technology, Partnerships, Products, Education and Recycle) to demonstrate its commitment to the environment. There are also innovations in the approach to the design of buildings across the region. SUNTEC Singapore, for example, has a pyramid-shaped roof to collect rainwater to irrigate nearby trees and also converts cooking oil into biodiesel. Like many other eco-conscious spaces, it is also following the recommendations made by the American Society for Testing & Material (ASTM) Standards for Green Meetings. These guidelines cover everything from the requirements and environmental sustainability criteria for the set-up and dismantling of trade shows through to specifying the range of audio-visual and production services required for an event. The World Green Building Council, meanwhile, now offers information on green buildings in Chinese to encourage compliance on the mainland. Its members include the Malaysia Building Network, which hosted an eco-building workshop and exhibition this March.
AN ECO-FRIENDLY SET-UP
As the first convention centre to achieve the Green Building Council of Australia's six-star Green environmental rating, the Melbourne Convention & Exhibition Centre (MCEC) has many eco-friendly initiatives, including a treatment plant to collect and treat wastewater for toilet flushing, irrigation and cooling purposes. There are also multiple avenues for waste management, including composting and an onsite, closed-loop recycling system that clients can use for free.
The venue features an 18-metre tall glass façade fronting the Yarra River, which fills the foyer and pre-function spaces with natural light, while Low Volatile Organic Compounds carpets, paints adhesives and sealants are used to enhance the indoor air quality. Sustainable communication initiatives are covered by MCEC's M Green Team, which has targets to reduce landfill waste and provide environmental solutions to clients, whilst promoting the recycling initiatives found throughout the workplace.
"MCEC's event operations team can assist in reducing lighting levels for events and the opportunity to purchase so-called "green power", where the equivalent power usage is purchased from a renewable energy source. We've also introduced refillable one-litre glass water carafes in each of our meeting rooms to replace plastic bottled water," says MCEC chief executive Peter King.
As for what's on offer for those looking to host an environmentally-friendly event, King elaborates, saying: "MCEC gives advice and provides options on how customers can 'green' their event. This includes waste management and we provide full composting facilities for food waste and a recycling system onsite. Clients can use these facilities free of charge. MCEC can also help event organisers calculate the amount of waste at their event going to landfill. We also offer a sustainable menu with ingredients sourced from local producers and specifically tailored for each event." MCEC additionally encourages clients to take away everything they bring onsite and restrict paper use in favour of USBs or CDs.
While MCEC is careful to produce just enough food based on the numbers of visitors attending each event, surplus raw ingredients are donated to Secondbite, a company that collects nutritious fresh food and distributes it to agencies and people in need. It also gives customers the option to recycle delegate's meeting satchels, which it donates to a local charity. The MCEC additionally offers a menu with ingredients sourced from local farmers, producers and winemakers.
COMMUNITY LINKS
Banyan Tree was founded with a core value of driving sustainable development as a socially responsible business. As one of the industry's most socially aware brands it is a good option for those looking to host eco-friendly events in a hotel.
Banyan Tree Bangkok, for example, is an earth check certified hotel – the world's leading sustainable benchmarking and certification programme. Senior manager of events management, Jariya Jariyawichai says about 20 per cent of Banyan Tree's corporate clients have a request of some kind which would fit into a green meetings concept. Frequent requests include no backdrop and no plastic water bottles. One popular choice for incentives bookings, Banyan Tree Bintan. Akiko Hayashi, director, field performance support, Banyan Tree Hotels & Resorts says: "We have a resource conservation activity that lets corporate groups take part in tree or mangrove planting. We can also arrange local school visits for the group, so they can teach an English class, paint school facilities and so on. The great thing is the same client will come back in the following year to check on the plantation or re-visit the school and re-unite with those children. So it is not only a one-off CSR experience – it will also continue to have an impact on businesses and relationships with the local community."
As for how Banyan Tree will make its meetings more eco-friendly over 2014 and beyond, Hayashi says: "We're going to launch a new "Go-Green" meeting package at some of the properties. This will proactively minimise waste generated from meetings through recycling and reduce energy consumption. For example, we will set the air conditioning to a more energy efficient temperature in the meeting room or offer semi-outdoor terrace venue for breakout sessions; use glass bottled water instead of offering plastic bottled mineral water; use projectors instead of providing handouts; and offer napkins made from recycled paper if we need to offer them during mealtimes."
REDUCING CARBON FOOTPRINT
John Girard, area general manager (Hong Kong) of Regal Hotels International and general manager of the Regal Airport Hotel, Meeting & Conference Centre, says the hotel recently received the Hong Kong Environmental Excellence Award after reducing its carbon footprint by 28 per cent. "Last year we set up small organic gardens at 5/F, with each garden growing various kinds of produce that are used as fresh, chemical-free organic herbal seasonings or vegetable dishes in the hotels' daily recipes and meetings/events. We are going to partner with a non-profit making organisation that works to mitigate hunger, build self-sufficiency and foster nutritional wellness while reducing food wastage in hotels and restaurants in Hong Kong. We will donate safe-to-eat surplus food to the organisation, which delivers it to those in need," he adds. More than 60 per cent of Regal clients have stated green initiatives as one of their baseline policies when choosing an official vendor.
SUSTAINABLE FARE
Like the Banyan Tree, Como Hotels and Resorts is also keen to put green meetings on the agenda in the Asia-Pacific region.
Como works collaboratively with the communities around it by having most of its food locally sourced and by working with suppliers who are leaders of sustainable economic development within their communities. Corporate groups are an important part of a hotel's growth and latest addition Point Yamu by Como in Phuket features three meeting rooms able to provide cosy set-ups for 20 to 30 persons.
At the company's flagship property, Como Shambhala, every detail of an event, from décor and spa treatments to team building activities, is managed in-house. A spokesperson for the hotel said: "Whether at Como Shambhala or any of our properties, we take great care to be stewards of the environment we are located in. It has always been a part of our philosophy to offer delegates cuisines that are authentic to the destinations. Our foods come from local, organically sourced ingredients where possible. Today, this is very welcome, as delegates become increasingly conscious of their diet and want healthy, organic food."
DMCS GO GREEN
DMCs across the region are also noticing more green requests from clients. Eeling Koh, director of MICE at World Express PTE in Singapore, said: "Some of the requests include simple things like a jug of water on the table instead of bottled water, sugar in a bowl instead of sachets for coffee and tea; milk in jugs instead of packet milk for coffee and tea, plus, instead of flying delegates to meeting venues, more virtual meetings to reduce the carbon footprint."
Koh says virtual meetings are the latest trend that clients are looking at – but she admits that it doesn't lower costs due to the higher price incurred for the technology required to conduct a successful virtual meeting. Nevertheless, investing in software such as PGI's Global Meet, which enables delegates to connect with up to 125 people and share presentations online, may prove a cost-effective solution to regional conferences in the long-term.
Moving forward, Koh expects to work with clients on reducing the production of branding on banners, backdrop and signage and do more of the branding electronically. The company also hopes to produce apps that delegates can download to their smart phones that can be used to view conference schedules, speakers' profile and exchange virtual name cards in a more economical way.
While the business events industry in Asia is not quite ready to embrace meetings that are completely green, many planners are taking eco-friendly steps – from arranging events at green venues to being more proactive about recycling. These decisions reflect a growing global concern to do more positive projects to protect the environment.
Top 10 ways to keep your meeting green
1. Ensure far-flung locations are not part of the agenda and keep flights to a minimum. Arrange meetings at a venue close to the office if you can. If delegates need to travel by road, encourage carpooling or take public transport to cut down on co2 emissions. Renting bicycles for attendees can be a good – and fun – idea.
2. Assign a team member to act as an environmental officer and safeguard the green credentials of your event. Choose someone who can share your environmental policy for the meeting with everyone involved – suppliers, delegates, presenters and exhibitors.
3. Employ technology and apps for online event registration, itinerary updates and event feedback. Cut down – or completely eradicate – paper handed out in conference rooms. If handouts are necessary, make them available for delegates to view online and download to their desktop instead.
4. Book eco-friendly hotels and conference centres that are built from eco-friendly materials and employ energy-saving techniques. Try green-key.org for a global list of suitable venues.
5. Check the recycling facilities at the venue or the hotel – will your food go to waste or can it be composted? How about paper, plastic, glass and aluminium?
6. During lunch, dinner and snack time, serve sustainable, local produce that's in-season and avoid paper plates and plastic cutlery that can't be re-used
7. Create signage, decorations and display booths that can be used again for future events.
8. Be conservative with goody bags and gifts and, if you must give gifts, choose one that delegates are likely to use and is environmentally-friendly.
9. Always think: is the meeting absolutely necessary? Save on energy costs by holding a virtual meeting on Skype instead, or opt for a conference call.
10.Keep up-to-date on eco-friendly industry trends by logging onto sites such as the World Green Building Council (worldgbc.org).