As team building has become an almost routine form of training, canny corporations are now seeking more original or offbeat experiences to genuinely challenge their best-performing employees.
After all, there are only so many times one can partake in forming a human pyramid. Without some authentic surprises, even the most costly team-building activities can dampen morale to the point where what should be fun begins to feel much like a work obligation.
Around Asia, there are a variety of unique team-building concepts, ranging from art jamming to heritage treasure hunting, all to foster synergy. Unconventional settings provide a break from daily routine, allowing participants to discover a new side of each other, an opportunity to bond, learn and grow together.
COLOUR PALETTE
At first glance, painting may seem like an odd choice for team building. But Hong Kong-based company Artjamming has a sure-fire formula.
"We customise painting experiences according to each company's goal," says founder Betty Cheung. "It is an effective way to enhance communication and encourage creative thinking that aligns with a company's vision."
For instance, Cheung once helped international fashion brand Lee Jeans' Hong Kong office to familiarise its design, marketing and administration teams with its global new marketing campaign. The goal was to highlight how creativity could be a result of collaborative efforts, promoting a teamwork culture in the company.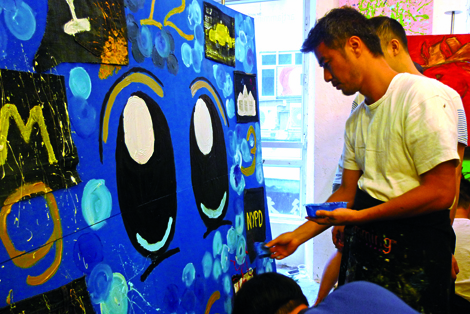 That tailor-made art-jam session was spilt into three parts. About 40 participants – most with no experience in holding an artist's brush – started with a small, blank canvas to express their personal feelings.
"A warm-up session can help show how individual ideas are highly valued. Creativity is built-in, but for many people, it is rarely accessed. Having no visual references is an effective way to restore creative confidence," says Cheung.
The second part was dedicated to a two-hour sketching of a human body, the pivotal idea of the new marketing campaign. A strict time limit gave participants little chance to think, forcing them to just draw from their heart.
Lastly, participants were teamed up to express different themes on composite panels made from four to six stretched canvasses. This involved analysing the task, brainstorming ideas and division of labour. Experts were on hand to offer advice and guidance to ensure every participant's full commitment.
"We devise the theme that best suits each client's need. Popular categories includes core values, future vision and brand message,"
adds Cheung.
Participants found art jamming to be an enjoyable team-building exercise and were impressed how quickly they bonded with each other over a creative workshop.
"We've catered for intimate to very large teams in Hong Kong and around Asia. Many of our clients are in the fashion industry including Chanel, but there are also financial institutions such as Manulife, JP Morgan and UBS," says Cheung.
"Creativity helps people break through routines and barriers. There's no right or wrong answer. Therefore, opinions are all heard with an open-heart, contributing to better teamwork."
COMBAT SKIRMISH
Taking the rat race out of the office, The WOW Experience organises laser shootouts at different historic battlefields in Singapore, including Fort Siloso, a fortification that saw fierce fighting during World War II.
"Our 'Combat Skirmish' is a real-life simulation game. Think Counter Strike or Battlefield 1942," says manager Tony Loo.
Participants, working in teams, need to complete missions while both solving puzzles and navigating, all while dodging or engaging in opponents' fire. The laser guns are equipped with infra-red technology, light sensors and sound simulation, to create an overwhelmingly authentic effect without any physical danger.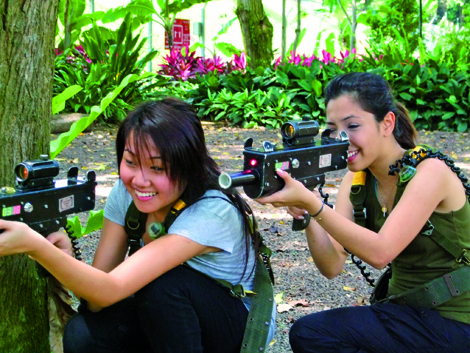 "It all comes down to meticulous strategies and smooth executions. You need to assign the right person for the right task, and trust your teammates with all your heart," says Loo.
Starting with a brief familiarisation session, teams can then scout the area to plan their maneuvers. Specific goals related to a company's values can be incorporated into each team's mission.
Sharmila, a senior operations executive at online marketing company Surfgold, believes the Combat Skirmish experience is highly suitable for team building. "For those who have not gotten a chance to show their leadership qualities in the office, a chance was given to them to show their capabilities at decision-making moments on the battlefield."
Jessica Wood from TIBCO Software Inc. has a similar view. "Not only was it great fun, the organisation was very smooth, making this an easy and exciting activity to set up. Even those people who didn't want to play at first ended up with giant grins on their faces!"
The WOW Experience can accommodate up to 250 people in a shootout. "While you are busy strategising and planning your execution, our facilitators will also be there to make observations for the debriefing session at the end of it," Loo adds.
"After all, it's team building that we're interested in, not grooming heroes."
MASTER CHEFS
Boosting teamwork by co-creating a gourmet meal has become a popular choice for corporates in recent years.
At Kitchen by the Garden – located in historic Hengshan Road in Shanghai's former French Concession – participants can try their hands at preparing traditional Chinese dishes, from wrapping dumplings to preparing a full-course Manchu Han Imperial Feast.
"A kitchen can be a stressful place, under tight time pressure and limited resources," says founder and managing director Lin Yuan Yuan. "Therefore cooking has become a new, trendy way to better bond your team. Compared to other team-building activities, it's more relaxing and fun. While the delicious food that results is the ultimate reward for the whole team to share."
Kitchen by the Garden's most popular event is "Iron Chef", which requires teams to come up with an original dish that reflects company values, in just 90 minutes.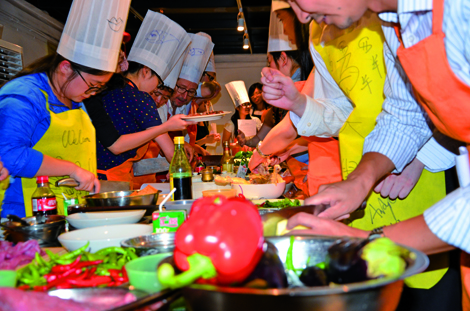 First, teams need to design their own apron and a signature movement to break the ice. The winning team can either choose an ingredient for themselves, or give away an undesirable ingredient, such as bitter gourd, to sabotage other teams.
Challenges come as soon as the cooking starts. A missing ingredient or sauce, or a limited number of knives or woks will prompt the whole team to come up with creative solutions through communication. Professional chefs are also on hand to help.
"So far, most of our clients have been foreign executives from Fortune 500 companies. They come to Shanghai for a conference or a meeting. Afterwards they enjoy a half-day team-building workshop and savour traditional Chinese cuisine on our terrace. It's a good way to get a taste of our culture," explains Lin, who counts Roche, KPMG, JP Morgan, Tetra Pak and Cargill among her clients.
Annette Sebastiani, from biotechnology company Gilead Sciences Inc, notes: "We had a great response from our team. They were excited and thought it was really fun and different. Watching each team presenting their dish was the best time."
Another well-received workshop is the Amazing Cooking Race, which requires teams to purchase ingredients from the local wet market with a limited budget and prepare a three-course Chinese meal.
"In a kitchen, everybody has to get their hands dirty. It's the best place to foster teamwork," says Lin.
DARKNESS OR SILENCE
Social enterprise Dialogue Experience offers unique encounters in complete darkness or silence with assistance from visually or audibly impaired trainers.
"Here, we do not believe in the term 'disabled'," says Cora Chu, general manager. "Each and every individual is different. They will prevail under the right circumstances and environments.
"The same goes for a company. You need to find out what strength your colleagues have and then use that strength in the right place. That's what teamwork is about."
In the two-hour "Dialogue in the Dark" workshop trainers guide participants to fulfill different tasks, followed by a debriefing session.
"As participants adapt to the darkness, they become less fearful and concerned; they are then more open to changes and opinions. That is when they start to truly communicate, moving and connecting beyond sights and speech," says trainer Jen Fong.
"Yet no matter how quickly attendees come up with great ideas, it is never easy to put them in action. The trick is to put your usual theories aside, and to think outside
the box."
This unusual experience has impressed the management team from international furniture giant Ikea. "Over the course of this experience, our participants were constantly stimulated to be critical thinkers and self-evaluate themselves," says the company. "They assimilated the knack of communication after coming to the realisation that they had often overlooked details while communicating."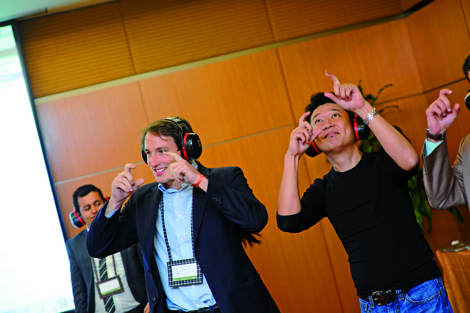 Equally challenging is the three-hour "Dialogue in Silence" workshop, which Singapore-based bank DBS found inspirational: "Trainers' attention to detail and infectious enthusiasm allowed all 160 of our staff to experience and reflect upon the importance of communication, creativity, trust and teamwork. This gave us all a new perspective to meet our future problems and challenges in this market and industry."
Dialogue Experience is a social enterprise founded in Germany in 1988, which came to Hong Kong in 2009. It also offers "Dinner in the Dark" and "Silent Yum Cha" with meals prepared by professional chefs.
"The key objective of these workshops – in addition to promoting a barrier-free society, is to nurture patience and respect for others. Teamwork cannot be achieved without communication. We all assume that we express ourselves perfectly all the time; but that's rarely the case," says Chu.
HERITAGE TREASURE HUNT
The traditional treasure hunt is hardly a new concept for team-building exercises. But what makes the one offered by social enterprise Urban Discovery special are its checkpoints. The Hong Kong-based consulting firm is dedicated to heritage conservation in Asia.
"Our 'Treasure Hunt City Challenge' is set in Hong Kong's hidden corners or its unique heritage buildings, which highlight the exceptional character of interesting neighbourhoods," says founder Ester van Steekelenburg, a Dutch urban planner with more than 15 years of experience in heritage preservation and urban regeneration.
"Games and clues are related to local history, culture and traditions. We hope to support traditional trades and re-introduce local customs in a fun way."
The challenges are available in Hong Kong and Hanoi, mainly as a fundraising event to support disadvantaged communities.
In Hong Kong, participants can try tai chi, eat at a traditional dai pai dong (open-air food stall) in Central, guess the origin of interesting street names, visit the last working letterpress printer Wai Che (in historic Wing Lee Street) or talk to the noted multi-media artist Frog King at Cattle Depot artists' village.
The city challenge in Hanoi involves finding a 70-year-old ping-pong master for a match, dining on a strange local specialty (such as live insect grubs), hitch-hiking amid the city's busy traffic, or visiting a workshop that creates traditional hand-made wedding-invitation cards.
Netherlands-based asset management company Robeco enjoyed their treasure hunt. "It was complete, entertaining and required both your smarts and savviness. Good group feeling while also creating a sense of competitiveness."
Staff from technology company Philips said that their hunt "took us to parts of the city that we never expected to see" while those from Dutch bank ABN AMRO said: "We started the race as colleagues, and we finished as a family."
Van Steekelenburg believes a strong cultural experience can forge a special connection among teammates. "Our hunt stimulates team competitiveness. It's not just about speed, teammates need to solve clues and think on the run in places that might be new to everyone. They need to work like a well-oiled machine in order to win. It puts their leadership, intelligence, communication skills, stamina and risk-taking spirit to test," she adds.
"Trust and synergy can't be fabricated. It comes naturally when a group of people share a unique experience that they deeply enjoyed."