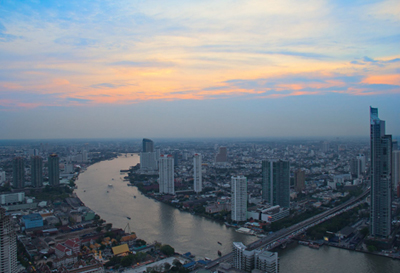 It had to happen some time, given the rising numbers of no-longer-humble folks in Southeast Asia with money to spend on luxury goods and high-class recreation. Los Angeles has Rodeo Drive; Hong Kong, Elements Mall, while upscale malls and stores are becoming as much a fixture in Jakarta as long lines of slow-moving traffic.
Now Bangkok is staking a claim to this Asia-wide network of high-end shopping with exclusive brand names and eateries housed in city developments, often with a luxury hotel and serviced apartments attached. The big difference is that Thailand Convention & Exhibition Bureau (TCEB) is pioneering a public-private partnership that offers two prime districts in the capital brimming with ideas and experiences for business event, conference and incentive organisers.
Ratchaprasong District, or Ratchaprasong Square – to give the square kilometre of central Bangkok a gentrified touch – is home to the likes of St Regis, the InterContinental, Grand Hyatt Erawan, Renaissance and the Anantara.
The other is the Chao Phraya River where eight luxury hotels have formed the Bangkok River Partnership as more developments take shape.
Both the Ratchaprasong Square Trade Association and the Bangkok River Partnership have put their weight behind TCEB's Thailand MICE United II campaign – the latest phase of the country's drive to regain its competitiveness following the Bangkok street protests of late 2013 and early last year, which ended with the military taking over.
Thailand Connect, the marketing drive of TCEB's business events campaign continues this week with the promotion of Khao Yai – Thailand's first national park, and the country's second biggest protected nature reserve, and now an emerging business events destination.
Back in Bangkok, those who feel the soul is being ripped as the city's new MICE locations rise need not fear. David Robinson, director of Bangkok River Partners, stresses the importance of streetfood-style restaurants and other small businesses that will make the Chao Phraya a unique attraction.
Chai Srivikorn, president of Ratchaprasong Square Trade Association, likewise emphasises the neghbourhood's shrines, temples and vibrant traders as another special quality that business event and conference visitor would be fascinated to experience. 
For more on riverside venues, see here.