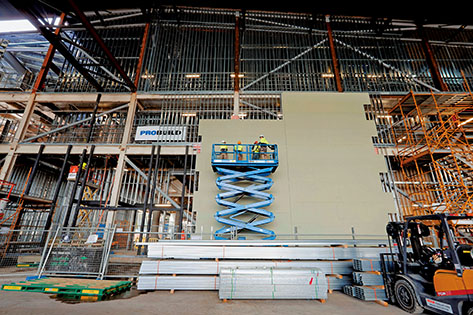 Australia and New Zealand are ramping up their appeal to business event planners with a collaborative conference innovation in Brisbane, progress on target for the completion this year of Melbourne Convention and Exhibition Centre's US$155 million expansion, and work under way on a new US$344 million convention centre in Christchurch.
Melbourne Convention and Exhibition Centre
Work continues apace on Melbourne Convention and Exhibition Centre's 20,000 sqm expansion site, increasing the total space to 70,000 sqm, including 9,000 sqm of new multi-purpose events space, additional meeting rooms, a banquet facility and
a new café bar – all set to open in mid-year.
MCEC has also joined forces with organisations in Melbourne to support the development of a windfarm in regional Victoria. Renewable energy certificates equivalent to the projected electricity used at the extension will be purchased by the centre to offest its carbon footprint in an environmental effort heralded as the first of its type in Australia.
Work completed by late February included the installation of a central staircase, distinctive gold exterior panels and a skylight over the new foyer space. The exterior is inspired by Victoria's historic gold-rush era.
MCEC chief executive Peter King says customer experience was "front of mind" when planning the design. "We want to ensure our facilities suit the needs of our customers, rather than constraining them to fit within our space. A multi-purpose area with a retractable 1,000-seat theatre and adaptable meeting rooms are just two of the many flexible features throughout the new building.
"Before we have even cut the ribbon, we have 220 events confirmed for our new expansion space, commencing mid 2018," King says.
The expansion is part of a larger South Wharf project that includes a new 347-room Novotel Melbourne South Wharf – also with golden-hued exterior panels.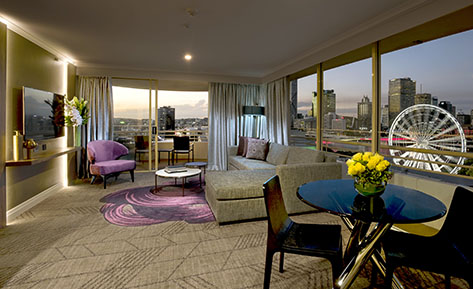 South Bank Conferences, Brisbane
The Brisbane collaboration involves the city's convention and exhibition centre (BCEC) joining forces with Rydges Hotel South Bank to provide new opportunities for smaller and medium sized conferences "wanting a convention centre experience but with the added convenience of a single point of contact for both accommodation and conference facilities".
South Bank Conferences is an initiative aimed at providing organisers with the convenience of premium on-site accommodation combined with access to the dedicated convention centre facilities.
The recently refurbished Rydges South Bank is connected by private entry to the convention centre in the heart of Brisbane's arts and entertainment precinct. All 304 rooms, including 64 suites, have been refurbished as part of a US$23 million upgrade.
The partnership allows BCEC to focus on the smaller and medium conference market, events that comprise a significant proportion of the centre's annual conference business. BCEC general manager Bob O'Keeffe says South Bank Conferences is a game changer for the industry.
"For us it's about providing value and choice for clients. Reflective of BCEC's previous successful partnership model collaborating with business, the arts, education and research, this initiative is pivotal to developing innovative solutions targeting the specific conference needs of clients," he says.
Rydges South Bank general manager Callum Kennedy says: "Together with BCEC we have listened to what conference clients want and what they need looking to the future, and have created a partnership that meets this need."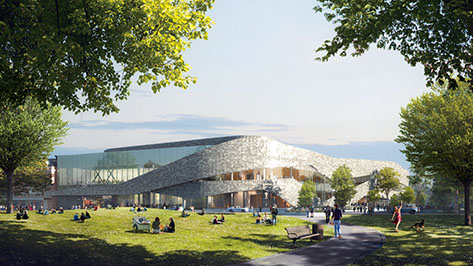 Christchurch Convention Centre
Christchurch's new convention centre is taking shape and set to open in 2020, with the first conferences to be held later that year.
Spanning two blocks of prime land in the central city, the main entrance opens out to Christchurch's picturesque Avon River. Its design reflects the curves of the South Island's braided rivers, and complements the green spaces, heritage square and gardens surrounding it. Stories of the local Mãori culture are interwoven through every aspect of the design.
"The design and location of Christchurch's new centre set it apart from anything else in this part of the world. It's a stunning venue in the centre of New Zealand's newest city, and at the centre of the South Island," says general manager Rob McIntyre.
The centre will host up to 2,000 people, and the tiered 1,400-capacity auditorium can be split to host two 700-delegate events simultaneously. Flexible meeting space is provided by a 3,600 sqm exhibition hall and 1,600 sqm meeting rooms. The centre is designed in such a way that three events can be run concurrently with no delegate crossover.