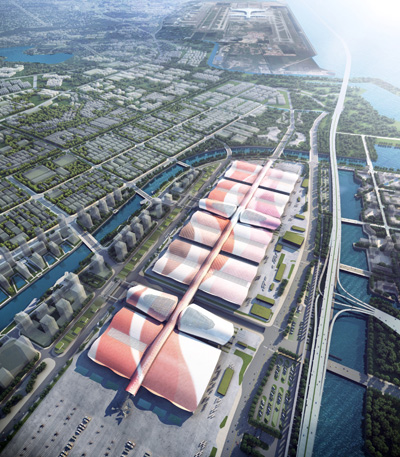 Shanghainese thought they had the world's largest convention and exhibition centre when the city's NECC opened in 2015. Within two years from now, however, the title looks set to be snatched by a mega facility taking shape in the southern metropolis of Shenzhen.
When the finishing touches are put to the first phase of Shenzhen World Exhibition & Convention Centre towards the end of 2018, it will be on its way to surpassing the National Exhibition & Convention Centre in the Hongqiao area of Shanghai as China's – and the world's – biggest. Shenzhen World is taking shape in Airport New City, in Bao'an District, part of a sprawling city bordering Hong Kong and known as "China's Silicon Valley".
Delegates at a conference hosted by the Hong Kong Convention & Exhibition Association on June 2 were given a preview of the ambitious Shenzhen World development.
Mao Daben, executive deputy general manager for China Merchants Real Estate's exhibition operations centre, said the joint venture behind the development was aiming for the project to be "the biggest in the world".
Mao showed slides of the latest plans, adding that they were subject to change, though the facility will be capable of hosting more than 100 internationally approved exhibitions a year.
"Shenzhen World – with 500,000 square metres exhibition space – will be larger than that of Hanover and NECC in Shanghai," Mao added, referring to venue for the World Expo 2000 in Germany.
Plans show a fishbone structure with exhibition halls and meeting venues on either side. Mao says there are 19 exhibition halls under current plans with a 1,700 sqm catering area for each hall.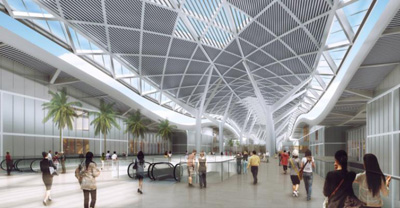 SMG, the US company appointed to manage the centre, expects the first phase, with 400,000 sqm of exhibition space, to be completed in the first quarter of 2019.
Shanghai NECC has 500,000 sqm of exhibition space, which includes outdoor display areas, according to the venue. What gives Shenzhen World its "bigger" tag is how it's planned as part of a new commercial and residential area with the venue served by two metro stations, a new highway and a fourth terminal at the nearby airport.
According to Shenzhen media reports, phase one of the project extends to 1.46 million sqm and features the exhibition area and a 550,000 sqm underground car park. A commercial area covering more than 1.5 million sqm will include 250,000 sqm for a hotel, 262,000 sqm for office use and 697,000 sqm for apartments has also been planned.
Shenzhen World is a joint venture between China Merchants Shekou Holdings and OCT Group, the owners of Overseas Chinese Town. They joined forces to win the bid to develop the centre on behalf of Shenzhen Municipal Government.
Read more: Space shortage, Shenzhen threaten HK trade shows
"The venue precinct will feed into hotels, and CMSK-OCT is in talks with IHG, Marriott, Hyatt and Accor [among others] to bring 4,000 hotel rooms in a 5-star and four 4-star properties," Mao told the conference at Hong Kong Convention & Exhibition Centre.
SMG, the Pennsylvania-headquartered company appointed to run the centre, says Shenzhen World will be twice the size of McCormick Place, Chicago, which it operates, and is the largest venue of its type in North America. SMG has managed McCormick Place since 2011.
Xu Chongguang, deputy secretary general of Shenzhen municipality, said: "We hope that by leveraging the international experience and expertise of SMG, the venue can achieve a world-class standard with wide exposure on the global stage."
"While we have entertained many inquiries from China in recent years, we were waiting for the right project and partner and believe we have found both in Shenzhen," Wes Westley, SMG president and CEO, said.
"As we expand our global footprint, this agreement will propel our international growth strategy."
Sun Chengming, chairman of CMSK, said Shenzhen World would become a "global venue benchmark".