FACING the Taiwan Strait on the island's southern tip, Kaohsiung is Taiwan's second largest city and a major port in Asia.
Located on the waterfront is the Kaohsiung Exhibition Center, which opened in April 2014 and has been the focus of the city's MICE ambitions following investment in the New Bay Area.
Right after opening, Kaohsiung Exhibition Center (KEC) held three major events back-to-back. The International Fastener, Industrial Automation and International Boat Show events took place in April-May 2014, with over 70,000 visitors attending the latter over three days.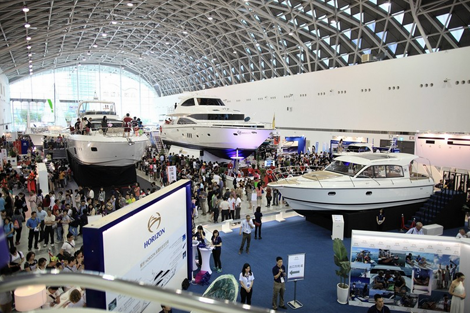 Taiwan's strong yacht-building industry, based mainly in the south, has enjoyed an influx of international buyers as well as support from the local population. Before the next boat show in 2016, KEC is launching its own Super Leisure Lifestyle Show this summer targeted at upscale Taiwanese consumers. This B2C show will feature not only boats, but cars, jewellery, furniture, wine and other luxury products.
Robert Campbell, group vice president at Uniplan, which manages the centre, says the KEC is also building a reputation for hosting larger conferences and conventions, of up to 4,000 attendees. The Taiwan Dermatology Summit took place in May 2014 with the organisers immediately booking the KEC for three more years. Main sessions were held in the three large conference rooms and breakout sessions in the 10 smaller ones, or after dividing the larger rooms into two.
Coffee and lunch breaks were served in the banquet room overlooking the harbour where sponsors had their exhibition booths. Further sponsors exhibited in the wide corridors to make the most of the footfall of delegates making their way from the sessions to the catering.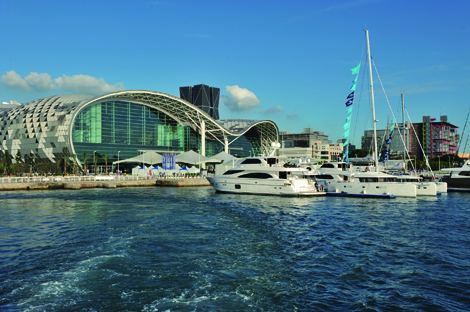 The largest room has a stage that can accommodate anything from a panel discussion to an orchestra and space for 2,000 seated attendees.
"Japanese-designed furniture with tables that can be moved and fixed with one hand, plus ergonomic chairs that don't break attendees' backs – or put them to sleep – round out the offering perfectly," says Campbell.
Other events have shown the facility's flexibility. These include a Rotary dinner for 5,000, including stage and top-model appearance; a 900-guest outdoor dinner, music and awards ceremony on the waterfront during the Boat Show, and the Road to Ultra dance party attended by more than 3,000.
"Cathay Insurance's Employee Awards is coming up and Uniplan, which won the project, promises to use KEC's vast technical capabilities to the limit," says Campbell. "And, with its central kitchen on-site, KEC imposes international catering standards on local gourmet-quality seafood and other culinary delicacies."
KEC by numbers
20
minutes from Kaohsiung International Airport
1.5 
hours from Taipei by high-speed rail
2 
exhibition halls measuring
17,900 sqm
15
meeting rooms
20 
VIP private meeting rooms
7,200 
sqm of outdoor event space