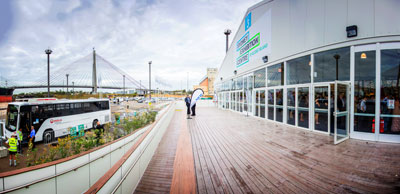 Expectations for first class convention facilities are high among event planners operating out of Sydney, and venues that can't compete quickly lose business. After 25 years of service, the Sydney Convention and Exhibition Centrewas over its heyday and in 2011, the iconic city lost its spot as Australia's number one destination for conferences. Sydney has lost an estimated AUS$150 (US$140) million in conference revenue over the last five years as a result of its outdated and inflexible facilities.
With Melbourne and Brisbane gaining on Sydney's market position, plans were commissioned to design a new state-of-the-art exhibition facility, the International Convention Centre Sydney (ICC Sydney), which will be completed in three years. In the meantime, venue management company AEG Ogden has set up a temporary remedy for the city's venue shortage: the Sydney Exhibition Centre @ Glebe Island (SEC@GI) – just a short ferry ride from vibrant Darling Harbour.
Occupying some 20,000 sqm, the SEC@GI will be home to the AUS$100 (US$94) million per annum Sydney exhibition industry for the next two years. The structure was last used by the London 2012 Olympics, demonstrating its flexibility and portability. The pavilion-style space offers an additional 4,800 sqm for trade fairs that need extra room, and it can be quartered into four permanent halls to hire separately or together for larger events.
SEC@GI was built in just six months, and was completed in February of this year in time for its first exhibition, Reed Gift Fairs; a regular patron of Sydney's former Convention and Exhibition Centre. Malu Barrios, general manager of SEC@GI, notes that there has been a positive response to the new venue so far.
"Given the pressure in opening an interim venue within the time frame allowed, we are very happy with the success of the events we've hosted. Positive feedback has been received for the services provided by the SEC@GI team. And we've had repeated feedback from visitors about the 'permanent' feel of the venue once they set foot inside," she says.
One of the most recent success stories was Ferrari's Racing Days 'Road to Sydney' cavalcade, where SEC@GI served as the marshalling point for the three-day motorsport showcase. Sydney-based event planners Event Source were looking for a venue that was close to the CBD and could accommodate 120 Ferraris and their passengers. Event Source's executive producer, Kevin Buckley, thought the centre's facilities suited Ferrari's needs.
"The venue worked perfectly, giving us the space required to marshall vehicles and enjoy a coffee before departing on the route to Sydney Motorsport Park. One challenge was ensuring that noise was kept to a minimum, being such an early start, but this was easily managed working with the venue and the participants."
With the harbour bridge and city skyline as its backdrop, SEC@GI was an optimum choice, and the team's versatility in having hosted a diverse selection of events made for smooth and seamless execution.
Since opening, SEC@GI has hosted events such as the National Rugby League season launch, the Lansdowne Club's annual St Patrick's Day lunch and Australia's premier design and architecture exhibition, DesignEX. Participants of these events have reached close to 40,000 to date, showing that any concerns over the island's location and its ambiguous transport options have been unfounded.
Visitors to Glebe Island can get there by ferry, bus or car, and the centre works with each event organiser to design tailor-made transport arrangements. Barrios adds that free transport on exhibition days is offered through bus transfer from Central Station and a partnership with Captain Cook ferries, transporting visitors between Glebe Island and Darling Harbour.
SEC@GI has a strong line-up going forward, with shows such as the Australasia Gaming Expo, Australia's largest event of its kind with 180 exhibitors, and InspireEX, a business events show that offers interactive zones, seminars and a VIP Buyer Programme for top industry players. Sydney International Spa and Beauty Expo, the International Jewellery Fair and Grand Designs Live Home Show are all on the agenda with more to come later in the year.
Since the success of the centre's first event, Barrios has observed rising enquiries into the facility's space and amenities, with bookings increasing as the calendar gains momentum and exhibitor expectations continue to be exceeded.
SEC@GI in numbers
• 20,000 sqm of exhibition space, with 4,800 available
for temporary expansion
• 4 permanent halls of 2,000 to 9,600 sqm
• 8km to Sydney Airport
• 10 mins by ferry from Darling Harbour
CONTACT Tracy Bass
TEL +612 9719 6025
EMAIL tbass@secgi.com.au
WEBSITE sydneyexhibitioncentre.com.au