AN E-SPORTS and VR experience staycation package has been created by a leading luxury hotel with four newly renovated games rooms catering to activities enjoyed by countless youngsters and – sometimes – their families.
The Langham, Hong Kong, is offering the Game On Esports and VR Experience Staycation Package for children and adults whether they be advanced gamers or casual players. The package includes three 30-minute sessions of gaming.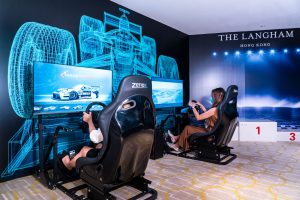 The Esports Room (above) features two car simulators with GT or F1 gaming seats while the VR Experience Room (main picture) provides a combination of musical beats and visual effects with the sensational Beat Saber VR rhythm game on an HTC VIVE Detector. There is also the omnidirectional treadmill simulator for VR games, which include Core Defense, Hardpoint, Primordian and Karnage Chronicles.
Both these rooms cater to guests aged above the age of 10 and at least 140cms in height.
Voice… E-sports can change your game
The Party Game Room caters to up to four players and features a 75-inch TV and 40 Nintendo games. Guests for this room should be above the age of five.
The Retro Game Room is ideal for children aged between five and 12 accompanies by parents. The room is fitted with video arcade machines such as Space Invaders, Galaga and NBA JAM games.
The package starts at HK$1,198 (terms & conditions apply), includes daily buffet breakfast for two, a HK$200 hotel credit per room per night applicable for mini-bar consumption and is available until October 11, 2021.
The hotel has also introduced three other new packages: "For The Love of Food", "Family Moments Captured" and "Tasty Summer Treats Getaway".