Singapore's modern facilities are renowned among international conference and business event planners, but the Lion City's heritage is also held dear and increasingly taken into consideration as unique event venues.
Planners now have options to take groups away from the sleek meeting rooms for a trip down memory lane and let them take in strong hints of old Singapore. Names such as Robertson, Clarke and Mohammed Sultan live on in colonial-style buildings that hark back to a bygone era. Now they are home to restaurants and nightclubs that may – or may not – suit everyone's tastes, but venue operators are increasingly spotting the opportunity to create unique venues for post-conference or even offsite meetings.
The latest niche space has opened in Clarke Quay (main picture) and is called Huone. It benefits from a generous dash of Finnish design and ingenuity. The 1,858 sqm space can cater for up to 300 people across its 11 themed rooms.
Huone is a concept from Malaysian-Finnish couple Evon and Jussi Söderlund. Joewin Tan, managing director of event agency Linear Dots Production, and her team have been handed the creative reins at Huone Singapore to meld the concept with the regional market.
Meeting rooms are along the third storey of the former shophouse and range in themes from theatre, forest and igloo, to a bird's nest and a Finnish summer cottage; capacities range from 15 to 150 people. As Clarke Quay is a conservation area, Huone had to work around existing structures, some of which date back 200 years. Beams, pillars and walls had to remain intact with the new designs working around them.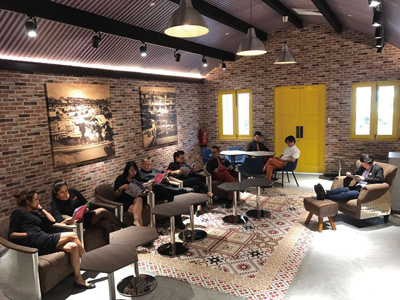 "Coming from an event agency background myself, we often struggle with resource constraints to build creative and refreshing environments and when I stumbled upon the Huone concept, I knew this was the answer to our frustrations," says Tan. "In less than three months since we began our operations, we are very fortunate to have attracted brands like CooperVision, Sephora, Barclays, Microsoft, United Overseas Bank, Singtel, to name a few."
Clifford Pier 
The Fullerton Bay Hotel draws on the area's former hawker and dockside heritage, but with luxury to the fore. Clifford Pier's Alfresco Deck is a coveted area for post-meeting cocktails. The pier dates back to 1933 when it served passengers and cargo vessels sailing through Collyer Quay.
Among the Fullerton's other venues are three floating event pods – Port of Call, Compass and Voyage – that are a nod to the venue's maritime roots. The pods, each with their own balcony, can be used for private dining or small product launches.
Another unique feature of Clifford Pier is a 23 metre high customs officers' lookout post built in the 1960s. It can be used for intimate cocktails (six persons) or a private dinner for four but benefits from 360-degree views.
Singapore's Changi, STB and airline relaunch MICE rewards
The Quays
Once home to boatyards and shophouses, Boat Quay and Clarke Quay are now better known as after-work hangouts. Behind the strobe-lit bars and restaurants, many of the area's heritage buildings are under preservation orders.
Other quayside buildings have been transformed into chic venues, with The Warehouse Hotel arguably the most visually striking example of a tastefully renovated former working building.
Singapore's zeal for heritage has seen the emergence of group-walk organisers who conduct tours taking in colonial buildings, places of worship, scenes of wartime history and even the earliest public-housing estates.
Around Robertson
Major development has seen new hotels added in the past year including the boutique Warehouse Hotel, the rebranding of the Riverview Hotel into the 476-guest room Four Points by Sheraton Singapore, and the 293-guest room M Social, a brand from Millennium Hotels & Resorts.
These properties will be joined by the 225-guest room Intercontinental Singapore Robertson Quay, on the site of the former Gallery Hotel, which is expected to open in September.
Also under the Millennium banner, and a key landmark along the "Robertson Walk" is the 574-guest room Grand Copthorne Waterfront. The tower's six upper floors house the executive and Waterfront Suites, which allow access to the hotel Club Lounge. For conference organisers, the Grand Copthorne Waterfront has 33 meeting and event rooms. The Grand Ballroom can seat 1,100 theatre style or hold 600 for a banquet. One of the new draws at the hotel and along Robertson Walk is Grissini, an Italian grill.
Over a footbridge near the Grand Copthorne is one of two sister hotels. M Social has interiors designed by Philippe Starck, with a lounge-style venue that hosts guest DJs and more intimate corporate events such as niche product launches. The M Hotel, on the Anson Road section of Robinson, has 1,228 sqm meeting space spread across nine venues and the Galleria Ballroom, which can host 150 for cocktails.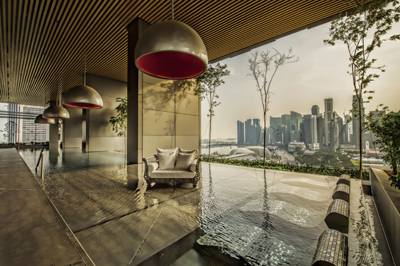 South Beach heritage
In the South Beach Road area, in the vicinity of Suntec and Raffles, facilities once used by Singapore's wartime civil defence volunteers have been incorporated into corporate event facilities at JW Marriott Singapore, South Beach (above).
The Drill Hall is housed in a standalone art deco-style building and serves as the hotel's 520 sqm ballroom. The hall is undergoing renovation and will join 15 meeting venues in another 1930s block originally built as part of recreation facilities for officers. Venue space getting an overhaul includes a lounge-bar area with a floor-to-ceiling window giving below-the-surface views of an adjacent diving pool. The Court Martial Bar, in the same building, harkens back to the complex's heritage.
The heritage meeting venues sit below two tower blocks, one of which houses Singapore's first JW Marriott. Starck was commissioned for the interiors when owners CDL originally planned the property to the South Beach Hotel. It was self-managed by the company for nine months until Marriott International was called in with its loyalty programmes that reach 56 million members.
Also under CDL ownership, Marriott has been signed to open the 190-guest room Edition brand in 2019 in Orchard Road and Cuscaden Road.
ICCA city rankings: Singapore takes top APAC spot
Bugis
Peranakan culture, cuisine and architecture originate from two cultures: descendants of Chinese who settled in the Straits combined with strong influences from the Malay peninsular.
Among the features of Peranakan life were shophouse-style dwellings that combined shop… and home, and often with a three-level terraced with sheltered walkways outside. These sprung up over the centuries across in Southeast Asia, with many in the neighbourhood of Bugis.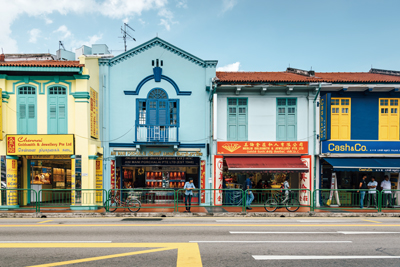 When the Intercontinental Singapore completed a year-long renovation, Peranakan influences were tastefully emphasised, particularly in the main tower of the hotel and the Heritage Wing where a row of shophouse structures dating back to the 1920s form corridors and rooms.
Delegates taking meeting breaks at ballroom foyers are reminded of the craftsmanship at the heart of the building's fixtures when viewing the original balustrades, banisters and corridors.
Raffles
Restoration work is underway at arguably the most iconic piece of colonial-style heritage in Singapore, which also happens to be the city's most legendary hotel.
The three-phase restoration project began in February and is expected to be completed in the second quarter of 2018.
The second phase is set to begin in August on the main hotel building, lobby and some of the suites. Raffles will then close towards the end of the year for the final phase before a grand reopening.
Raffles was declared a national monument by the Singapore government in 1987 and is the city's most recognised hotel name across the world as well as the birthplace of the Singapore Sling.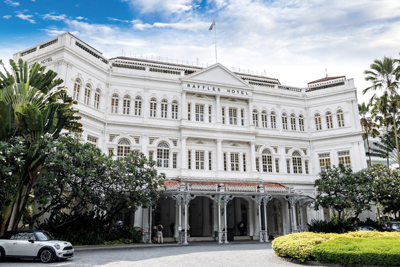 Forthcoming openings
Sofitel Singapore City Centre, between Chinatown and Tanjong Pagar, has an anticipated opening date in July, and will be city's third Sofitel. The 222-guest room hotel will feature a nearly 622 sqm ballroom plus eight meeting rooms.
Hyatt is set to open a 342-guest room Andaz, near Raffles Hotel and JW Marriott South Beach. Andaz will form part of the Duo Singapore mixed-use complex in Orphir-Rochor. Andre Fu, who designed interiors for the newly opened Kerry Hotel, Hong Kong, is tasked with room design while heritage again comes into the mix with a restaurant offering shop-house experiences.
In August, Hilton is due to add a fourth hotel to its city portfolio with the Hilton Garden Inn Serangoon, or Little India.
Continuing the heritage theme, Starwood's Luxury Collection is set to introduce The Duxton Club, set in a series of colonial shophouses in the Tanjong Pagar, in November.
10 group activity options in Singapore