WEDDING bells and the prospects of couples feeling assured enough to plan their big day are chiming for a business events recovery at Hong Kong Convention and Exhibition Centre.
Following the success of the first consumer exhibition at the venue since the Covid-19 outbreak, HML, the management company that operates HKCEC, says it is ready to welcome events back with increased preventive measures in place.
UFI's regional manager in Asia Pacific, Mark Cochrane, said the event was "an important step in restarting Hong Kong's exhibition industry".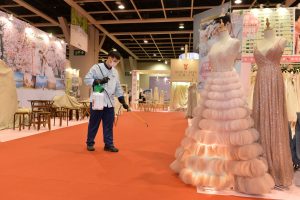 The three-day Hong Kong Wedding Fair was held May 22-24 and HML worked with organiser Hong Kong-Asia Exhibition to implement special arrangements covering floor-plan design, queuing logistics, F&B provision and more.
"HML is all set to welcome events back to the HKCEC, said Monica Lee-Mueller, HML's managing director.
Video… How health security was organised at the Wedding Fair
"Health, safety and wellbeing of staff members and visitors have always been our top priority. The HML team has been working closely with organisers to reschedule events impacted by the pandemic, and to implement necessary measures to address health and hygiene concerns," she said.
"With the success of the Hong Kong Wedding Fair, we can demonstrate our commitment of providing professional services and customer care for event organisers and attendees."
HKCEC said told MIX the show was well attended but declined to reveal how many visitors and exhibitors there were during the weekend event, which was held at the venue's Hall 1.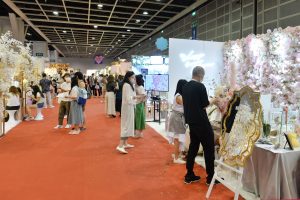 All arrangements complied with the requirements imposed by the local authority, and made reference to industry guidelines and best practices.
Visitors, exhibitors, contractors and HML staff were required to wear face masks at all times and had body temperatures screened before entering the HKCEC.
More AsiaWorld-Expo opens frontline in anti-Covid battle
Social distancing practice was implemented at busy locations such as fair-ticket counters, food outlets, washrooms, where queues were expected. Sanitation and disinfection were carried out by HML staff regularly to ensure venue hygiene across facilities and furniture including escalator handrails, doorknobs and lift panels.
Hong Kong-Asia Exhibition also required its staff to complete health-declaration forms to submit to the organiser's office before the start of each day. Tables and chairs in the booth had to be cleaned with alcohol spray after each consultation or every two hours while visitor seats had to be positioned 1.5 metres apart from other pairs of seats.
UFI's Cochrane  was onsite at the exhibition and told the UFI Blog: "Hong Kong has not recorded a large number of imported or 'community transmission' infections since early April. So both the exhibitors and visitors appeared to be happy and relaxed. This event was an important first step in restarting Hong Kong's exhibition industry."