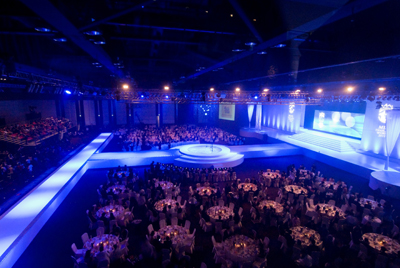 Conference organisers have long complained that Bangkok needed an increase in large, purpose-built venues to match the strong demand for conferences to be held in the city. Earlier this year they got their wish.
Asia's newest downtown venue, the Bangkok Convention Centre  (BCC), has opened, spurring an across-the-board upgrade and expansion of  existing facilities as they compete with international event planners to maintain their market share.
The Centara Grand and Bangkok Convention Centre at CentralWorld will comprise a 505-room five-star Centara Grand Hotel and the adjoining convention centre. There is also a large-scale Central World shopping mall as part of the complex.
To complement this, the entire complex is easily accessible from the Bangkok sky train and walking distance to other major hotels such as the Grand Hyatt Erawan, Four Seasons Bangkok, the InterContinental Bangkok and The Landmark Bangkok.
The BCC covers more than 10,000sqm, with a ceiling height of 13.5m, accommodating up to 6,000 delegates in a pillar-less format.
The main convention space covers 5,403sqm and can accommodate 5,500 delegates in theatre configuration and 3,000 in a classroom set up. The venue's 970sqm World Ballroom can seat 950 theatre style and 400 in a classroom configuration and can also host up to 1,100 delegates for cocktails, or banquets of up to 700.
The BCC also has 15 Lotus Suites-ranging in size from 66sqm to 210sqm-for a combined breakout-room space of over 1,600sqm.
Delegates certainly won't go hungry with eight food and beverage outlets offering Thai, Japanese and international cuisine.
With the new facilities at the BCC now being offered to the international events community – and prestigious events already booked – Bangkok and Pattaya's existing convention and event venue managers have embarked on upgrade and expansion programmes.
The Bangkok International Trade and Exhibition Centre (BITEC) is planning to almost double its exhibition space from 36,000sqm to 70,000sqm, and may even go to 100,000sqm depending on the design.
Meanwhile, IMPACT Exhibition Management has opened a new banqueting facility, the 3,500sqm Royal Jubilee Ballroom earlier this year, and has announced plans to build a 400-room four-star hotel on its grounds.
The busy Pattaya Exhibition and Convention Hall has launched an expansion project to increase its capacity from 5,800 delegates to more than 8,000 by March 2008.
Michel Horn, general manager of Centara Grand and BCC at CentralWorld, says the all-encompassing aspect of the project, and its downtown location, was proving to be its strongest selling point.
"The Bangkok Convention Centre  is fully integrated with a five-star hotel, retail and leisure complex in the heart of Bangkok and comes equipped with state-of-the-art audio-visual equipment, so the BCC is a suitable venue for all types of event," Horn says.
"Besides the convenience of its location, BCC is surrounded by a variety of hotels to attract a wide range of audience. All hotels are within walking distance to the convention centre and the adjoining shopping mall will provide non-stop shopping and entertainment to family members who are not participating in the event."
Horn adds that interest from the domestic and international market has been high since BCC became operational in July.
"There have been many site visits conducted for DMC and PCO with many events already booked for 2008 onward, there have been more than 30 events held at the BCC since July."
Diethlem Events executive manager David Barrett says the BCC will definitely have another strong selling point for events in Bangkok in that it provides another venue option.
"The BCC will boost events business in the city," Barrett says. "The greater the choice of venues and variety of meeting spaces we have to offer, the easier it is for us to secure more [large-scale] events in the city. While we are blessed with having Queen Sirikit National Convention Centre, BITEC and IMPACT, adding BCC to the list can only benefit the market overall.
"The BCC's strategic downtown location and the collective room inventory at the Centara Grand, and satellite hotels in the immediate neighbourhood, are major pluses for any events planner.
"We have already proposed the venue to three of our customers who have events larger than 800 delegates. The feedback has been positive as you have it all on your doorstep.
"State-of-the art meeting space, a convention hotel connected, superb satellite hotels all within a five-minute radius, shopping, dining and entertainment. It's the one-stop solution."
Barrett added he was pleased the centre's designers had taken into account the different sectors of the business events sector.
"The space has been carefully designed and fitted out to suit all segments of the MICE market," he said.
"It is appealing to exhibition organisers who stage public shows, the few incentive planners who still arrange extra large-scale gatherings, conferences are catered to, as are the small to medium-sized congresses."
KEY FACTS
Bangkok Convention Centre
Floor Area: 5,403sqm / 82x66m
Floor Type: Concrete with carpet tile
Ceiling Height: 13.5m
Pre-function Area: 1,678sqm
World Ballroom
Floor Area: 970sqm / 45×22 m
Ceiling Height: 6.8m
Pre-function Area: 706 sqm
Lotus Suites 1-15
Floor Area: From 67-131sqm
Ceiling Height: 4m
Pre-function Area: 967sqm
PUBLIC ACCESS
•   Escalators connecting Bangkok Convention Centre to Central World Shopping Complex
•   Stairs connecting Bangkok Convention Centre to restaurants and other hotel facilities
Car Parking
7,000 covered spaces
Additional facilities
•   Two VIP rooms attached to the convention centre and World Ballroom
•   Large changing room attached to the convention centre
•   Secretariat offices up to 140sqm located on Convention Centre Level
•   Business Centre and 135sqm, two meeting rooms on World Ballroom Level
•   Eight restaurants and bars