VENUE-MANAGEMENT company and live-event producer ASM Global has struck a partnership with Malaysian authorities to enhance operations at Kuala Lumpur City Sports City.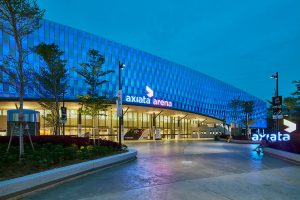 The precinct features the 87,400-seat Malaysia National Stadium and the 16,000-seat Axiata Arena.
ASM Global's partnership with the Malaysian Ministry of Youth and Sports sees the comp any working with Perbadanan Stadium Malaysia. The move expands ASM's  presence in Asia while increasing the company's portfolio to more than 350 venues worldwide.
The announcement is a further step in the Malaysian Government's ambition to see the National Sports Precinct at Bukit Jalil develop a world-class reputation as the host of leading sports, entertainment and community events.
Backgrounder… Venue giant ASM Global opening APAC HQ in Singapore
ASM will apply its experience to implement the latest technology, raise F&B offerings and let organisers tap into its event network. Malaysia's events industry is also set to benefit from help ASM can provide to those connected with Kuala Lumpur Sports City with knowledge sharing, staff development and training opportunities.
"This is further indication of the robust growth of the region and endorsement of the expansion of our regional business activities following the establishment of locally based headquarters," said Harvey Lister, chairman and chief executive of ASM Global Asia Pacific and Gulf region.
More… Langkawi incentive brings it home to Malaysia
"We firmly believe the Malaysia National Stadium and the Axiata Arena have the potential expressed by the Malaysia Sports Ministry and we are proud to welcome the local teams and venues into our ASM Global family and support the precinct in helping deliver more events for the people of Malaysia and the region."
Malaysia Sports Minister, Ahmad Faizal bin Dato' Azumu, said: "We see this MOU as a great opportunity for PSM [Perbadanan Stadium Malaysia] and ASM Global to enhance Kuala Lumpur Sports City to a premier destination in the global sports and event industry.
"Both National Stadium Bukit Jalil and Axiata Arena are iconic properties owned by the Malaysian people, and we owe them a responsibility to ensure these venues make us proud."