SANDS CHINA has launched Macau's first venue-based hybrid meetings space featuring an Extended Reality studio as it uses the downturn to introduce new digital technology and strengthens its offering to global MICE groups.
Smart Stage at The Londoner Macao has already had more than 400 virtual site inspections since being set up with event planners logging in from across the globe including Hong Kong, Singapore, Australia, the United States, India, Korea and Japan.
The studio was built by the same in-house production team that oversaw productions at Cotai Arena including the Rolling Stones, Alicia Keys and Bruno Mars.
HOW IT WORKS
Smart Stage provides live-streaming and hologram capability. Unlike the classic 'green screen' environment, its XR functions allow presenters to interact with real-time visual markers to deliver a "more authentic experience".
At the heart of the space is a stage set fitted with a hi-tech backdrop and floor that can be reconfigured to fit various event needs. The stage-lighting system can similarly be customised, designed and operated to suit event requirements. The studio set comes together to create an immersive experience to bring presentations to life. With live broadcast capability, the studio will be able to beam event participants from around the world "live" into Macau via holographic technology.
A Sands China spokesman said the Smart Stage continued the resort operator's efforts to follow the Macao SAR Government's "tourism+" policy with a focus on "curating innovative tourism-plus-MICE experiences. With unrivalled broadcasting facilities and unlimited flexibility, the cutting-edge studio is set to redefine the future of meetings for clients all over the world."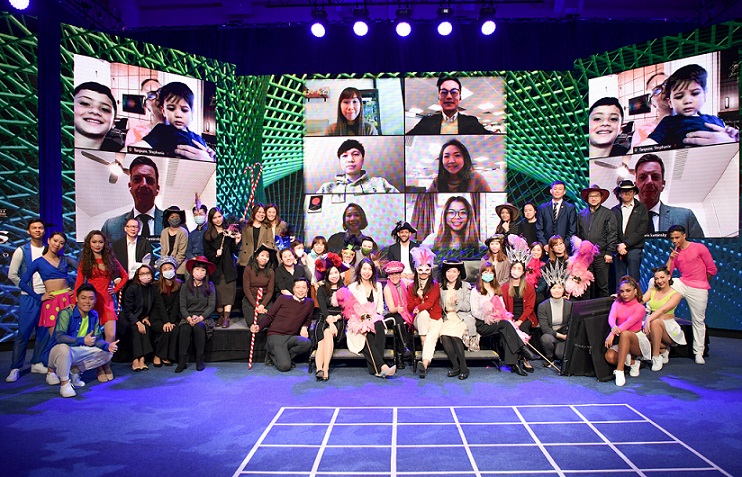 Kris Kaminsky, Sands China's senior vice president of hotel operations, said: "The Smart Stage at The Londoner Macao beautifully complements our existing MICE and entertainment offerings, especially as we complete the final touches of our new state of the art 6,000-seat multi-purpose Londoner Arena, also at our The Londoner Macao property," said
"We believe both these venues are a great asset for Macau and are confident elevate its profile as an international centre for meetings and events."
More… Sands China, Macau organisers back net-zero carbon target
Stephanie Tanpure, vice president of sales at Sands China, said: "In an ever-changing environment, one constant we face in the MICE industry is the need to create engaging events and experiences whether that be virtually, hybrid, or in-person. Hybrid solutions are quickly redefining the future of meetings and events, and we are excited to be leading this space in Macau.
"Border restrictions have posed a unique challenge for us in terms of customer site inspections, but Smart Stage has enabled us to conduct virtual site inspections, product training, live talks and other events to remain front of mind even in the midst of the global pandemic."
More on Macau… Marriott sending W brand to Studio City
Quarantine restrictions remain in place for residents of Macau and foreigners who have been overseas. Proof of vaccination must be shown and a 14-day quarantine is followed by seven days of self-monitoring.
Residents of Macau and mainland China who have remained in low-risk areas of mainland China for the previous 21 days may enter Macau quarantine-free, according to international consulates.