INTERNATIONAL online travel agency Trip.com brought its 2021 Global Partner Summit to one of Macau's newest resort hotels with 1,700 travel industry professional attending the event.
The event at The Londoner Macao on December 9 saw sectors ranging from accommodation, aviation and corporate travel to vacations, package and group tours represented.
A Sands China spokesman said Macau's Cotai was chosen for the summit as the city was regarded by Chinese travellers as the safest and most accessible "overseas" destination amid the global pandemic.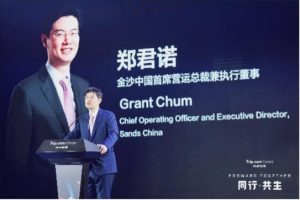 Senior executives attending the summit's opening ceremony included Maria Helena de Senna Fernandes, director of Macao Government Tourism Office; Lau Wai Meng, president of the Macao Trade and Investment Promotion Institute; Grant Chum, chief operating officer of Sands China; James Liang, chairman and co-founder of Trip.com Group, who participated through video conferencing; and Jane Sun, CEO of Trip.com Group.
"Macau is a fascinating travel destination, and Sands China has been actively promoting the city's diverse economic development and providing visitors with one-stop and dynamic travel experiences, Sands China COO Grant Chum told the summit.
"Over the past two years the pandemic has brought many challenges, but under the leadership of the Macau SAR Government, all members of the community have put in enormous efforts geared towards recovery. It is also through continuous collaboration during this period that Sands China and Trip.com Group have established an in-depth partnership. Looking forward, we will continue our collaboration to achieve a successful future."
Backgrounder… 2m visitors from China roll into Macau
Trip.com co-founder James Liang told the main forum, themed Forward Together, that the company would foster industry cooperation and rehabilitation as international travel and tourism recovered. Attendees expressed confidence in the outlook for the travel industry while recognising that Macau is on a path of recovery and growth as a safe and attractive destination.
The event also saw an awards evening with Trip.com strategic partner Sands China triumphing in several categories such as Outstanding Partner of the Year and Partner with Significant Contribution. The Londoner Macao was also named The Most Popular Hotel 2021 in the Trip.com annual rankings, while The Venetian Macao and Four Seasons Hotel Macao won the Outstanding Partnership Award with Sheraton Grand Macao taking the Popular Hotel category.