VISITORS to China's pavilion at Expo 2020 Dubai were greeted by two large humanoid service robots who helped introduce the country's intelligent manufacturing and tech innovation.
Panda Robot and Walter X were created exclusively by Ubtech, a global AI and robotics company with its global headquarters in Shenzhen, for the Expo's China Pavilion.
More than 25 million visitors are expected at the six-month event, which opened on October 1, is the first world expo since Covid and the first of its type in the Middle East.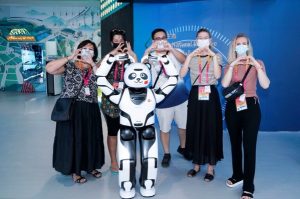 The three-storey, 4,600 sqm Light of China pavilion is shaped like a Chinese lantern is one of the largest structures on the 438 hectare expo site.
Panda Robot and Walter X have the job of showing visitors China's technological achievements including innovation in artificial intelligence and space exploration.
Panda Robot serves as an an Ambassador of Peace and Friendship and encourages visitors to interact with it while taking photos and videos. Panda can also perform tai chi, demonstrate calligraphy and other traditional Chinese arts while also introducing information on smart cities, agricultural techniques and environmentally friendly practices used across China.
Walker X is stationed at the pavilion's Exploration and Discovery section to introduce visitors China's overall vision for tech with insights into the China Space Station, Chang'e-5 Mission, Tianwen 1 Interplanetary Mission and BeiDou Satellite Network.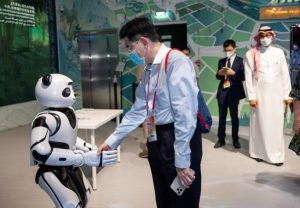 Larry Ng (left), commissioner-general of the Singapore Pavilion, and Carolina Peguero, the director of the Dominican Republic Pavilion, were among the officials who "met" Panda Robot and Walter X when visiting Light of China.
Ubtech says that beyond robotics, China's AI has been used to combat the further spread of Covid-19 and to assist with the recovery of industrial production. Its disinfection robot Adibot  been deployed worldwide including business centres in the Netherlands, hospitals in Japan and a quarantine hotel in China.
AI education in more than 40 countries across six continents is also being supported by Ubtech. The company has provided AI-driven and robot-assisted education programs to more than 3,000 schools in China, making it the world's largest provider of AI and robotics education solutions that integrate software and hardware.
The next World Expo has been scheduled for Japan in 2025.