CWT Meetings & Events is rolling out two web-based solutions to help event organisers create a better attendee experience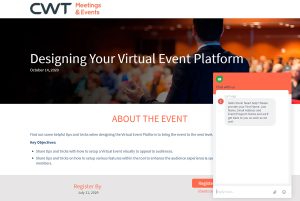 Event websites built and designed by CWT M&E for clients will be made more user-friendly with organisers able to mark changes for the platform's technicians to make.
Live-chat support will also be integrated into the event website and will be used as another channel for attendees to get assistance with travel arrangements, registration in addition to technical support for virtual and hybrid events.
During a pilot roll-out last year with one of CWT M&E's global tech clients, the tool helped cut down the time to build event websites by as much as 20-30 per cent, said a spokesman for the travel management and events platform.
More… CWT launches Chinese-English hotline
"A great attendee experience starts well before the event itself," said Rachel Lunderborg, CWT Meetings & Events' senior director for global process and technology. "Our new website collaboration tool enables event organisers to create better, fit-for-purpose websites more quickly.
"Meanwhile, with chat support, attendees are able to get assistance in real-time, when they need it. Both these solutions will help organisers significantly elevate the attendee experience pre-, during, and post- event," Lunderborg said.
Both the website collaboration tool and chat support are included in CWT M&E's standard event planning and management service and are available to customers worldwide at no additional cost.