AS MILLIONS across the world remain on tenterhooks as Tokyo works towards the lifting of its anti-Covid state of emergency and prepares to host the Summer Olympics, organisers received a timely reminder of the wonders of Japanese technology and the country's vibrant capital.
Viewers of Tokyo Convention and Visitors Bureau's online seminar aimed at international associations were shown the use of robotic avatars at a conference and how the district of Shibuya – with the world famous "Scramble Crossing" – is emerging as a business events hub.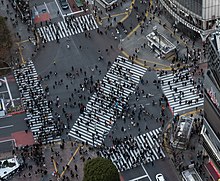 The Japan Association for Infectious Diseases annual meeting was one of two hybrid conferences used as case studies in the March 4 webinar. The event at Grand Nikki Tokyo Daiba saw 600 in-person attendees and 2,400 logging-in online.
Mingling with those in-person attendees were Newme robots standing at 1.5 metres tall and with a tablet computer as a head. Delegates unable to attend the conference – and those who logged-in from overseas – could interact with colleagues at the Grand Nikko meeting rooms via the Newme video link, which showed the remote delegate's face on the tablet screen.
Newme was launched by airline ANA as part of an innovation and developed by Japanese startup Avatarin in co-opeartion with US engineers.
More… Tokyo issues anti-Covid guidelines
Among the aims of Newme is to enable business travellers to virtually meet people in places they cannot access. The avatar system can also be used by doctors visiting hospital wards or areas where an infection has broken out, and enabling sick children to be schooled, and see family or friends.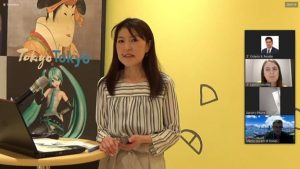 ANA says the avatars can also allow. Uses also extend to visiting museums remotely and live events such as ceremonies and sporting occasions.
"Whereas video-conferencing works for a one-off meeting, a robot avatar will be able to trundle around cities, hospitals, offices or even war zones, where humans would be at risk, not to mention other planets," Global Trends reported prior to ANA Newme's launch, while ANA Avatar said in a statement: "Avatars are a breakthrough in physical access that will make it possible to deliver human resources and specialised skills to where they are needed the most."
Backgrounder… Business Events Tokyo rallies stakeholders
TCVB officials said they were unable to comment on the city's hosting of the Summer Olympics, due to be held July 23 to August 8, and referred inquiries to the Tokyo Olympic Playbooks which lay out guidelines for participants of the Games.
The famous Tokyo junction known as Scramble Crossing is among the landmarks highlighted by TCVB in the downtown district of Shibuya. The landmark is often featured on TV screens across the world and sees 500,000 people cross the four-road intersection daily with as many as 3,000 using it at one time.
Shibuya earned the nickname "Shibuya Bit Valley" as it as the highest number of IT companies in Tokyo and is where Google Japan set up its headquarters. New developments in Shibuya will include business event facilities in addition to Hikarie Hall, which as well as holding a theatre, restaurants and adjoining a retail complex, will feature 2,500 sqm of space for trade fairs and conferences.
Tokyo's state of emergency is expected to be lifted in May but was extended by two weeks on March 5 to ease the pressure on city hospitals. Capacity limits at venues would be eased as emergency restrictions are lifted, the webinar heard.