Tech innovation has seen hotels ever more eager to be ahead of the digital curve by gaining a firm footing in the sphere of online booking tools and social media. This determination is now being directed at meetings and events as more hotel brands roll out apps aimed at planners and delegates.
Meeting apps offer a one-stop shop for organisers and attendees who want questions answered and real-time updates on their events.
Some apps offer a live feed where hosts are able to engage with attendees through photos and video streaming, or through forums that prompt feedbackon different areas of the event.
We check out a selection of hotel apps and their the prime functions, along with the extras that make them stand out.
Apps designed for delegates provide…
– update event details and information
– group alerts and notifications
– feedback through surveys and polls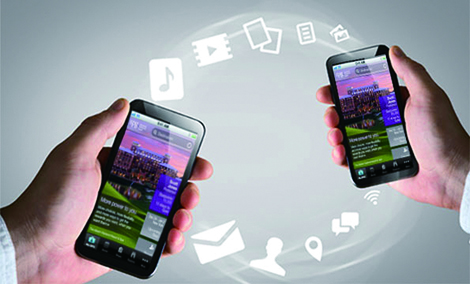 CrowdCompass events app for Starwood
This app has been developed by CrowdCompass for Starwood properties. Tailored for event participants, it's the brainchild of event management platform Cvent and tech service provider PSAV. Geared at a much broader audience than Starwood's ProMeetings App, it can be customised with personalised branding and aims to enhance attendee engagement through features like surveys and links to social media. Attendees can also use the app to create personalised schedules and share contact information with fellow attendees.
Regal MICE App, Regal Hotels International
Planners and participants are kept up to date on Regal's latest event information. Functions like QR-code scanning can streamline event registration and help planners track attendees. Conference organisers will also find the real-time voting function useful.
Grand Hyatt Macau Events App
Grand Hyatt Macau launched its own events app in 2014. Also catering to planners and delegates, the app stores agendas, FAQs, floor plans and more. Planners can easily get delegate feedback, thanks to the post-event survey function, while photos, videos and event documents can be shared within the app's Media Centre.
Apps designed for planners provide…
– instant messaging services where planners can make direct requests such as set-up or F&B changes
– event registration data and attendance figures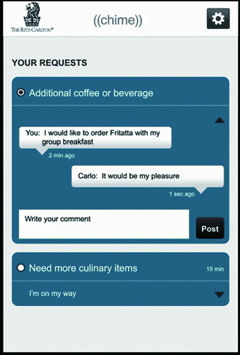 Chime, The Ritz-Carlton
Launched in July 2015, this app has all the basic functions outlined with the event planner in mind. Available in 20 languages, the app is available to planners three days before an event. Chime offers the same real-time connectivity and other functions available to planners holding events at other Marriott brands.
Red Coat Direct, Marriott
Launched in 2013, Marriott's meetings app Red Coat Direct offers planners a menu of event needs that can be managed from one platform, and also has a billing service where you can see charges to-date. The real-time connectivity extends to a chat facility that connects meeting and event organisers to a Marriott event team throughout the planning stages and during the course of the event.
Red Coat Direct is Marriott International's Meeting Services App, which can also be found at brands including JW Marriott (JW Event Concierge); Renaissance (REN Meetings Expert), and Courtyard Connect for Courtyard by Marriott.
Meanwhile, Marriott's Meetings Imagined is an online resource that gives planners event tips and updates on event design and trends. It is modelled on the Pinterest and the Chinese Huaban forums with hundreds of images showing ideas for event set-ups and activities.
ProMeetings, Starwood
For meeting planners, this app is available to SPG or SPG Pro members only. Event managers can gain loyalty Starpoints when booking events at Starwood properties – the more that is spent, the more points planners gain. The app is currently in its pilot stages at several Starwood hotels including The Westin Singapore and W Sentosa Cove, and is expected to roll out globally in 2016.