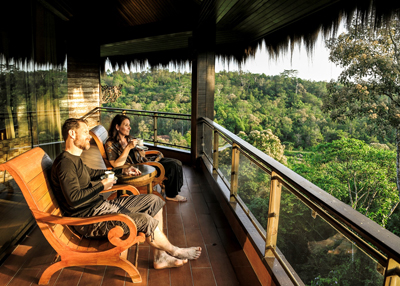 ORANGUTAN and sun bear rehabilitation, wild life spotting and learning about tropical forest ecology are among the natural experiences being positioned to groups as part of Khiri Travel Indonesia's new Kalimantan itinerary.
The six night tour also features boat rides through mangrove forests, jungle hikes, waterfall discoveries, a canopy bridge walk, insights into the Samboja Lestari rainforest rehabilitation project, and an inspection of the Sungai Wain protected forest, where the Borneo Orangutan Survival Foundation has successfully rehabilitated and released dozens of orangutans since the 1990s.
In the first two days of the tour, delegates learn how the International Timber Corporation Indonesia (ITCI) is now a pioneer in sustainable agro-forestry. It is building alternative forest management projects that are much more sustainable than monoculture logging and burning.
More… Khiri Travel launches community experiences in Thailand and Indonesia
Participants sleep overnight in a lodge at the ITCI Basecamp, an hour and a half by boat and car from Balikpapan, as well as a Samboja Lodge.
From there they hike to protected parts of the forest, swim in waterfalls, and learn about the ecology of tropical rain forests and wildlife release plans.
"Our Kalimantan tour has been created for people with an inquisitive mind who love forests and don't mind simple accommodation," says Herman Hoven, general manager of Khiri Travel Indonesia.
"The whole experience provides insights into the issue of massive deforestation on Kalimantan, while contributing to local efforts to help nature and wildlife conservation."
Khiri Travel says the Kalimantan trip combines easily with other Khiri tours in Indonesia and Southeast Asia.
Prices for the Kalimantan trip start from US$300 per person on a twin-sharing basis, excluding air tickets