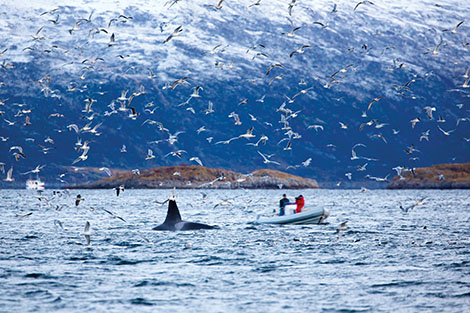 ANTARCTIC AND ARCTIC
Expeditions to Antartica are on the bucket list for more people with the means to push their travel horizons – and much of the market for this ultra-cool trend comes from China.
What's new? Sydney-headquartered Aurora Expeditions is preparing to launch The Greg Mortimer in October. It's built with a unique X-bow hull that enables faster and smoother sailing with lower fuel consumption and carbon emissions. A maximum of 120 passengers or expeditioners, as Aurora refers to them, can board.
Meetings There is the Lecture Theatre for talks about the expedition from experts such as a historian. Expeditioners also gather for briefings about voyage and the venue also doubles up as a lounge.
Recreation Hydraulic platforms at the side of The Greg Mortimer give expeditioners prime views of what crops up on those snowy wastes and ice-laden waters – from polar bears to whales – as they sail down to the bottom of the world as ships push and steer their way through packed ice. Excursions are arranged from the boat's four Zodiac launching platforms during the two or three daily landings. The new vessel also features hot tubs for relaxing and plunge pools for revitalising.
Voyages The Polar Pioneer and Coral Explorer are sister vessels to the Greg Mortimer with the former mainly on Arctic and Antarctic routes with itineraries taking in swathes of the vast north such as Greenland and Norway, while other serves routes on Australia's northern coastline such as Darwin to Broome.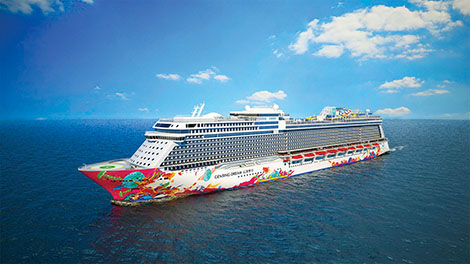 DREAM CRUISES
What's new? In late 2017, Genting Cruise Lines launched the 150,695-ton, 18-deck World Dream to join sister ship Genting Dream. For planners seeking to give groups added exclusivity, The Palace aboard World Dream provides a "luxury ship within a mega ship" and features 10,000 sqm of suites, private restaurant, gym, sundeck swimming pool, and other facilities with a European-style butler team. In 2020, Genting will be the first of its 'Endeavor Class' fleet to join Crystal Cruises "luxury expedition voyages" to the Arctic and Antarctic.
Meetings Commanding views from the front of World Dream's top deck is Palm Court, a lounge that can be used for receptions, presentations or simply for your group to relax with live entertainment. The 999-seat Zodiac Theatre makes an ideal plenary venue, while for smaller conferences or company presentations there is a cabaret-style function room called Tributes, which is around the corner from World Dream's bars and restaurants. For delegates who want to stay in the function space there is the stylish Tributes bar to gather post-meeting.
Recreation Among the indoor thrills is the Exc Experience Lab with VR games. Out on deck there is the SportsPlex, which can be used as a teambuilding venue, and for a gala on the high seas there is Zouk Beach Club complete with lounge seating and stage, plus both the night sky and a large LED as backdrops.
Voyages Year-round sailings on World Dream from Hong Kong and Guangzhou with itineraries to Danang and Halong Bay, Vietnam, and to Japan for Naha and Miyakojima.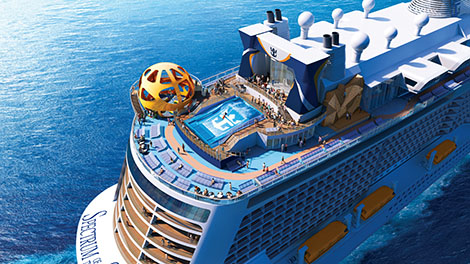 ROYAL CARIBBEAN
What's new? Spectrum of the Seas, Royal Caribbean's first Quantum ultra-class ship, is being introduced to the world's waters over the next few months and homeporting in Hong Kong and Shanghai. The new 168,666 ton, 2,137-cabin liner features the North Star, which can lift groups 90 metres above sea level to take in the views, particularly as the ships sail into ports.
Spectrum's own version of the VR experience comes in the form of Sky Pad and is located on deck.
Meetings Across its fleet of 25-plus liners there are dedicated conference facilities with event experts on hand. Spaces include a dedicated Conference Center, with a capacity for 500, while the Royal Theatre can seat more than 1,282. Other large venues include the Studio B Ice-Skating Rink which can be transformed into meeting space.
Recreation The Sky Pad will be the first trampoline VR experience at sea and, along with other facilities such as the North Star hydraulic viewing cabin, can be adapted for team-bonding. The Suite Club provides VIP space while the Bionic Bar features robotic bartenders.
Asia itineraries Spectrum of the Seas: Danang, Vietnam; Okinawa, and a new route taking in Okinawa and on to Ilocos and Subic Bay, in the Philippines. Vietnam visits on the Voyager of the Seas feature Nha Trang and Danang, while a new route takes in Okinawa, Fukuoka, Nagasaki and Kagoshima.
More: Charting ocean meetings with Royal Caribbean's Crystal Campbell