RECOVERY in incentive travel is strengthening with a new report forecasting that global market value will reach US$216.8 billion by 2031 if current annual rates of growth continue.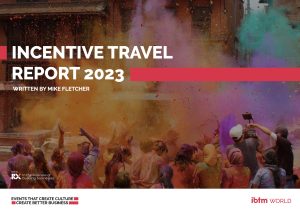 IBTM World's 2023 Incentive Travel Report finds that the sector is growing at an annual rate of 12.1 per cent, and predicts that the number of people participating in incentive travel programmes worldwide will grow by 61 per cent in 2024, compared to 2019.
"Although it is still a long way off the US$805 billion valuation placed on the sector back in 2017, it does signify that a revival is finally underway for an important segment of the global MICE industry," the report states.
Businesses will always find new ways to grow. Now, more than ever there is an emphasis on gaining, engaging and nurturing talent. These are key drivers of the incentive market"
– Patrick Delaney, of SoolNua, who is quoted in the report
Figures indicate that incentive travel schemes once again figure strongly as companies seek to attract, retain and motivate talent following the global pandemic.
Benefits such as inclusivity, peer-to-peer relationships, and being able to take a partner on a trip have become more relevant to employees, according to 66 per cent of incentive travel agencies.
WHERE IS INCENTIVE TRAVEL PRIORITISED?
Software as a Service (48%)
Pharma & Healthcare (39%)
Direct (to consumer) marketing 27%
Autos 22%
The report, authored by IBTM contributor Mike Fletcher with data from Allied Market Research, is released ahead of the IBTM World trade show in Barcelona, November 28-30.
Despite its revival, the sector still faces significant challenges including talent shortages, inflation, rising travel and supply chain costs. Tighter corporate budgets, which have resulted in a reduction in the frequency of business trips and fewer employees attending face-to-face events, are another hurdle. The report highlights the need for companies to adapt their incentive travel schemes to ensure they remain competitive.
Research from the 2022 Incentive Travel Index (ITI) – a joint initiative by the Financial & Insurance Conference Professionals (FICP), Incentive Research Foundation (IRF) and the Society for Incentive Travel Excellence (SITE), predicts that the number of people participating in incentive travel programmes worldwide will recover by 48% this year and grow by 61% in 2024, compared to 2019
The importance of authenticity, wellness and sustainability are highlighted, driving a new breed of incentive travel programmes which reflect the changing expectations of the workforce. Employees now place more emphasis on incentives which provide valued experiences, support corporate social responsibility (CSR), and demonstrate concern for employees, with 35 per cent of respondents placing greater value on wellness activities and 44 per cent underlining the importance of CSR-focused team building.
Incentives could include opportunities which enable employees to connect with local culture, and excursions which counteract loneliness, stress and burnout, according to the report.
– The full report and other IBTM World research can be downloaded here…