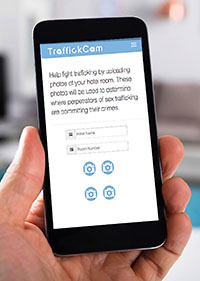 Delegates and planners can help in the fight against sex trafficking by downloading an app that allows anyone with a smartphone to upload photos of their hotel rooms to a law enforcement database.
App developers Exchange Initiative say TraffickCam is 85 per cent accurate in identifying the correct hotel in the top 20 matches, according to early testing.
Sex traffickers regularly post photos of victims posed in hotel rooms in their online advertisements, with statistics showing that 75 per cent of underage sex trafficking victims said they had been advertised or sold online.
Investigators can use the ads as evidence to find victims and prosecute perpetrators if they can determine where the photos were taken.
Travellers take four photographs of their hotel room and upload them. The app uses image analysis tools to convert the photos to a series of data points that can be matched to data points in online photos of victims.
More than 152,000 TraffickCam apps have been downloaded and 2.9 million photos of more than 250,000 hotels have been uploaded; no personally identifying information is stores and images that include people are rejected from the database.