Using such a spectacular backdrop as the ancient ruins of Angkor Wat to create a stage setting, and marrying it with a gala dinner for 500 is no easy task, especially in the soaring temperatures of a Cambodian evening.
But when a corporate client of Hong Kong-based Factor168 Creative Events Company wanted that extra special occasion, Sereymony Or ("Mony") (right) stepped up to the challenge.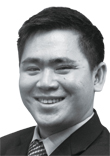 Mony, then an assistant F&B director with Raffles Grand Hotel D'Angkor Siem Reap, led the catering operation at a corporate gala dinner with the ruins of Angkor Wat as a backdrop. While the event producers came up with creative highlights such as lighting the entire structure and having opera singers step out from the arches to sing, Mony hit on one particularly cool concept.
He arranged for hand-carved ice bowls modelled on the man-size figures that line the walkway from the welcome temple to the main event space to be used when serving the entrées, says Factor168 founder Darren Kerr (left).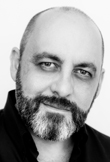 "This was one of Mony's great ideas and it has since gone on to be a signature item that Mony and I have in our events toolbox and we are looking at revisiting this with an event we are currently planning in Yangon," says Kerr. "Not only did Mony serve as my catering partner but he ensured that the service had an immensely strong sense of theatre involved."
While impressed with the cooling entrées and unique dramatic dinner entertainment, few attendees would have known about Mony's humble beginnings. He started out selling coconuts in the gardens of the Raffles Grand Hotel d'Angkor, before getting a job as a waiter and working his way up the F&B ladder.
"Events have been the biggest part of my work, even when I worked with Raffles, and especially now as I have my events company here in Siem Reap," says Mony. "I love it when every single guest has enjoyed themselves and are still talking about the event the next day at breakfast."
Checklist
Name: Sereymony Or
From: Siem Reap, Cambodia
Top venue: Angkor Wat
Previously: Raffles
These days: Angkor Weddings and Events
Web: angkorweddingsevents.com