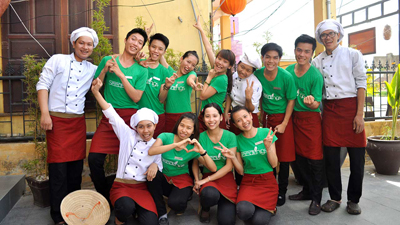 As luxury resorts open in Central Vietnam, it may take years for their contribution to the local economy in terms of providing jobs, training and investment to be properly measured.
But groups staying at the resorts for conferences, retreats or incentives can nonetheless take away a meaningful experience or give value by adopting a CSR or community outreach project.
Angsana has incorporated community and environmental CSR into its Meet for Good programmes. Land is provided to local farmers who grow produce that is sold back to the hotels. This enables the resorts to provide herbs, vegetables and salads for spas and kitchens.
At an organic farm near Banyan Tree and Angsana Lang Cô, north along the coast from Danang, organic farming is encouraged by both hotels as a model for local farmers to follow and for groups to gain an eco-experience. Delegates can learn about the methods used in growing organic produce, feeding farm animals and can plant their own vegetables.
On a short tour of the farm, we learned how farmers fertilise the crops, some of which are fed to goats and rabbits on the model farm.
The hotel's chefs also offer Vietnamese cooking classes with groups making snacks using ingredients picked from the farm. A sun shelter is set up and the chef shows how to create treats such as rice-paper rolls, which are simple to make and can also be tried at home. As well as an eco-experience, classes provide an opportunity to see how hotel's CSR programmes work. At the Seedlings Restaurant in Hoi An, there was little difference in the service found at a conventional restaurant with friendly greetings and no difficulty in communication, despite English not being the servers' native language. Seedlings Restaurant is a thoughtful and successful programme that trains youngsters and prepares them for a working environment. The youngsters also receive regular English classes and specialist training in kitchens or front-of-house service. Since the project began in April 2014, the restaurant has completed six courses and trained 51 local people.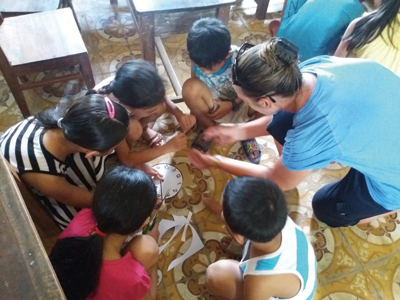 English is Fun
This is a teaching experience that was launched in the summer of 2014 and extended in 2016 with classes throughout the year. The goal is to improve the standard of English among local primary school students and to encourage a passion for learning the language through a variety of fun games and interactive lessons.
Elderly Care
This project was launched by Laguna Lang Cô in February 2015 with the aim of raising the morale of senior locals living alone in Phu Hai Village. Volunteers visit the elderly on the 10th day of each month and activities include hearing reminiscences, and helping with house cleaning and laundry. Nearly 100 volunteers have helped build a kitchen and install a water pump, electrical system and waterproofing. Donations such as rice, bed sheets and shampoo are also made.
Cleaning Communities Together
Another initiative is aimed at raising environmental awareness among staff and hotel guests. In June 2016, Laguna Lang Cô CSR organised a two-day beach cleaning activity at Canh Duong and Binh An Commune. Volunteers, including guests and the Binh An Commune local Youth Union, collected nearly a tonne of rubbish.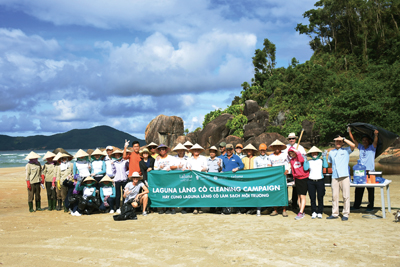 Seedlings Mentorships
A long-term commitment by Angasana's parent company, Banyan Tree Group, is to give underprivileged youngsters an equal chance of achieving their full potential in life. They are all good students, but are at risk of leaving the education system due to difficult family situations. Laguna Lang Cô supports all school fees and school supplies, together with its associates acting as mentors, to help guide and inspire the young students until the age of 18.
Feeding Communities Together
Each day in October, Laguna Lang Cô organises the Feeding Communities Together day each October in conjunction with World Food Day. In 2015, the resort's staff delivered healthy and nutritious lunches to patients and families at the Phu Loc Hospital.
Main picture: Seedlings mentorship participants