When it comes to sustainable events, there is one thing that planners, hoteliers, venue managers, consultants and other experts all agree on – the days when traditional practices were considered profitable and green policies were deemed risky are long gone.
As EarthCheck CEO Stewart Moore puts it: "The realisation of a bottom line financial return from the implementation of sustainable business practices is one of the strongest motivating factors for participation."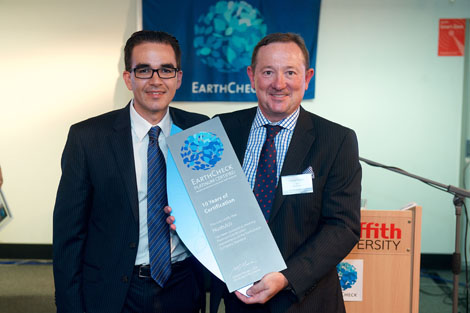 Indeed, the London Olympics sustainability "bible", ISO 20121, enshrined economic viability as part of the event's management system. Event-related organisations, it says, should "continue to be financially successful" in addition to "becoming more socially responsible", and "reducing their environmental footprint".
MCI Group Sustainability Manager Roger Simons, also president-elect of the Green Meeting Industry Council, puts it in even stronger terms. Far from risking profitability by adopting sustainable practices, companies failing to do so are risking their very futures. "Those that ignore changing environmental trends, resource issues and social movements will not survive," he says.
Although day-to-day practical sustainability measures may differ according to the industry sectors involved and the nature of events, basic policies have components in common, testified to by the similarities in the various operating checklists, such as EarthCheck and ISO 20121.
How general policies translate into day-to-day practice depends on venues and circumstances. A large corporation such as Sands, for example, which owns businesses in North America, Singapore and Macau, has its own ECO 360 global strategy. Gene Capuano, vice-president of Convention & Exhibition Operations for The Venetian and the Conrad Macao, operated by Sands China, says long-term targets are set to reduce carbon emissions and water use and improve waste recycling in line with ECO 360 and its ISO 20121 certification.
It is simple day-to-day operations – measures such as switching from bottled water to five-gallon dispensers, eliminating paper and pens on meeting tables, using mobile apps for conference attendees, eliminating physical signage and using organic food – that help achieve those goals.
"At the end of a green meeting we provide our clients with an impact statement that details for them all of the measures they took to have a sustainable meeting," Capuano says.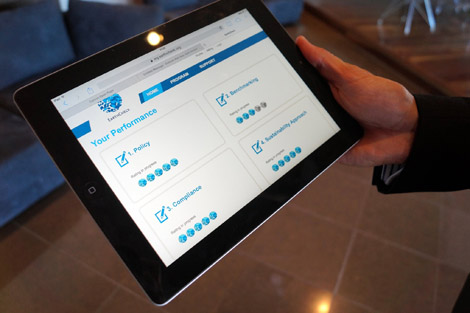 An example of a much smaller but accolade-winning operation is the Eaton Hotel in Kowloon, Hong Kong, which won a gold award in the 2013 Hong Kong Awards for environmental excellence and has EarthCheck silver certification.
Measures in place include the installation of an eco-friendly drinking water purification system.
"Waste management includes venue decorations, unwrapping of any kind of event-related packaging and the disposal of waste and recyclables," says Shane Pateman, General Manager at Eaton Hong Kong. "During a green meeting, Eaton offers containers for filling recyclables, and equipment like smart whiteboards, green stationery kits and fresh snacks, which replace disposable flipcharts and unnecessary packaging."
Singapore-based sustainability consultant Ken Hickson, who works with the Lion City's annual power-saving "iLight Marina Bay" event, among others, says the key to eco success for events organisers is planning. "There are plenty of checklists around, but the simple way to approach this is to ask what areas need to be addressed, and what can be done," he says.
Director of sustainable event specialists Greenview Cara Unterkofler agrees and says it is important for organisers not to be put off by the complexities of creating sustainable events and to focus on achievable goals.
"Instead of getting overwhelmed by a checklist and doing nothing because you can't do everything, it is best to pick the battles you feel passionate about," she says. "There is no such thing as a zero-waste event and there isn't such a thing as a 100 per cent sustainable event. We hope people will have fun with sustainability as a professional and personal challenge."
Having adopted sustainable policies, another key factor in the process of successful implementation is auditing changes and savings, and that involves benchmarking. "It goes beyond ticking boxes. You need a third party in place to verify that you have done these things," Ken Hickson says.
Although The Venetian uses Sands' ECO 360 strategy and ISO 20121 to set its policies, Gene Capuano says the venue uses EarthCheck as an independent third party to benchmark its success.
"We have engaged with EarthCheck to benchmark our property on various environmentally related items such energy, water and waste," he says, describing the organisation as "the travel and tourism industry's leading environmental management, benchmarking and certification company".
MCI's Roger Simons says that although companies can undertake their own benchmarking against their goals and performances, "review is best done through sustainability reports, which can be third-party assured".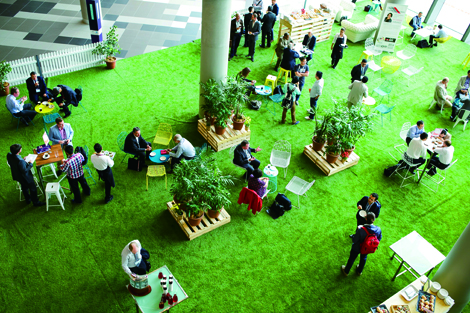 ECO CHECKLIST
The London Olympics sustainability committee spelled out the event's ISO 20121 provisions in this 10-point checklist:
• Access Ensure good communication methods and physical access to facilities so everyone is welcome.
• Local area Look after your local community. Try to reduce congestion, litter and noise.
• Energy and water Think of inventive ways to reduce energy and water usage.
• Transport Walking, cycling and public transport are healthy and more environmentally friendly ways to travel to an event.
• Reduce and reuse Think about what you really need – buy only what is needed and hire/reuse everything else.
• Responsible sourcing Try to support local businesses and socially responsible organisations.
• Food and beverage Try to showcase local, seasonal and Fairtrade produce and provide free drinking water.
• Keepsakes Ensure giveaways add to the customer experience, are useful and reusable and/or recyclable.
• Make it easy to recycle Try to provide recyclable packaging and provide recycling and general waste bins.
• Health, safety and security A safe environment is a happy environment. Assessing risks in advance helps ensure that everyone enjoys the event.
Supplied by Singapore-based sustainability consultant Ken Hickson
GUIDANCE ON CREATING MORE ECO-FRIENDLY EVENTS
Teamwork, communication and measurement are key to successful sustainability according to Greenview, which has offices in Washington and Singapore. Director Cara Unterkofler says:
• Green team "Greenview's first simple tip is to create a Green Team. It sounds elementary, but is essential to progress. If one or more people are not officially assigned the responsibility of guiding meetings and projects, there will be a lot of talk and no action."
• Start the conversation "The 2014 Green Venue Report found that 69 per cent of North America's largest convention centres reported that less than 20 per cent of planners discussed greening during the event planning process. This is a lost opportunity that can be corrected by both planners and suppliers."
• Measure it "You can't manage what you don't measure. Assign a member of staff or vendor partner to report results at the end of the event. This greatly improves the likelihood of action."
MCI Group Sustainability Manager Roger Simons, also president-elect of the Green Meeting Industry Council, advises planners that it isn't always necessary to set sustainability goals at zero.
"Although it is fashionable to set zero carbon or zero waste, set realistic targets in partnership with your suppliers. Communication and collaboration are, of course, key," he says.
"The goal should be continual improvement. First establish goals around what you want to achieve with your suppliers, then create the framework to measure performance – then you have a benchmark which you can raise each year."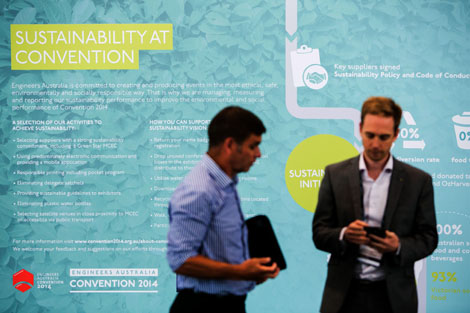 Simons says the simplest way to create a sustainability checklist is to employ "the old mantra of what we can reduce, reuse or recycle".
"It is about reducing products like signage using petroleum-based products, reducing unnecessary giveaways while making sure there's a strong focus on recycling all event waste, and being smart about what can be reused."
Robert Rogers, the "Experience Creator" with Hong Kong-based Eventsman and a Certified Special Event Professional, advises organisers to ask key questions before planning a sustainable event.
"How are your guests getting there? Is it a central location or will they need to take multiple flights? Is it possible to reinvent it as a 'roadshow' with a smaller event in multiple locations with only the speakers travelling?
"If it is a local event, are the guests driving? Can you create a bus system? Is your bus fleet electric or at Euro Five standard?
"Does the venue have environmental policies in place? Make it a criterion for choosing. Do your suppliers have environmental policies in place? Make it a criterion in the RfP.
"Get yourself in order before you tell others what to do. A good place to start is with an 'environmental officer' or someone in charge of analysing and creating a sustainability policy for the office."
There are simple steps planners can take to ensure their business event or meeting is held in a responsible manner, says EarthCheck CEO Stewart Moore.
"By implementing a holistic events sustainability management system such as the EarthCheck Responsible Meetings and Events Standard, you can ensure the key impacts of your event are addressed and you leave a positive legacy. A key part of the management system is a continuous review process promoting improvement," Moore says.
Aligning with responsible venues, suppliers and event partners is another approach, he says. The EarthCheck checklist provides organisers with a self-assessment tool to help event organisers review compliance against each clause of the ISO 20121 standards.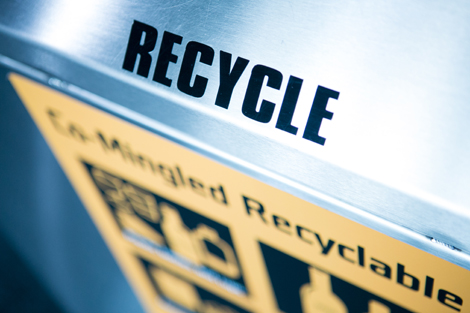 "Commit to developing a formal sustainability policy and then assess and scope the footprint of your current events using a platform such as EarthCheck," Moore says. "Develop some internal capacity by training your staff and openly engaging with your suppliers."
TRACK YOUR FOOTPRINT
Sustainability measures in place at large-scale events are part of The Venetian's long-term efforts to hit its Sands ECO 360 and ISO 20121 targets, which cover reducing carbon emissions, conserving water and improving waste recycling.
"A comprehensive measurement system has been established to review various initiatives, implemented on a yearly basis," says the Venetian's VP for conventions and exhibition operations, Gene Capuano, who adds that the measures are regularly recalibrated to achieve the long-term objectives.
The measures include:
• Tracking the on/off time of air-conditioners, lighting and AV equipment.
• Setting the air-con temperature at 23°C throughout the event (agreed with event organisers).
• Using water dispensers instead of bottled water.
• Implementing a sustainable AV policy.
• Setting up recycling bins inside selected meeting rooms.
• Offering sustainable food menus (a mixture of local food, organic food and/or sustainable seafood).
• Compiling impact statements for selected events to track energy and water consumption, the waste diversion rate, carbon emissions and sustainable food.
• Creating gala dinner centrepieces with baskets of packaged foods to be donated to local charities instead of using shortlived floral displays.
• Designating an area of the Expo Hall for the sorting of recycling.