OUTDOOR DINING EXPERIENCES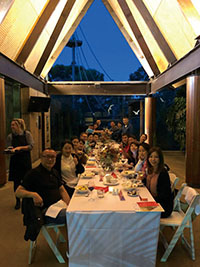 Botanic Garden – Why not set up a series of tables long enough to seat… well, up to 250 people? That's what the catering and events teams at the Botanic Gardens say they will facilitate for large groups, and with garden life as the backdrop. All this with vegetables and herbs picked from the restaurant's garden and freshly transformed into dishes by award-winning chef Paul Baker.
Adelaide Zoo – Ten minutes walk away is the city's zoo (pictured left), which can be booked out for a private event. Guests get a pre-dinner tour of the panda section and can feed giraffes too. Planners can also choose to host dinner at the tiger zone while zookeepers feed the cats. Upon request, small animals can be transferred to other venues to greet guests at private events.
WINERY VISITS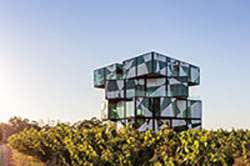 D'Arenberg Cube
The D'Arenberg Cube (right) is the brainchild of Chester Osborn, probably the zaniest winemaker in McLaren Vale, if not the whole of South Australia. He's also an art and design connoisseur whose five-level project resembling a Rubik Cube will wow groups with its Alternate Realities Museum, tastings, pairings and fine dining.
Seppeltsfield
One of the Barossa Valley's most popular wineries for corporate events and incentives is Seppeltsfield, which dates back to 1851, and has been part of the Seppelt homestead for generations. Steering Segways through the vineyards is an ideal way for groups to learn more about how grape varieties and, for a bird's-eye view of the valley, helicopters can be arranged. In addition to restaurants and workshops, try the Centennial Cellar Experiences by sampling a drop of Tawny port from the year of your birth, dispensed from casks dating back to 1878.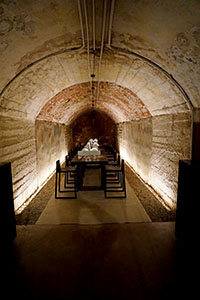 Penfolds
Asian groups would have seen this brand on store shelves, but now thanks to a multimillion-dollar renovation two years ago, Penfolds winery (left) brings its history and processes closer to visiting groups. Penfolds' cellar-door grounds provide space for 350 standing with wine and food tasting set ups. Long-table dinners can also be hosted for a maximum of 100. Aston Martin placed three vintage cars in the cellar for an 80-guest dinner last December last year while Ferrari hosted 40 dinner guests while showcasing four of its super cars.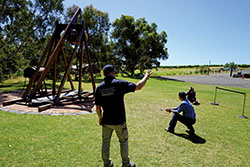 Wirra Wirra
In McLaren Vale, groups can don a laboratory coat and make their own wines. Wirra Wirra Vineyards (right) also hosts an art workshop using wine and tea as paint. For some fun competition, there is a catapult large enough to fling watermelons into a neighbouring paddock, if groups want to really make a splash.