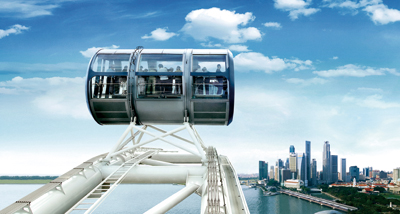 Sky's the Limit 
Lowdown A high-rope facility on the island of Sentosa, Singapore's playground and a 15-minute-drive from the business district, MegaZip Adventure Park is skilled at handling corporate groups.
For groups Teams can participate in established programmes such as Adventure Race (a multi-checkpoint event for squads of 4-8 people) or Team Builder (a series of problem-solving activities), or request instructors to customise teambuilding regimes that can include partner hotels on Sentosa.
Whatever the schedule, individuals can expect to reach speeds of up to 60kph on the 450-metre zipline, clamber across a high-rope adventure course 15 metres above the ground, or scale one of the highest climbing walls in Singapore.
megaadventure.com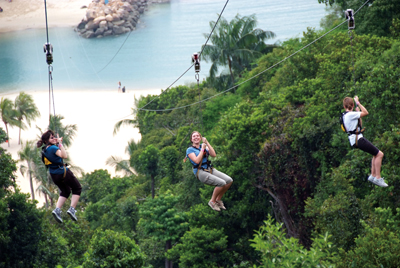 Cooking up a Storm
Lowdown Want to witness the dynamics of corporate life through a cooking test that combines cooperation and competition? Cookyn's signature Global Kitchen Challenge involves preparing the courses of an international gourmet meal.
For groups The Challenge can accommodate between 14 and 90 people, although groups can be broken down into smaller units. To keep players on their toes, a staffer will initiate random challenges like demanding a secret ingredient or herb in the dish.
An MC conducts the proceedings and adds liberal doses of humour and bonhomie to ensure that the event mixes work and play. At the end of all the cooking, budding chefs get a chance to sample the handiwork of every unit.
Cookyn also offers programmes for small groups, though the focus on teamwork, creativity, and precision remains.
cookyn.com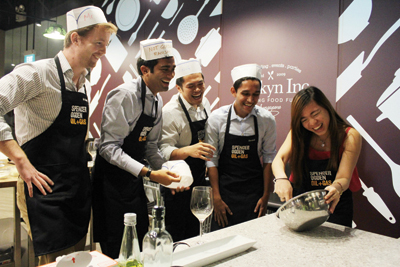 Get Cultural
Lowdown Unique to parts of Southeast Asia, including Singapore, Peranakans are descendants of Chinese immigrants who moved to the Malay archipelago, many of them marrying local women.
In the Lion City, their food and culture is celebrated at places like The Intan, a heritage Peranakan house-museum filled with antiques and artifacts.
For groups During an afternoon tea session, guests will learn about the history and culture of the Peranakans, including how their lavish wedding ceremonies can last for 12 days, and sample an assortment of authentic kueh kueh, or desserts.
Groups can also make their own kueh pie-tee, a crispy, juicy, more-ish Peranakan finger food.
the-intan.com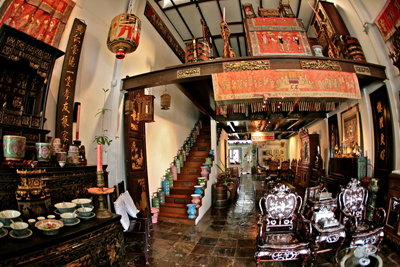 Step Back in Time
Lowdown Pulau Ubin, a butterfly-shaped isle off the main island of Singapore, is a snapshot of life before independence. A lush, rustic place without electricity and running water, it's home to plenty of wildlife and a handful of residents in old kampungs (villages).
For groups This is the setting for a class run by Cookery Magic that's part culinary exploration, part historical immersion, and part escape from the cues of everyday life. Groups of 20-80 will learn to cook the Malay dish nasi kerabu (herbed rice) in a 100-year-old kampung house, using wild jungle herbs collected around the island. As much as an exercise requiring teamwork, the excursion offers a window into a nigh-bygone era.
cookerymagic.com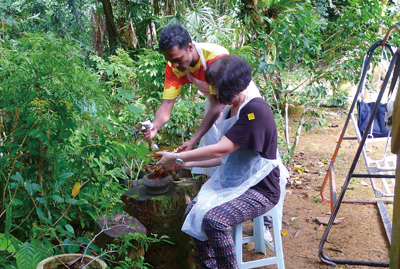 The Art of Giving
Lowdown Using challenges to pique the mind and foster teamwork, Focus Adventure offers programmes targeted at corporate groups. These range from paddling in synch on a dragon boat to building intricate domino sculptures.
For groups Perhaps the most CSR-focused among its offerings is the Build a Bike challenge. Teams of five assemble bikes from scratch, though this seemingly mundane process is given a revelatory twist: halfway through the construction each team is informed that the final product will be donated to a charity. The resulting paradigm shift is remarkable, with groups working together with renewed zeal to ensure that the finished goods are the best that they can be.
focusadventure.com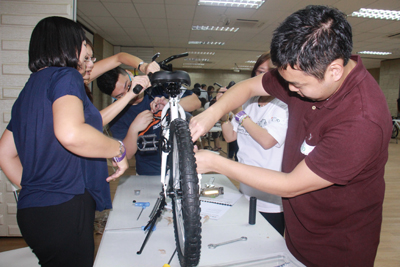 Eat Like a Local
Lowdown Since launching in September 2016, the hop-on, hop-off Makan Bus (makan is Malay for food) has attracted tourists keen to explore the outer reaches of Singapore, known as the heartlands, where predominantly locals live and eat.
For groups The service now also embraces corporate groups of 20-36, folding in places of interest like the Kong Meng San Phor Kark See Monastery (the largest Buddhist temple in Singapore), or the memorial for Dr Sun Yat-sen (the founding father of the Republic of China) in addition to its normal stops for dishes like roti prate (fried flatbread served with curry), mee rebus tarik (noodles with a sweet-spicy gravy), and bak kut teh (pork rib served in broth).
makanbus.com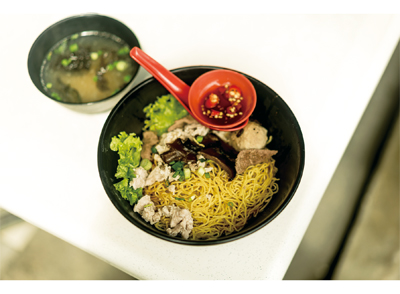 Plain Sailing
Lowdown Measuring 47 metres in length, the 22-sail Royal Albatross started its journey navigating the Great Lakes in northern America. Today, after a redesign and refit in Singapore, the striking luxury yacht is available for charters. Features include a 56-room airy Grand Salon with built-in audiovisual systems and customisable lighting, and seating for 96 on the upper deck in the shadow of the giant sails.
For groups Guests are kept occupied with numerous options – teambuilding exercises before a meal, practising sailing or climbing up rigs designed by a rigger who worked on Pirates of the Caribbean, and taking in the sublime scenery during sweeping voyages to outer islands or toward the lights of Marina Bay Sands at sunset.
tallship.com.sg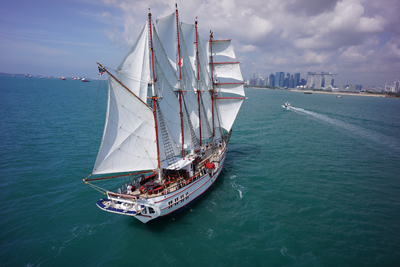 Singapore Flyer
Lowdown With 28 city-bus-sized capsules that can each accommodate 28 guests, and reaching a height of 42 storeys, the Singapore Flyer has become a marquee element on the city's skyline.
For groups In addition to offering its riders striking views – guests can see more than 45km into the distance – the giant wheel supplies several packages for groups. In the Premium Sky Dining Private Capsule, limited to 10 people, diners will experience two full rotations of the flyer, a choice of three different menus (Western, Chinese, vegetarian), and house wine. With the most exclusive package, the Private Premium Champagne Capsule, up to 26 revellers enjoy one round on the observation wheel, bottles of premium Champagne, and a variety of chocolates, creating a memorable setting for all to network, bond, and celebrate.
singaporeflyer.com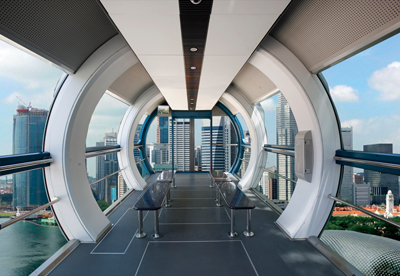 Food for Thought
Lowdown Started in 2010, and operating in northeast Singapore, Dignity Kitchen is the first hawker-training school for disabled and disadvantaged individuals. In the Hawker for the Day programme that can handle up to 56 people, visitors will learn the dedication of a hawker, how to cook hawker food, and understand the challenges of working with the disabled.
For groups During the half-day event, participants are briefed, assigned to a stall that they run with their disabled stall leader, prepare and cook food, and, when combined with the Lunch Treat for the Elderly option, serve the meals to visiting elderly from nearby communities. The experience is moving and meaningful, and cleverly illustrates how disabled people are wholly able in many ways.
dignitykitchen.sg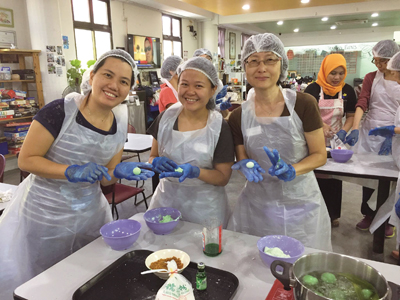 Soul of Singapore
Lowdown Original Singapore Walks give visitors a deep historical perspective into the evolution of the Lion City. Working with Singapore History Consultants, a firm specialising in heritage education, and the Changi Museum, tours delve into multicultural Singapore's rich, and at times harrowing, past.
For groups A number of tours investigate the little nooks and crannies of the various ethnic enclaves of Singapore. The most popular outing is the Changi World War II trail. It takes in stops such as Changi Beach (site of the Sook Ching Massacre of 1942), the Johore Battery (replica of a WWII 15-inch coastal artillery gun) and Selarang Barracks (an internment camp for British and Australian prisoners of war).
journeys.com.sg