Meeting and incentive organisers continue to bring groups to Bali thanks to new convention facilities and better access to and from the airport. But rich cultural traditions are close at hand with activities that involve the local people with ideas for team bonding and CSR, whether it's through meeting artists, craft workshops or impressive village rituals.
Kecak experience
Based on an epic Sanskrit poem, Kecak is also known as the Ramayana Monkey Chant, and is typically performed by 150 men. Rimba Jimbaran by Ayana Bali has recently opened Kampoeng Bali amphitheatre, which provides an impressive setting for a sunset procession, building into the Kecak performance. Private banqueting can be arranged for up to 250 people and the venue is open Monday, Wednesday and Friday. The evening also recreates a traditional market, with handcrafted items and a traditional Balinese buffet and sweets.
Art interaction
For intimate meetings with Balinese people, Khiri Travel curates tailor-made experiences that bring delegates into their homes. Groups from two to 12 people can spend a day with Balinese artist Soki, a protégé of Dutch artist Arie Smit, in his home, ending the day with a meal of Ayam Betutu (roasted Balinese chicken or duck) with a local host family. For a taste of Balinese food from Malaika, delegates can head to the home of a descendant of the Royal Family of Tabanan (a region in Bali) for a traditional meal of Balinese dishes that includes fern salad, Babi Guling and Lawar (finely chopped vegetables, coconut and meat mixed with herbs and spices) for groups of two to 20 people.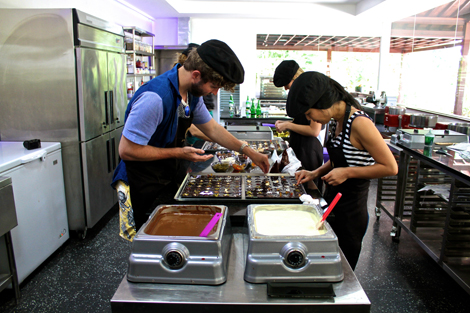 Creating chocolate
Conrad Bali's Meetings with Meaning has a sweet CSR activity called the Chocolate Convention for groups of between 10 and 40 delegates. Visits to Pod, Bali's first organic chocolate making factory, begin with a tour on how the facility is both reviving the chocolatier art in Bali and helping to give local cocoa farmers an income. Accompanied by Pod director Toby Garitt and Conrad Bali chef Made Semawan, delegates experience the chocolate-making process, starting from the cocoa pods to a chocolatier class with chef Semawan. Outdoor meetings can also be held at the Pod.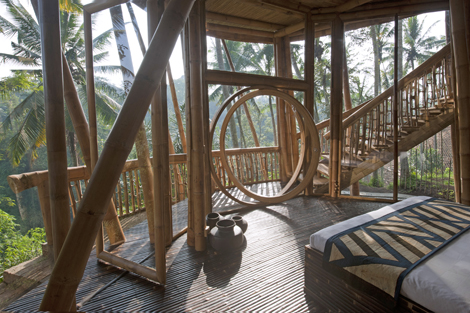 Celebrating bamboo
Former DKNY print designer Elora Hardy, who was raised in Bali, recently attracted global media attention through a TED talk about her work with bamboo architecture. Her designs not only defy traditional concepts about house shapes and construction, but also demonstrate the strength and sustainability of bamboo. Hardy is now creative director of Ibuku, leading a team of architects, engineers, designers and artisans who make homes, structures and furniture from Balinese bamboo. Tours can be arranged for up to 70 people to the Green Village to see the stylish designs of 18 bamboo houses along the terraced slopes of the Ayung River. Workshops
on playing the jegog (a type of Balinese percussive music) to learning the different uses of the coconut tree in creating architectural bamboo models can also be arranged.
Problem solving
The Bali Team Building Company can organise several activities for groups including "We Build a Bike" for a minimum of 15 people, where teams must overcome challenges to acquire the extra parts needed to complete their bikes, which are given a safety check before being donated to a local orphanage. Serious gamers will enjoy The Escape Hunt Experience, where teams of up to five are locked in a room with the mission of solving puzzles and finding clues to escape within 60 minutes. The six game rooms and three different adventures promise to hone critical thinking, teamwork, observation and communication skills. Participants even get a souvenir photo of them in Sherlock Holmes outfits. Another popular activity is the Great Race Nusa Dua, which features a Segway challenge.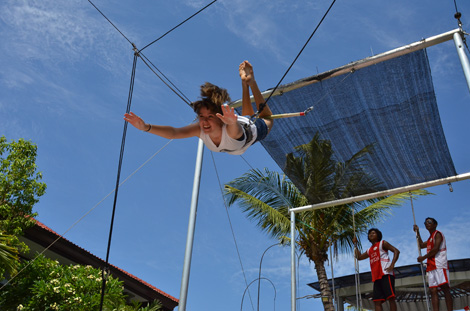 High flyers
For an empowering teambuilding activity designed to overcome self-doubt and build confidence, sign up for a class at High Flyers Trapeze School at Bali Dynasty Resort in South Kuta. Classes are offered six days a week with participants learning trapeze basics to more challenging catches and somersaults.
Testing the metropolis
A new convention centre away from Jakarta CBD and nearer the airport could prove a game changer for the capital. Martin Donovan reports
Jakarta is a city being tested for big, international events. So much so that world-leading architects, town planners and other experts who gathered at a recent conference heard the Indonesian capital described as an "urban laboratory".
The New Cities Summit Jakarta held in June saw 800 urban planning professionals gather at Ciputra Artpreneur, a new arts-themed venue adjoining Raffles Jakarta that combines theatre, gallery, museum and meeting space. Among the case studies presented to around 800 delegates from 50 countries and regions was the privately developed new town of Bumi Serpong Damai, or BSD City, in North Jakarta.
BSD City is home to the International Convention Exhibition (ICE) centre, which has a grand opening scheduled for August and has already hosted events from pop concerts to conferences. It will also host "Southeast Asia's biggest auto show" in August.

A car show may be considered the least helpful event for a city where traffic congestion has become a hallmark, but BSD City and ICE form part of an overall strategy to alleviate that problem. The first routes of an MRT subway system are expected to be operating by 2020 with additional lines opening in 2024. A light-rail network and a new terminal for Soekarno-Hatta International Airport are among the other infrastructure projects aimed at raising Indonesia's economic standing in the newly established Asean Free Trade Zone.
BSD City
"Half the size of Paris" was the comparison delegates at the New Cities Summit were given to describe the scale of BSD City. The project also offers a chance for the pressure on development in central Jakarta to ease and a venue nearer the airport capable of holding high-profile events such as huge public health conferences to Lions Club and Rotarian conventions.
For Indra Sukirno, executive director and CEO of Jakarta Convention & Exhibition Bureau, the opening of the Deutsche Messe-operated ICE will be a game changer. "Jakarta has always been considered a destination for both local markets and international; the difference is that before [ICE opened] we didn't have a venue for larger conventions. The venues we had would be filled easily," Sukirno says.
Jakarta's convention bureau is hopeful that the opening of ICE will place it in good stead when bidding for international conferences. The city is also preparing to host the 2018 Asian Games – another test of how infrastructure improvements will change perceptions of Jakarta. "The next three years is not long to wait," says Sukirno of the build-up to the Games. "By then you'll have a different Jakarta."
ICE is the largest facility of its type in Indonesia, occupying a total land area of 220,000 sqm with 50,000 sqm of indoor space, and another 50,000 sqm outdoors for events and exhibitions. There is a 4,000 sqm Convention Hall, 29 meeting rooms and a 12,000 sqm lobby – nearly the size of two soccer pitches.
Senayan
Carlos Monterde, general manager of the Fairmont Jakarta, points to the greenery and quiet, leafy avenues on one side of his hotel and the 18-hole golf course on the other when dispelling notions of a constantly congested capital.
The newly opened Fairmont occupies a more spacious part of Senayan in the southern reaches of the CBD, neighbouring the city's main sports stadium, Jakarta Convention Centre and a concentration of clay, grass and hard-court tennis facilities.
"Name a sport, and we have it here in Jakarta," says Monterde. "Green, open spaces is what we have here, but there is also a charm and excitement to chaotically colourful side of Jakarta."
The Fairmont towers over Plaza Senayan, which is connected to the hotel by underground walkway.
Security and art
The Africa-Asia Conference saw 34 heads of state and their entourages gather in Jakarta in April amid closed roads and tight security. The first five-star international hotel to open in the country, Hotel Indonesia – now run by Kempinski – was among the properties to host world leaders. Among the new openings is Raffles Jakarta, where the walls pay homage to celebrated Indonesian artist Hendra Gunawan's colourful depictions of village life.
Hotel updates
Alila Seminyak is due to open in September along the island's southwest coast and will feature 240 guest rooms and suites. Large groups can book an event space that accommodates 80 to 200 people for a banquet, a grand event centre for up to 500 cocktail guests, and various creative venues like the Temple Garden, Rooftop, Penthouse, and Grand Ocean view that can host between 60 to 120 people for drinks.
Planners can now make reservations for meeting space at the ultra-exclusive Mandapa, a Ritz-Carlton Reserve, with group activities that include hikes and river rafting. Due to debut in September, the Ubud-based hotel will feature 60 villas and suites.
An opening date for June 2016, meanwhile, has been set for the Westin Ubud Resort & Spa. The hotel will feature three meeting spaces, the largest being 150 sqm.
A Langham Place resort will open in 2017 near Pandawa Beach in South Bali. Meeting space includes two 500 sqm ballrooms and a 400 sqm outdoor event lawn.
In February, The Ritz-Carlton opened its 12.7-hectare Nusa Dua property with 313 hotel rooms. It boasts three outdoor event venues: the Cliff Lawn accommodates 300 people for dinner; the Beachfront can host 100 people; and the Senses Lawn has space for 400 guests.