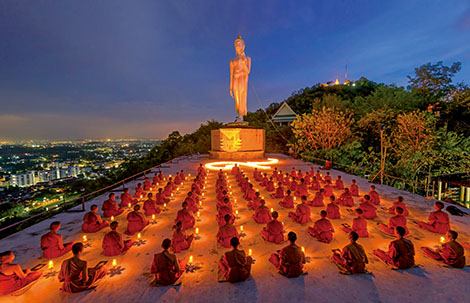 THAILAND'S  business events industry has a new strategic base, the Eastern MICE Corridor. Announced in October 2018, and referred to as EMC3, the strategic initiative involves a focus on three provinces in Thailand's Eastern Economic Corridor (EEC) – Chachoengsao, Chonburi and Rayong.
The initiative will play a key role in achieving the long-term goal of the EEC, which is to become Asia's leading strategic business events destination.
Before reading further, why not take our destination survey?
While it is still early days for EMC3, the basics are already in place. These include location (close to Bangkok), a well-connected logistics network, certified conference venues, international standard accommodation, and the renowned Thai hospitality.
There are also many new infrastructure projects in the pipeline set to further strengthen Thailand's position, and increase visitor numbers substantially. These include a renovated and expanded of U-Tapao International Airport (Thailand's third commercial airport), a high-speed rail network that will link the three airports and provinces, and numerous hotel openings.
For visiting groups there is already a sense of excitement when exploring the EMC provinces, with the proactive promotion of new and unusual venues, activities and incentive side trips that are uniquely Thai.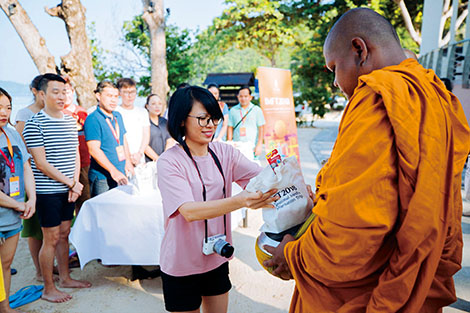 Beginning in Chachoengsao, which is considered the hub linking Bangkok to seven other provinces, it is best known for its many historical and cultural attractions, as well as abundant seafood. Chachoengsao is also great for sampling traditional Thai culture, one based around river life. It will especially appeal to groups wanting to have both a deeper understanding of the past, and – in the case of the new NARIT observatory – even the skies above.
Like Chachoengsao, the province of Chonburi is also seeing a focus on development and growth to meet the current and future needs of business event and incentive organisers.
One Chonburi seaside city currently booming and expanding thanks in large part to Japanese business investment is Sri Racha. Home to one of the first industrial estates in Thailand, with its own trade and logistics port, there is a growing number of high-rises – compared with none five years ago – and hotel rooms. All of this has meant an increase in MICE business, supported by hotels that can cater to international groups, including the Thai-owned Balcony Seaside, serviced apartments and hotel.
It is also known as being the original source of Sriracha chilli sauce, which is internationally famous. A visit here is both an opportunity to learn more about local cuisine and to take part in a cooking class based around the sauce – and everything tastes better at its place of origin. Cooking classes can be arranged through a DMC and may be hosted at hotels, restaurants and other points of interest. Arranging for a professional chef or cooking class teacher to judge efforts adds a sense of teambuilding fun and the competitive drive to create a delicious dish.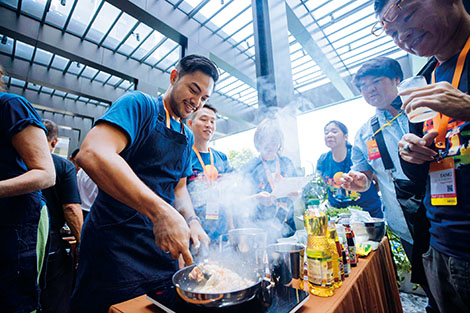 Chonburi is also home to Pattaya, which has numerous business event facilities. One of the newest and recently certified by TCEB as Thailand MICE Venue Standard is NICE (Nongnooch Pattaya International Convention and Exhibition Center). Like many exhibition and conference centres of international standard it can accommodate a range of conventions, activities and meetings, with a capacity for 12,000.
What makes the venue stand apart is its location, nestled in Nongnooch Garden, an international award-winning botanical garden and the largest in Southeast Asia. It features more than 30 themed gardens, many of which can be the location for a unique and dramatically impressive event, cocktail or welcome party.
Nongnooch Garden could also be an ideal counter to a long morning of presentations and speeches, allowing participants to wander freely. Teambuilding can be organised and there is also a range of cultural performances and activities to enjoy at the nearby Nongnooch Cultural Centre. Finally, there is also a small resort with various accommodation options, and its main lawn is one of the top choices in the area for outdoor dinners, with a capacity of up to 3,000 participants.
The province of Rayong is also highlighting its natural charms, such as the village of Ban Krasae Bon. Promoted as a sustainable tourist destination, and part of the Designated Areas for Sustainable Tourism Administration, the small village and its friendly inhabitants are doing what they can to protect natural resources, and this year began to offer a range of meaningful community-based activities.
Experiences include a river cruise, an opportunity to see a rare giant tree lizard, a motorised tricycle ride through the community and surrounding fruit farms, cooking classes, and a variety of traditional arts and crafts classes.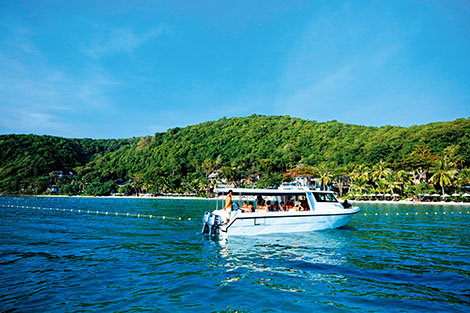 Groups can stay for a jungle or sandbank lunch by the Prasae River, feasting on barbecued giant river prawns and fabulous salads, all prepared using locally grown ingredients. This can be combined with a giving-back activity, such as collecting damaging weeds from the river and planting trees.
The province is also home to the tropical island paradise of Koh Samet. A stay here, at one of the more luxurious resorts, such as Ao Prow, is a wonderful way to wind down after a hectic business trip.
Ao Prow also has the facilities to be the setting for meetings, small conferences, welcome dinners, cocktail parties and themed events. Less than three hours from Bangkok the island is a popular getaway for locals and visitors alike. Groups can take part in activities as diverse as offering alms to Buddhist monks, Muay Thai, or going for an easy trek at the nearby Khao Laemya National Park.
All three provinces offer a plethora of options for groups, big and small, and it is this diversity that will help cement the overall business event goals for the region, coupled with the friendly Thai can-do attitude. For many of these experiences, it is best to work with a leading DMC. This is especially true of options involving the path-less-travelled areas to ensure a seamless and tailored experience for all.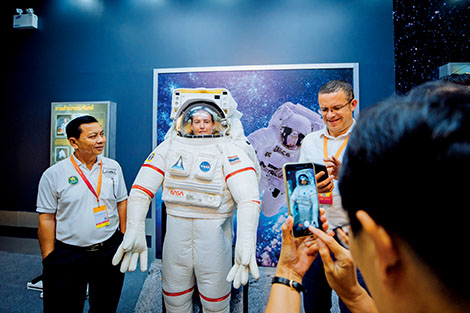 STARRY NIGHTS
Approximately 90km from Bangkok, in the province of Chachoengsao, there is a regional observatory operated by the National Astronomical Research Institute of Thailand (NARIT), a facility set on manicured grounds surrounded by tropical foliage.
Inaugurated in February 2018, NARIT is a hands-on learning centre for the public and a research facility. It features a planetarium, astronomical exhibitions, an outdoor replica of England's Stonehenge (itself an ancient astronomy tool), a series of small telescopes, and a 70cm-diameter telescope – the second biggest in Southeast Asia.
It is not only an ideal location for star and planetary gazing, NARIT is also available for events. For example, combine a tour of the facilities with a community-based activity such as creating tactile clay-star maps for the visually impaired. This can be followed by an outdoor cocktail party, in which telescopes are available, or a themed dinner under the stars complete with live entertainment. On the right night it is possible to view such marvels as Saturn's rings, Jupiter, Mars and the surface of the moon.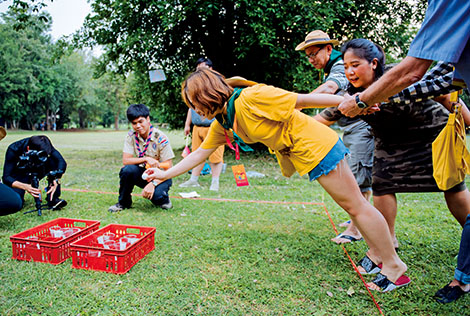 GREAT OUTDOORS
After lengthy meetings, or a tiring exhibition schedule, it is good to get some fresh air and unwind. An unusual but perfect place to do this in Sri Racha is at the Vajiravudh Scout Camp. The camp is well known in the area with groups coming from as far as Bangkok to experience its offerings.
For the ultimate immersive experience, get in the team mood and dress for the occasion in your best scout-inspired outfit. Begin the afternoon in the great outdoors surrounded by majestic trees with a series of energising team games that require both mental and physical agility. Follow this with a campfire cookout, complete with hay-bale seating, live music
and impressive performances.
There is also the option to camp overnight or for several days. The scout camp is largely a blank canvas for groups. What is possible to be created here and the level of creativity comes down to imagination and budget.