After navigating a course towards better business and travel links with mainland China, Taiwan is strengthening its position as an East Asia conference and incentive travel destination.
Thanks to efforts by Meet Taiwan, an agency of the government's foreign trade development council, and active on-the-ground operators, Taiwan is carving a niche of its own as competition among destinations in Asia increases.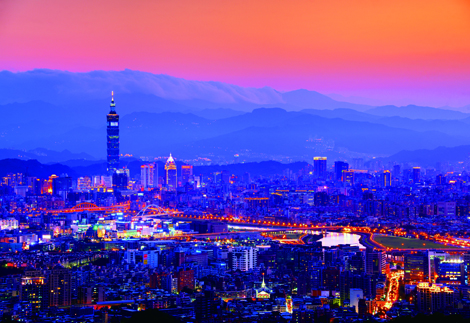 Initiatives such as the Super Team in Asia promotion, which was run by Meet Taiwan, are highlighting the island's culture, heritage and cuisine to offer groups from key Asian markets more unique experiences.
High-Speed Rail
Super Team Asia saw representatives from companies based in Japan, South Korea, Singapore, Malaysia and Indonesia create their ideal Taiwan itineraries. Seng Hua Hng Foodstuff, from Singapore came out tops in a competition that highlighted the island's incentive options and how to use infrastructure such as the High-Speed Rail service to learn more about rural and coastal Taiwan.
Meet Taiwan is also highlighting the island as a budget-friendly destination. Some of the support for first-time incentive groups with at least 150 delegates includes a free gala dinner and grants ranging from US$1,000 to around US$6,500 available for international business events and associations.
By presenting Taiwan as more than just an economic powerhouse with a solid base in electronics manufacturing, Meet Taiwan is directing organisers towards the rich cultural offerings on the island and alternate cities to Taipei for meetings.
Taipei
Even though Kaohsiung is showing strong potential as an alternate meetings destination, thanks to the redevelopment of the southern city's port area, Taipei remains the capital for international conferences and business events.
But Laurie Lau, director of Momentous Asia, sees advantages and drawbacks in Taiwan's expertise at electronics and scientific research. Hong Kong-based Momentous recently organised a conference on computer forensics and security in Taipei.
"The reason we choose Taiwan for our conferences is the number of contacts there in the field of computer security. Taiwan's exhibitions industry comes across as very international, but in reality it's too domestic focused," says Lau.
By offering conference planners more choices when it comes to post- and pre-event activities, Lau believes Taiwan can show groups the diversity of the island. He says the inclusion of towns and communities beyond Taipei in campaigns is a positive step towards attracting international and regional groups.
Luxury
Planners seeking high-end facilities and service at international-branded hotels in Taipei will find choices based within easy distance of the capital's premier meeting facility – Taipei International Conference Centre, which is alongside Taipei 101, the city's iconic landmark.
Grand Hyatt Taipei, which has walkway access to the conference centre, is revelling in the growth of its MICE segment after a full renovation, carried out in phases, was completed in March 2014.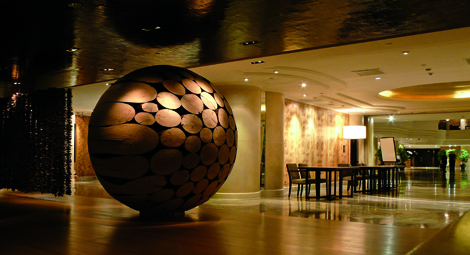 Liling Chu, Grand Hyatt Taipei's director of events, said that in the first 10 months of 2014, 33 meeting and incentive organisers had booked more than 100 room nights at the hotel.
"Our year-to-date MICE business is up by 15 per cent compared to performance prior to the renovation," Chu told MIX, adding that the hotel's growth in MICE business in September 2014 was almost double that of the same month the previous year.
Competition in Taipei's luxury sector for meetings and incentive groups is being met by other properties around the city centre including the newly opened Mandarin Oriental, Shangri-la's Far Eastern Plaza Hotel Taipei, which has also seen refurbishment, Humble House, which opened in December 2013 alongside Le Méridien, and W Taipei.
VIPs to the fore
Events Travel Asia Greater China, part of the ETA group with offices in Bangkok and Singapore, already sees potential in Taipei as more than just a fixture on the association conference circuit. In October 2014, ETA brought a select group of 80 high-net worth investors from across Asia-Pacific to Taipei for a golf tournament and coaching from top professionals.
The group stayed at Le Méridien for three nights with the two-day programme at two golf clubs in Taoyuan County, less than an hour's drive west of Taipei. Day one took place at Sunrise Golf and Country Club, Yang Mei City, with the second day at Yung Han Golf Club, Luzhu City.
Max Jantasuwan, group managing director for Asia at Events Travel Asia, said corporate clients would find Taipei suitable for a short-stay retreat. "This premium golfing event for a VIP group shows that the destination has got some great golf courses that are ideal for high-end tournaments," he said.
"From the perspective of a discerning client, Taipei's accommodation options are acceptable. From the perspective of a guest from Southeast Asia, tariffs might be considered high.
"Overall, I'd suggest that corporate groups enjoy the range of off-site dining options and there's some great Japanese and fusion food offerings across Taipei," Jantasuwan added
New port of call for events
Kaohsiung's waterfront convention and expo centre is anchoring the city's revitalisation
A waterfront redevelopment project in Kaohsiung with a convention and exhibition centre as the centrepiece is transforming the port city.
Kaohsiung Exhibition Centre (KEC), which opened in April 2014, hosted Taiwan's first international luxury boat show as one of its initial events. The venue's distinct wave-like structure has become a focal point for Kaohsiung's new-look maritime quarter.
Ship-repairing was the port's staple industry for decades, but dockside businesses are now charting a course as boat builders and repairers for Asia's luxury yacht market. The city is gearing up for new visitors by showcasing refurbished former dockside warehouses such as Pier 22 Arts Center with new marinas also planned.
A city department to support meetings, incentives and event organisers has also been set up.
Kaohsiung's hopes suddenly looked uncertain in the summer of 2014 when an underground explosion ripped through city streets. But Robert Campbell, group vice-president for Uniplan, which manages KEC, says the tragedy occurred several kilometres away and only two "minor events" at the centre were postponed.
"According to the Kaohsiung Association of Travel Agents, the tourism industry in Kaohsiung was affected during the two months following the gas explosions," Campbell told MIX. "The Tourism Show held at KEC in October [2014] already showed a very positive signal of recovery.
"Many new, unplanned events are continuously being held, for example the Ferrari Rally, which gathered on KEC's plaza and paraded through the city on November 2. The brand chose
Kaohsiung as its final destination, letting everybody know that the incident has been overcome."
Campbell points to the Ferrari Rally as one of the events highlighting the city's rejuvenation as it prepares to open Kaohsiung Main Public Library opposite the city-side entrance to KEC by the end of 2014.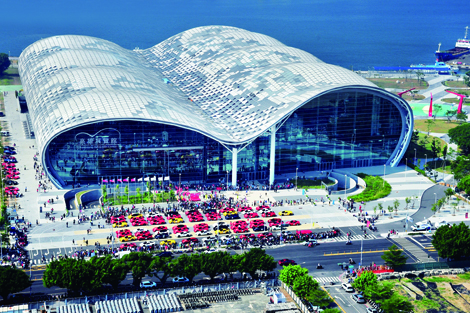 "The New Bay Area has already been transformed from industrial warehousing to a business and leisure hub for businesses and the population in general," says Campbell, adding that KEC is expecting to have its own stop when the city's light railway system is completed in June 2015. A new port terminal will cater for cruise liners in mid-2017 and a music and cultural centre is due to open in the area by the end of 2017.
Hotel highlights
Mandarin Oriental
Establishing itself as a new landmark in the city, the Mandarin Oriental offers over 3,000 sqm of function space. The Grand Ballroom seats up to 1,200 guests and has an exclusive driveway. The Grand Salon overlooking the European-style garden makes a splendid venue for cocktails. Level five has a private area similar to a boutique club that can be redecorated to cater to the needs of event planners.
158 Dunhua North Road, Taipei;
mandarinoriental.com/taipei
W Taipei
Located in the heart of the nightclub district, the W Taipei has a 'whatever/whenever' programme to assist clients. The hotel features several multi-sized meeting rooms and a 24-hour business centre. The six-metre-tall Mega Room provides 1,000 sqm of space and is the largest pillar-less ballroom in the city. The hotel also offers the 'W Hotels Meeting Setup,' where guests can request a music and fragrance arrangement.
10 Zhongxiao East Road Section 5,
Xinyi District, Taipei;
Le Méridien
The art-themed Le Méridien is located in the central business district. Providing exhibition and performance space, the hotel has 1,620 sqm of business event space that can be separated into three individual ballrooms. There are also six multi-functional conference rooms, a Le Méridien Taipei Club, and a business centre.
38 Songren Road, Xinyi District, Taipei;
Humble House
Situated next to and under the
same ownership as Le Méridien Taipei, Humble House is the proprietor's original brand concept. Decorated with works by international artists, Humble House features four large function rooms, a 702 sqm ballroom, two conference rooms and a VIP room. Guests can take advantage of a dazzling outdoor sky garden offering superb views of the city skyline.
18 Songgao Road, Xinyi District, Taipei;
Shangri-La's Far Eastern Plaza
A large-scale refurbishment of rooms helped mark the hotel's 20th anniversary. The Shangri-La Far Eastern Plaza provides space for business activities on its lower floors, two ballrooms and conference rooms, nine multi-functional rooms and
a business centre. The outdoor swimming pool overlooks the city and mountain ridges beyong to offer a unique venue for social functions and parties.
201 Tun Hwa South Road, Section 2, Taipei;
Grand Hyatt
Having recently completed renovation, and preparing to celebrating its 25th anniversary in 2015, the Grand Hyatt Taipei can also boast of the Grand Residence – the only residential-style multifunctional ballroom and event space of its type in Taipei. In addition, the 1,000 sqm Grand Ballroom can be separated into two venues.
2 Songshou Road, Taipei;