When plans for Sydney's upcoming International Convention Centre (ICC) were announced, alternative venues welcomed the two-year construction hiatus with open arms. Although the Sydney Exhibition Centre on Glebe Island has helped bridge the gap for large-scale events, venues across the city have managed to retain 80 per cent of events scheduled during the development period.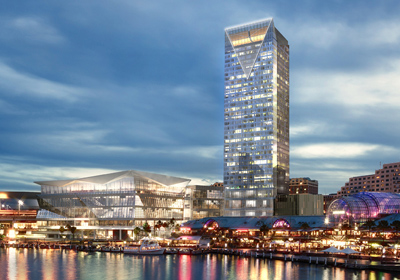 During this time, Business Events Sydney (BE Sydney) has tweaked its strategy to attract smaller events to the city, while utilising the city's boutique venues.
Kristian Nicholls, general manager of Business Development at BE Sydney, says, "The construction of the ICC has made our partners come together and collaborate to consider how we can deliver on events that need to be kept in the city. The government's come on board, as have all of our stakeholders."
This was most recently apparent during the 2014 Rotary International Convention held at Sydney's Allphones Arena for the elimination of polio. With almost 20,000 delegates in town for the event, BE Sydney was tasked with moving attendees to the suburban stadium, which the New South Wales Government backed with a train service funded by the NSW government from central Sydney to the arena.
DARLING HARBOUR
Due to open December 2016, the ICC will offer a convention area spanning 35,500 sqm with room to host 12,000 delegates, a 5,000 sqm outdoor event deck, as well as a ballroom that can accommodate 2,000. The Sofitel Sydney Darling Harbour was announced as the centre's partner hotel, offering 600 rooms within walking distance.
Communications director for the ICC, Samantha Taranto, says that while Darling Harbour has historically been too far from the CBD to enjoy regular public use, the project will showcase the area's growing connectivity. "Transport to Darling Harbour precinct is better than ever: we've got ferries, light rail and you'll be able to walk back to Central Station if you want to catch the train, while the airport is just 8 km away."
DOLTONE HOUSE
Doltone House operates venues within Darling Harbour and across central Sydney and its suburbs. Luxury travel trade show, Luxperience, held its 2014 gala dinner at the Jones Bay Wharf venue, offering 300 guests a lavish meal with entertainment from performers on The Voice Australia, magicians and local R'n'B and hip-hop troupe, The Shufflers. Located in a converted pier with a private deck space, Jones Bay Wharf has panoramic views of Sydney Harbour and the bridge, and is in a prime location for events hosted during the famed Sydney New Year's Eve fireworks.
BRIDGE CLIMB
Bridgeclimb Sydney has been leading groups to the summit of Sydney Harbour Bridge since 1998, and in teams of up to 14 people, can accommodate large-scale groups such as the 2,100-strong incentive from health product group, Perfect China in July 2013. Bridgeclimb Sydney offers its facilities for corporate buyout and is equipped to brand the Climb Base and customise merchandise with logos and brand icons. Tailored climbs with team videos and photographs can also be arranged for groups keen to maximise team-building opportunities.
PIER ONE SYDNEY
For groups that can't get enough of the famous bridge, Pier One Sydney is a new hotel offering countrified accommodation in a converted pier next to the bridge. With water views of Walsh Bay, Pier One is quintessentially Australian in design, with rustic beams from 19th century Federation architecture and spacious, contemporary interiors. The hotel has seven conference rooms measuring between 40 to 70 sqm, while the largest venue, Water @ Pier One, can accommodate 200 for dinner with over-the-water views of Sydney Harbour, the bridge and Luna Park.
TOY SYMPHONY
An incentive that harnesses another of Sydney's monuments is the Toy Symphony at Sydney Opera House, an activity aimed at corporate and tourist groups of up to 50 people. Beginning with an hour-long backstage tour, the highlight is in the finale – which takes place on the main stage.
"To play at the Sydney Opera House you need to be invited, and the acts book years in advance," explains BE Sydney's Nicholls. "Unbeknownst to the groups who take part, they will get this opportunity. As the tour exits onto the main stage where the Sydney Symphony Orchestra are set up with additional chairs for the group members. They are then handed toy instruments, and guided through a composition – the Toy Symphony – together with the orchestra and conductor,
in a performance that frequently ends with a standing ovation
from their colleagues waiting in the audience."
toysymphony@sydneyoperahouse.com
CULTURE SHOCK
Being a great distance away from other landmasses has caused Australian business tourism to be more innovative. "Providing bespoke cultural experiences is part and parcel of BE Sydney's offering," says Nicholls. "For example, Indian corporate incentive groups tend to be mad for cricket. We try to incorporate tours to sites like the historic Sydney Cricket Ground and the museum, and we have offered opportunities for delegates to play with current or ex-Australian players such as Glenn McGrath, where they pad up and face some of the world's fastest bowlers.
The Chinese incentive market is also growing rapidly in Sydney," says Nicholls. "Half of our incentive business comes from China, so we try to be culturally aligned and 'China-ready', from hotels and service staff understanding how to make them feel at home to amenities like Union Pay available across the city."
HARLEY-DAVIDSON TOURS
For groups that want a taste of the open highway, Wild Ride Australia offers Harley-Davidson tours around Sydney, with options to tour the central and south coast, Hawkesbury Valley and the Blue Mountains on the back of a chauffeured Harley-Davidson. "They're bikers who operate a very slick operation," says Nicholls. "They tour sights like Mrs Macquarie's Chair in Sydney city, then head up to Bondi Beach where you can have some seafood before riding home."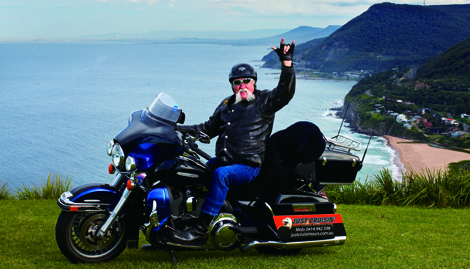 HERITAGE HIGHLIGHT
Built in 1849, the City of Sydney's Treasury Building was converted into the Intercontinental Sydney in the 1970s. The hotel has 509 rooms offering views of the Harbour Bridge and Opera House, which include 28 suites of which the Australia Suite is the largest in Sydney. The hotel lobby is home to the Cortile, which makes a grand setting for afternoon meetings and cocktails, while The Premier's Room and the Treasury Lounge are available for banquets and events, restored with original fittings from that time period.